Goal.com is publishing exclusive extracts from Luca Caioli's new book, Ronaldo: The Obsession for Perfection, which charts the Portuguese forward's spectacular rise from a poor childhood in Madeira to superstardom with Sporting Lisbon, Manchester United and Real Madrid

In April 2010, Mourinho's Inter beat Barca 3-1 at San Siro in the first leg of the Champions League semi-finals. During a press conference at Valdebebas, the media wanted to know Cristiano's opinion about his compatriot.
"I'll be honest with you: I like people who have a winning mentality," he replies. "But I am very happy with Pellegrini's achievements and that's all I have to say for now."
A few weeks later, rumours are circulating in the 'White House' that Mourinho is set to become the new Real coach.
Sky Sports News
is reporting the story as if it's a done deal. "He's a very special coach," comments Ronaldo. "He has demonstrated that he is one of the best in the world. Perhaps some people don't like his personality, or the fact that he is so revered. I know him very well, and I like what I see. I know his character: he's a winner."
When asked whether he would like Mourinho to win the Champions League with Inter and then come to Real, he replies: "This is not the time to discuss the matter. Right now I am only interested in having a good World Cup with Portugal, not what is happening with transfers or the future of Real's managerial position. I would just like to wish him luck in the Champions League final. He's a fellow Portuguese sportsman, that's why I want him to win."
On 22 May, Mourinho's Inter lifts the trophy at the Santiago Bernabeu after beating Bayern Munich 2-0. Four days later, Florentino Perez announces Manuel Pellegrini's dismissal and confirms the addition of Jose Mourinho to the Real Madrid dugout.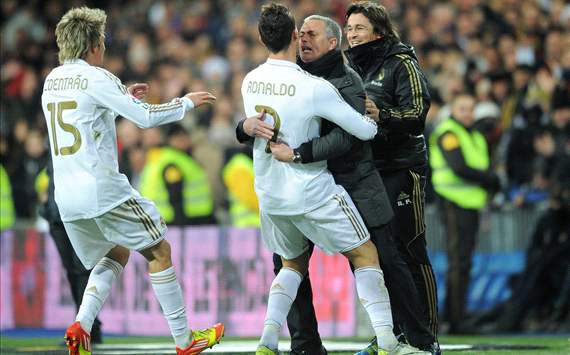 Portuguese partnership |
Mourinho and Ronaldo have led Madrid to glory this season
By this time, Cristiano is in South Africa with the national team. He is delighted with the news. "I like coaches who have a desire to win," he tells Publico newspaper. "The trophies Mourinho has won with his previous clubs speak for themselves. I hope to be able to celebrate winning many more with him. The desire to win titles was one of the reasons I moved to Real Madrid. And I am extremely confident that we can achieve great things."

Meanwhile, the man in question is busy singing Ronaldo's praises in an interview with Marca. "Cristiano is phenomenal. No one should complain if he wants to spend his vacation with Paris Hilton, go to Los Angeles or buy himself a Ferrari. Someone who works as hard as he does is on another level professionally. He is football history in the making. All he needs to do in order to be like Pele, Maradona or Di Stefano is win more titles."
| | |
| --- | --- |
| Ronaldo is on another level professionally. He is football history in the making. All he needs to do to be like Pele, Maradona or Di Stefano is win more titles | |
The Special One knows that Cristiano's first season at Real Madrid hasn't turned out quite the way he wanted, and the coach has no hesitation in bringing it up. "He hasn't won any titles," Mourinho points out. "I don't think he is satisfied with just having a great season or scoring 26 goals in La Liga."

It's clear that Mou knows his future player very well. He has known Cristiano since the latter was a teenager at Sporting Lisbon.

"It was in a game against Uniao Desportiva de Leiria," Mourinho recalls. "We were going to train afterwards, so we stayed to watch the match. Then he walked past, and I said to my assistant, 'There goes Van Basten's son.' He was a striker, his movements were very elegant and he had great technical skills. He reminded me of the Dutchman. It's strange … I didn't know his name, but I have to admit that he astonished all of us because he stood out much more than anyone else on the team."

Since that first day, their paths have crossed many times.
www.corinthianbooks.net
Follow Luca Caioli on

With every extract published, Goal.com will be giving away one copy of Luca Caoili's new book. To have a chance of winning an ebook or hard copy of Ronaldo: The Obsession for Perfection, answer the following question: Which Portuguese agent represents both Cristiano and Mourinho? Send answers to competitions@goal.com - the winner will be announced in next Friday's extract.
Last week's winner: Nadine Miranda