EXCLUSIVE
By Lolade Adewuyi
Twenty-two-year-old striker Ekigho Ehiosun came into the national limelight exactly 14 months ago during a friendly international against Sierra Leone in Lagos. The Warri Wolves forward came on as a substitute in the game after fellow debutant Emmanuel Emenike was injured.
Ehiosun, the leading scorer in the league at that point, had only just been called up due to an injury that kept out Everton's Victor Anichebe from then coach Samson Siasia's first encounter with the Super Eagles.
He took his chances and scored the winning goal seven minutes after his introduction into the match, the 58th goal by a debutant in Nigerian colours.
Alongside his fine performances in the Olympic squad, it was not long before Ehiosun would be courted by teams across the world, but he settled for a year-long loan deal with Turkish Super Lig side Samsunspor, who have an option of extending the contract by two years. In Turkey, Ehiosun has scored nine goals for his club who were unfortunately relegated at the end of this season.
Before the club's last game at the weekend, Ehiosun took time out to answer questions from Goal.com. The young player hopes to see Nigerian football return to their glory days while he is yet to decide his club future after his team was relegated.
Goal.com: How has it been for you making the transition from Nigeria to Turkey almost a year on? How has it improved your game?
Ehiosun: It's really been wonderful, though a little rough in the beginning considering so many factors, but thank God all is going so very well now. It has really improved my game tremendously, I've learnt so many things in the beautiful game in the shortest of time.
Goal.com: Which of your goals this season is your favourite so far?
Ehiosun: I have scored some beautiful goals, it will be hard to pick the favourite one; at home against Galatasaray and two in away games.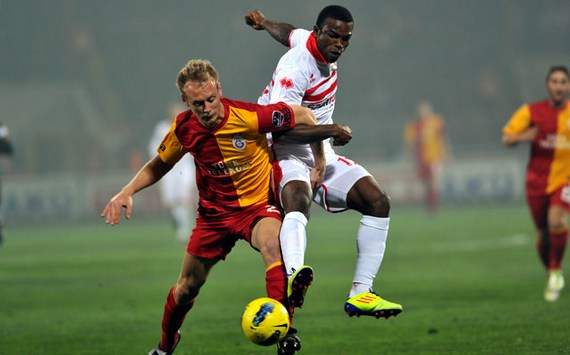 Ehiosun strikes again | The goal against Galatasaray is amongst his favourites
Goal.com: How do you look back upon the just-concluded season? Do you think your club could have done things differently?
Ehiosun: It was indeed a good season for us though we started very slowly, we couldn't pick up on time and that really cost us. We tried so hard in the second round, lots of fight but I believe the result has been there before creation.
Goal.com: What plans do you have for the future seeing that the club has been relegated? Have you had interest from other clubs?
Ehiosun: For now I have nothing to say, there might be lots of offers but it's better to let things unfold themselves. When it's time, trust me you will also know about it.
Goal.com:
The Nigeria Premier League keeps losing its best players to European leagues, from your experience, why is this exodus continuing in droves?
Ehiosun: Why won't the [NPL] lose her best when the difference is so clear? Don't forget the game is all about survival and trying to make ends meet. It's no different from other occupations; the bottom line is to meet the needs of those of your household who look unto you. Considering the economic situation of the country, everyone is looking for a better pay, even those in government.
So to us in the game, it's the earlier the better but with the wisest of decisions by God's Grace. You don't want to get into issues because of the eagerness, take your time but don't waste time.
Goal.com:
What do you think of the Super Eagles' prospects for Afcon 2013 and Brazil 2014?
Ehiosun: You don't need to tell a blind man it's raining or a deaf/dumb man that the market is on fire. The Super Eagles have been left out for a while, now is the time to make things right. With God helping her, I see lots of good things ahead. The situation will speak for itself when the time comes.

Determined to succeed | 'I will give my best to Nigeria when called upon'
Goal.com: You burst into the Super Eagles like dynamite, scoring on your debut against Sierra Leone, but you have had no invitation from Stephen Keshi, do you think you can still shine in Keshi's new Eagles side? Have you spoken to the coach about your future in the national team?
Ehiosun: It was only the Grace of God in a man's life that can make what happened in that February 9 game, so grateful to God and also thankful to coach Samson Siasia for believing in me. You're wrong about not getting an invitation from the coach Stephen Keshi-led crew. I got invited in his first two games and was only left out in the qualifier against Rwanda. But I wasn't really left out because I got a call from him. That was a good thing from him, I really respect him for that. He is indeed a good man even outside the game. I don't think I really need to speak about my future in the team, I will let my game speak for me.

Goal.com: How do you feel with the policy of Stephen Keshi that seems to favour home based players in the Super Eagles over players in Europe? Would you reconsider playing in Nigeria in order to maintain a starting place with the Super Eagles if you had the choice to come back home?
Ehiosun: To me it is not any favouritism policy like you're trying to say, it's all about building a strong team for the nation. Don't also forget I was a product from that team (home-based). We all have a role to play irrespective of where you play, home or abroad. Trust me, the home based also need the experiences of their foreign counterparts. It's all about getting a good result at the end. Why should I want to come back home to play now, not when I still have an opportunity to play outside, because of the national team? No man! Tell me you are not serious about that! That's impossible! Same ball we all play! Time for everything! Starting or no starting shirt, it's still a learning process! My policy is to give your best when called upon.
Goal.com: What areas do you think the administrators and clubs should work upon to improve the game in Nigeria?
Ehiosun: They all know better than I do, most of them see what happens in other leagues/countries. It's not a day job. I know, but these days accumulate to weeks and to months and to only God knows. Poor man's prayer, we go better one day God helping us.