ANALYSIS
By Dan Orlowitz

Results
Kashima Antlers 0-1 Kawasaki Frontale, Urawa Reds 1-0 Kashiwa Reysol, Yokohama FM 0-2 Vegalta Sendai, Albirex Niigata 1-2 Omiya Ardija, Cerezo Osaka 2-1 Gamba Osaka, Shimizu S-Pulse 2-1 Sanfrecce Hiroshima, Jubilo Iwata 2-1 Sagan Tosu, Vissel Kobe 2-1 Consadole Sapporo, FC Tokyo 3-2 Nagoya Grampus
As rain swept across the country yet again, the day's most exciting result came from Osaka's Nagai Stadium as Cerezo and Gamba slugged it out in a decidedly offence-tinged Osaka Derby.
Cerezo took the momentum early, when newly-arrived number 10 Branquinho put them ahead, however Gamba was not prepared to abandon the match so easily, pulling even in the 28th minute through Paulinho's free kick. As the second half began, Gamba slowly asserted their influence, with Yasuhito Endo a feature. However, the Sakura Warriors had other plans, as Noriyuki Sakemoto's found Kempes, who headed in the winner. The league derby win was Cerezo's first since July 2003, and another poor Gamba display indicated that Jose Carlos Serrao's tenure as manager could be far shorter than anyone expected.

Yuki Abe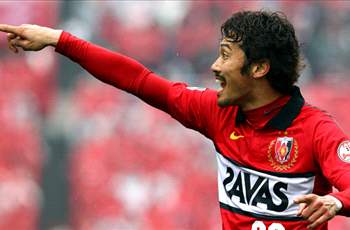 Urawa Reds
In his first match back at Saitama Stadium since re-joining his old club, Abe was instrumental in his team's upset of the reigning J-League champions. The 30-year-old contributed both defensively in covering Kashiwa Reysol's explosive attackers, and on offence with punctual and accurate feeds to his team-mates.
"Regarding the question of whether or not I should resign, that's something you should ask the club president rather than myself."
-Gamba Osaka manager Jose Carlos Serrao following his team's 2-1 loss to Cerezo in the Osaka derby.


"I'm disappointed. I don't think it has anything to do with our manager changing or the system changing; we just aren't prepared to fight."
-Kashima Antlers veteran Mitsuo Ogasawara after losing their second match of the season.
"I thought about retiring from football, but I'm standing here today because many, many others supported me. This is just the beginning."
-FC Tokyo midfielder Takuji Yonemoto on his first appearance of the season, after missing much of the last two seasons due to two ACL injuries.
4 -
Number of come-from-behind victories in Saturday's round
8 -
Players who saw yellow cards in Urawa Reds' 1-0 win over Kashiwa Reysol
30 -
Age of Zelvia Machida FC (J2) striker Kazuki Hiramoto, who scored the second division's 10,000th goal on Saturday. His goal was also the team's first as a J-League club.
107 -
Number of minutes it took Sagan Tosu to score their first Division 1 goal
885
-
Number of minutes it took Urawa Reds' Ranko Despotovic to score his first Division 1 goal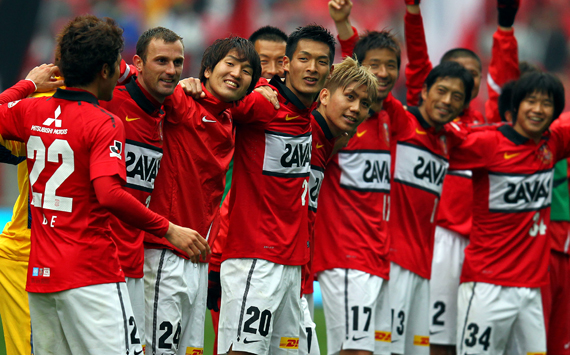 We Are Diamonds | Urawa Reds players celebrate a home opener victory


For all the latest news and features on Asian football, follow goal_asia on Twitter