As the partnership between
Goal.com Ghana
and house bookmakers,
Ladbrokes
continues to expand, it is noteworthy to inform all prospective customers, who intend to benefit from the mouthwatering offers this online bookmaker has got in stock, that there is something for everyone.
But you can only begin to benefit by opening a Ladbrokes account. It is quite easy as the site is very well designed to suit your betting needs. The following steps will guide you to open the account successfully.
Step 1: Open the
Ladbrokes website
This is the first step to opening an account on the Ladbrokes website. Simply click on
OPEN ACCOUNT
on the top banner.
Step 2:
Registration Page
When you click on Open Account, this automatically takes you to the registration page in a pop up window.
Step 3:
Registration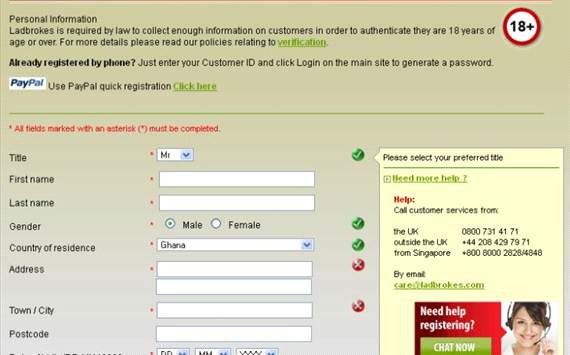 Here, you complete your personal details (Picture above) and choose a username and password. If you have a coupon/promotion code then be sure to enter it now. Read the Terms & Conditions then click Register Now. Remember, you must be 18 years and above.
Step 4:
Login
After clicking on the registration now button, you will receive an email in your inbox to confirm your account has been created. Wait for the email and then follow the link to activate your account. Once this is done, all is set. Yes! You're all done!
Simply log into your account by entering your customer ID and password. With these, you now have access to great offers plus new Ladbrokes customers receive a free bonus of up to $20 when opening an account.
Sign up with Ladbrokes for a $20 free bet here