Fiifi Anaman

2013 Afcon: Black Stars diary

Follow on
Wednesday February 6, 2013,Mbombela Stadium, Nelspruit,18:30 GMT
Television cameras zoomed in on the Burkina Faso technical area, where coach Paul Put and his team of technical handlers as well as substitutes stood. He looked at the pitch – that controversial, sandy Mbombela pitch – and all the moths that hovered above it, as his name appeared at the bottom of millions of TV screens across Africa and beyond. It was always going to be a huge encounter on a questionable pitch, and he had taken effective care of the mind games before kickoff by claiming it was going to be like "a home game" for them (because they had played all four matches there).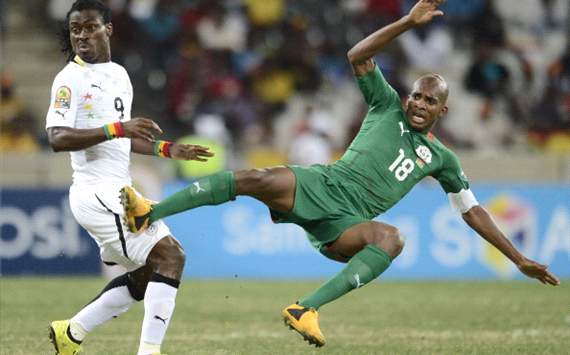 Kwesi Appiah had responded well: "We are all professionals. We have pitches that are much worse. We should be fine with it." He knew it would be a premature expression of a 'failure excuse' if he complained about the pitch in advance. He also knew Ghanaians couldn't care less about the pitch, or the pressure. They wanted a final berth. They wanted the ultimate. They wanted the trophy.
The match started with a usual pattern - both teams passing around cautiously and trying not to be too ambitious and expose themselves. It would be a long 90 minutes – or more.
18:36 GMT
Veteran John Pantsil pulled a muscle. He knew he could not continue. His contributions towards Ghana's charge to a dream final would be restricted to a spectator's role on the bench.
Early setback for Ghana.
Coach Appiah was quick to throw in diminutive speedster Solomon Asante, who had been impressive in all his cameos hitherto. Kwadwo Asamoah was dropped from playing behind lone man Gyan to left-back, whilst left-back Harrison Afful was moved to replace Pantsil at right-back. Ghana would continue to soldier on. They could not afford to lose their focus.
18:43 GMT
The referee made a controversial call. Christian Atsu had gone down in the box, after an aerial challenge with a Burkinabe defender Panandetiguiri. Replays showed the contact was minimal, at most. It even seemed there was no contact at all. In fact, Burkina had had a penalty call – which looked more legitimate than this one – ignored by referee Slim Jdidi on the other end moments after star man Jonathan Pitroipa had been brought down.
But Ghana couldn't care less. They had just been given their third penalty in five games – and a golden opportunity to boost their chances of making the final.
Up stepped Mubarak Wakaso, by this time Ghana's penalty expert. He had scored the previous two, and looked confident to put this one away too.
He said his prayers. He scored.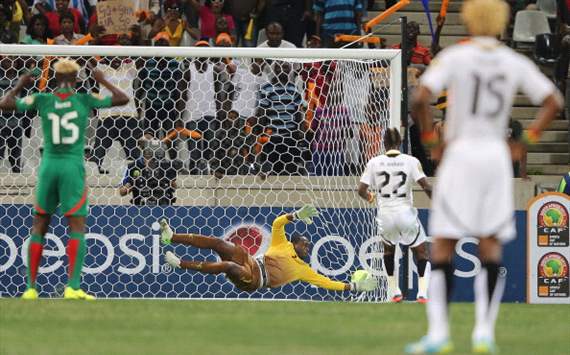 That goal took his tournament tally to four goals in five games. He was now joint top-scorer of the competition.
Ghana immediately slumped to the backfoot after the goal – as had been the case all tournaments. The Burkinabes capitalised on Ghana's vulnerability and grew off it. Their character and strength soared up. They grew from being underdogs to superiors minute by minute. The Black Stars were living dangerously. Half time approached, and with it, a chance for Appiah's charges to restrategise and comeback stronger. They looked disjointed and conspicuously vapid in the final third.
19:45 GMT
It was always coming. And Ghanaians had come to know it as a fear whose occurrence was imminent. And it happened so quickly. The Stars had started an attack, Agyemang-Badu was dispossessed in the center, and Aristide Bance, who had been a threat all night alongside strike partner Nakoulma, was played through by skipper Kabore and found himself one-on-one with Fatau Dauda.
Not even the brilliant Dauda – who had saved a powerful header from the same Bance from a corner off the line eight minutes earlier - could stop the strike.
Burkina got what they deserved, an equaliser. The atmosphere in the stadium, which had been pro-Burkina all game (due to the questionable refereeing against them) erupted. Ghana knew they were riding on their luck on what was proving to be a night to forget.
Minutes earlier, skipper Gyan had hit the post after side footing Atsu's cross from the left. In the first half, he missed a glorious one-on-one with Burkinabe goalie after being played through by a defence splitting pass from Atsu. He chose to go direct in a tight angle and ended up hitting the ball against the goalie, with the ball going out for a corner. "Lionel Messi would've scored that! He would have chipped the ball! That's how it's done!" a Ghanaian fan said on radio the morning after.
That was not Ghana's only squandered opportunity. Solomon Asante – who, has to be said, was probably one of Ghana's few bright spots alongside Atsu and Wakaso – miskicked a ball played to him by a marauding Asamoah.
With each chance missed, and the Burkinabes breathing down their neck (whilst the referees was by his decisions, breathing down theirs as well) the match became unbearably tensed. Extra time seemed inevitable, and Ghana especially, craved the full time whistle so bad. If any team was going to steal a last minute winner, it was most likely going to be Paul Put's men in green. And even Appiah along with 24 million other Ghanaians would admit to this.
Extra time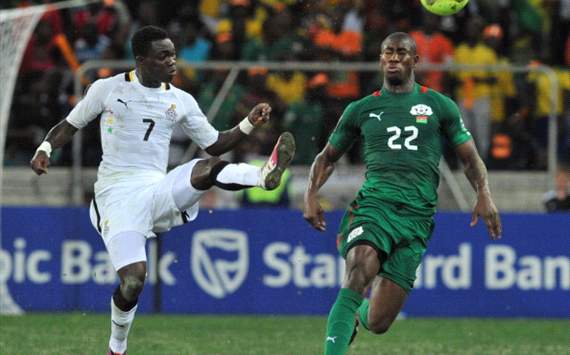 The all-Burkina pattern persisted into extra time. Ghana by this time had accepted that the Burkinabes on the night were simply unplayable, and had resorted to sitting back and sniffing around for an opportunity to break. The busiest department was the defense, the midfield became a ragstad of white shirts. The Burkinabes pushed harder, forcing a clearance off the line by Harrison Afful – who afterwards did the sign of the cross, knowing he had probably prevented a couple of heart attacks back home.
In between these, Asamoah Gyan received a dramatic kick in the nuts from Burkinabe defender Paul Keba Koulibaly, Nakoulma scored what many pundits and fans though was a perfectly legitimate goal on the stroke of half time after capitalising on miscommunication between Asamoah and Dauda, whilst Pitroipa was controversially sent off (second yellow card ) after being accused of simulation (diving) by referee Jdidi.
Replays showed John Boye had actually made contact. Pitroipa – undoubtedly the fulcrum of Burkina Faso's team – walked out of the pitch as fans booed the referee and the Ghanaians. He would miss the final if his team mates finished off Ghana.
The game ended, all 120 minutes of it, still in a stalemate.
It was now going down to all the nerves, the experience and the unbearable pressure, as well as the uncertainty. The last time Ghana had played in a shootout, it was in a quarter-final, and also after a game that had ended one all. They lost, too (against Uruguay in the 2010 World Cup).
The cameras caught a lady, a Ghanaian supporter in the stands. She had started to shed tears already. She knew the chances were slim. History seemed set to do what it does best – to repeat itself.
Penalties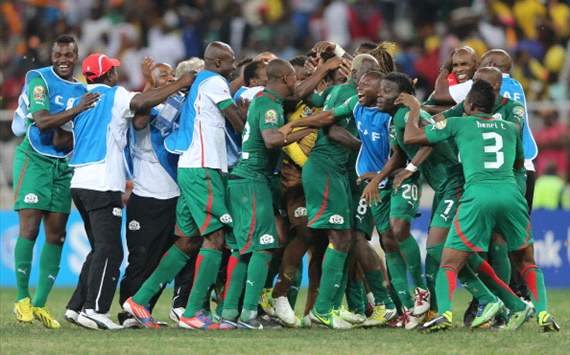 Vorsah stepped up to take Ghana's first, amidst unanimous boos. The fans, well, the majority of them, made their intentions clear. They looked forward to him missing. Heck, they looked forward to Ghana missing all of her penalties so justice would be served. If there's one thing most football fans love sympathizing with, it's a team who deserve to win. And the Burkinabes, through their spirited resilient display amidst officiating adversity, fit the bill.
Vorsah took his time and missed. It was almost as if he was determined to. He couldn't believe what he had just done.
His miss set the tone for another miss from substitute Emmanuel Clottey later on. The Burkinabes scored their first two; whilst Christian Atsu and Harrison Afful scored Ghana's second and third kicks. .
Koulibaly stepped up for Burkina's third. Fatau Dauda saved. Ghana had a chance to redeem themselves. Then it was Clottey's turn to give the Black Stars some hope. Ooops! Ouch… he missed. Bance restored the Stallions hopes.
Up stepped Agyemang-Badu, the man who scored that decisive penalty that won Ghana the World Youth Championship about four years ago. He knew the stakes; miss, and Ghana's hopes for that elusive fifth trophy would end.
The ball left his foot. But it couldn't travel all 12 yards. The goal keeper saved.
Badu stood. Crestfallen.
Ghana had lost the chance to annex the trophy once again.
*Referee Jdidi has since been suspended by CAF, whilst Jonathan Pitroipa's red card has been rescinded.