SATIRE
By Nana Frimpong
The Africa Cup of Nations kicked off on Saturday, and football enthusiasts across the continent were slightly disappointed after a barren opening day.
However, as we enter Day-2, captivating events would abound, from the pleasantly beautiful to the utterly ridiculous, as there has always been with these tournaments. In this satirical, humour-toned piece, Goal.com Ghana suggests 10 of the more possible yet somewhat confounding happenings that could transpire over the next 23 days at South Africa 2013.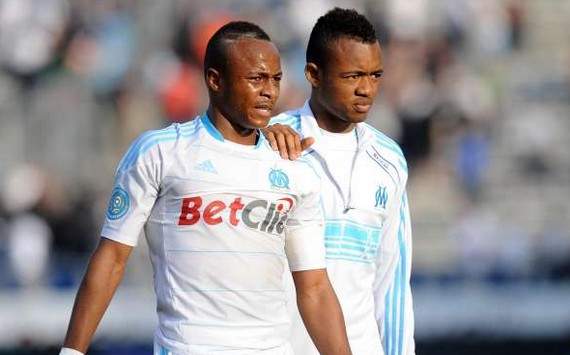 As Ghana have their national anthem played over the PA system at the Nelson Mandela Bay Stadium prior to kick-off against DR Congo, Black Stars legend Abedi Ayew storms the Ghanaian technical area with either of his two teary-eyed sons, Andre and Jordan, under each arm and demands an explanation for the snub dealt them by coach Kwesi Appiah. Appiah, in turn, demands that the older Ayew makes a public return the captaincy 'stolen' from him (Appiah) 21 years ago. Pele complies albeit hesitantly.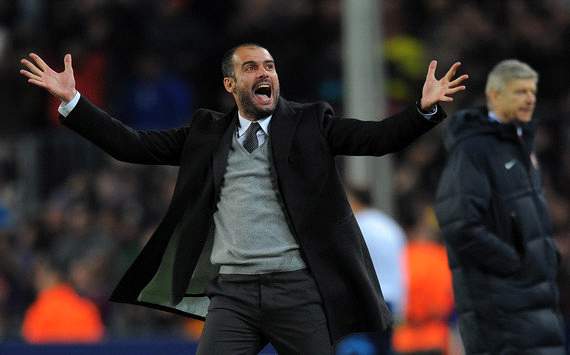 The Ghana-DRC game has yet more surprises in store even before a ball is kicked as the supposedly coach-less Leopards, orphaned by the last-minute resignation of Claude Le Roy, are seen being led out of the tunnel by ex-Barca coach Pep Guardiola. As the whole world stares in awe and disbelief, a designation of Bayern Munich officials unfurl a banner in the directors' box revealing the above words. Thousands of miles away on a yacht floating off the shores of the Caribbean, a mega-rich Russian sighs in relief.
'RACISM' KICKED OUT, STREET-STYLE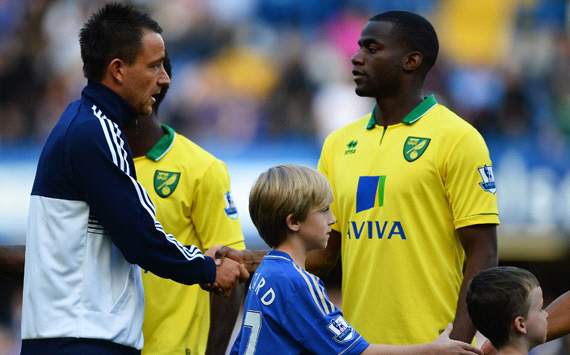 John Terry attempts to attend the opening game in a disguise, yet is discovered by a bunch of alert Zulu warriors stationed at the backdoor entry to the stadium who sternly remind him this is a predominantly 'black' show. Terry is chased into Soweto where he is battered properly by a vigilante, anti-racist mob until he reveals Steven Pienaar is actually his golf mate.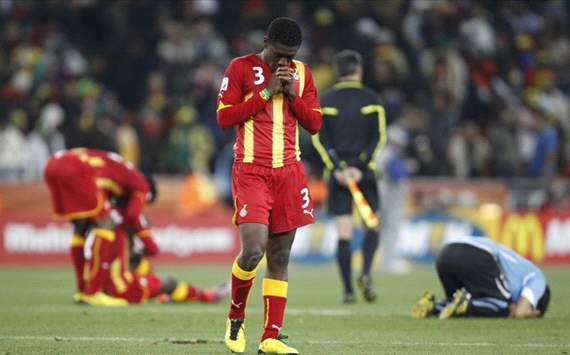 Ghana make the final and earn a 120th minute penalty against, er, Cape Verde. Skipper Asamoah Gyan makes the run-up to the ball and looks set to score his 11th of the tournament (just kidding), his country's fourth of the game, and probably take the game into penalties. Just then, goalie Adam Kwarasey runs the length of the pitch to remind him of his pre-tournament 'abstinence' vow. Gyan kicks it anyway, and...
ADEBAYOR PROVES TRUE TO FORM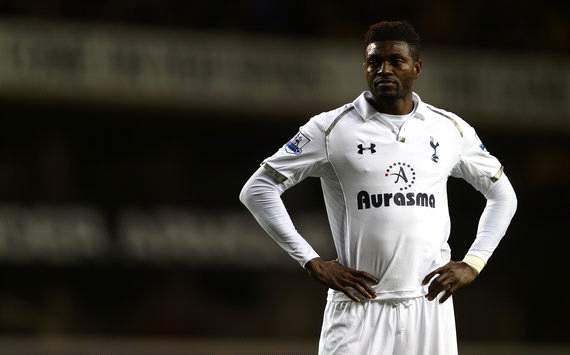 Mid-way through Togo's semi-final against Burkina Faso (who chuckled?), Emmanuel Adebayor suddenly slumps onto the turf in a petulant pose and a delegation of Togolese cabinet ministers is immediately dispatched by President Faure Gnassimgbe to attend to him. They inquire the cause of his itch, and he complains the pitch is too dry, not of the kind at White Hart Lane that permits him to perform knee-slides when he scores. He promptly resigns. This time for good.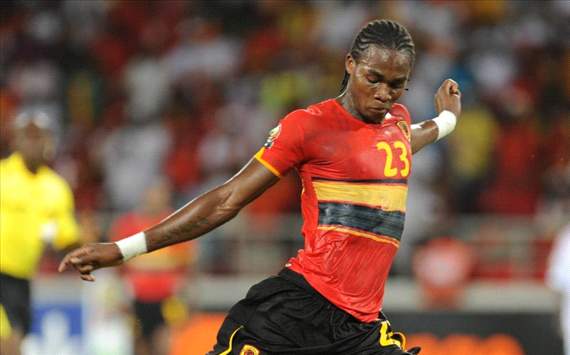 Scouts claiming to represent Manchester United arrive at the stadium when Angola were just about to play Morocco. Stewards were initially skeptical of their credibility until Manucho spotted them and identified them, yet even then the stadium officials aren't entirely convinced, fearing the scouts might be running errands in the wrong place. A call to Sir Alex confirmed and resolved the mix-up. They actually are scheduled for a Sunday League game halfway around the world, in Cardiff.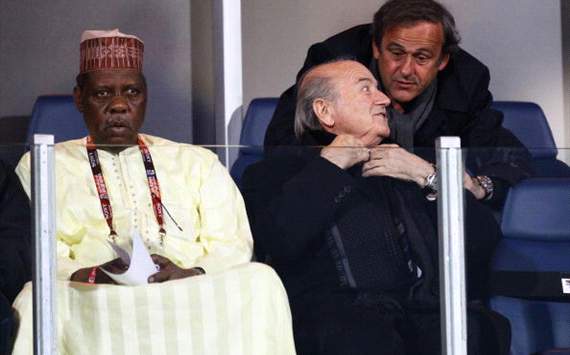 A gunman storms the director's box and Hayatou is seen retreating into the loose folds of his 'agbada' while special guest Sepp Blatter scampers under his seat (he fits comfortably, in case you were wondering). Oh, the assassin-would-be? Well, he is black, hefty, and menacing. Guess? No, not Forrest Whittaker. It's actually Emil Heskey, wielding a water-pistol. Gotcha!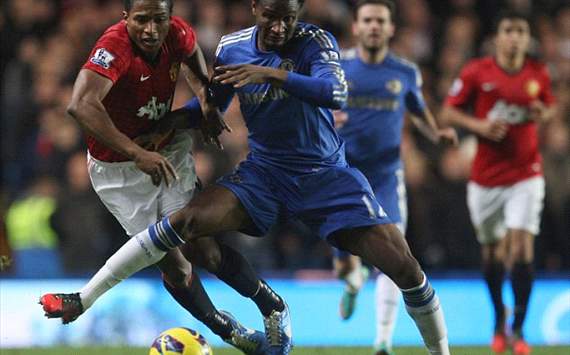 On January 25, Mikel Obi scores from 25 yards against Ethiopia in a thirteen-goal walloping of the east Africans in front of a sell-out crowd. Back home in Nigeria, Boko Haram calls a truce to celebrate the rare moment.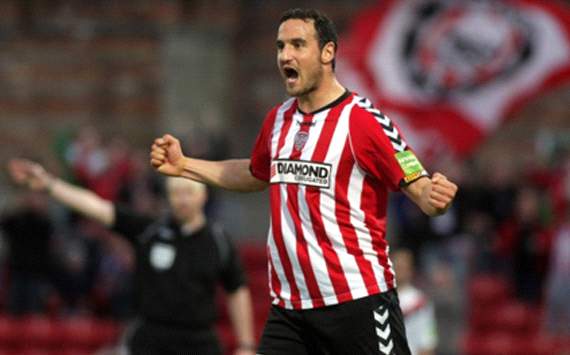 Libya's transitional government seeks to have the final played in Tripoli, as scant compensation for losing the rights to a tournament their country was scheduled to host in the first place. A high-powered delegation, led by Muammar al-Gaddhafi's hitherto detained son Said, arrives at Hayatou's Johannesburg hotel suite to present a petition. An enraged, half-asleep president of Caf, in his pyjamas, demands his mentor, the deceased colonel, be resurrected first.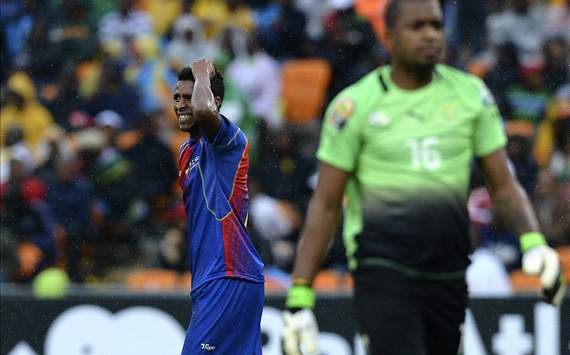 Okay, so Cape Verde (refer to #5) win 11-10 on penalties, and chunks of blue shark meat (don't ask me what that looks like, please) are served at the post-tournament banquet but Caf refuse to be pranked again, after being forced to re-write the script and hand the trophy to Zambia last year. Meanwhile, Didier Drogba and his Ivory Coast -eliminated in the group stages- refuse to miss out on the prize again, claiming they had done more to deserve the Cup this time than ever before and whining a ''we are tired of losing'' chorus, led by their captain.