It was a truly extraordinary weekend of football, featuring a fiery Manchester derby, two goals for Fernando Torres and Lionel Messi scoring his 86th goal of the calendar year. So it's little wonder that players have taken to Twitter to briefly escape the furore of the beautiful game.

In today's edition of Word on the Tweet, players pay tribute to Messi's momentous achievement and Chelse
a settle in to life in Asia. All that, and plenty more, in Monday's Word on the Tweet…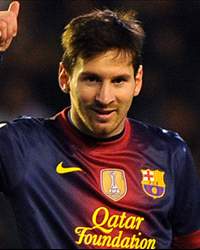 "Great record by Lionel Messi. Respect!"

"With great Respect & Admiration I congratulate Leo Messi (& Gerd Muller) for their amazing achievements. #MessiMuller"
Chelsea's Marko Marin and former Manchester United striker Ruud van Nistelrooy offer their respective compliments to Lionel Messi for scoring his 86th goal of the calendar year, going one ahead of Gerd Muller's previous record.
"Also tweeps want to get to that 300,000 followers and will be giving away a couple of singed boots to say thanks tweeps #300,000."
Tottenham
right-back
Kyle Walker
(pictured, right) offers a slightly burnt pair of boots to those who help him reach 300,000 followers on Twitter.
Er, cheers, Kyle… really thoughtful, mate.
"Follow my mum @sandrachonte can't believe she's finally on tweeter :)"
Tottenham striker Jermain Defoe tries to find some followers for his dear old mother.
Chelsea attacker Victor Moses (pictured, below) offers his thanks to Blues fans for making the trip to Japan to support their side in the Fifa Club World Cup.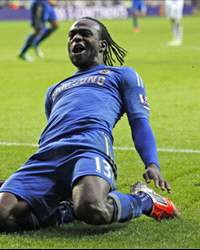 "amazing support here in japan for chelsea thanks to everyone who has come to see us"
"Gym done.. Knackered! @BBCSPOTY meeting now. You'll never guess who's won it."
TV pundit and former
Everton
striker
Gary Lineker
offers a teaser to fans ahead of the BBC's Sports Personality of the Year awards.
"I have 2 people requesting more followers beside me @adamcoombes_ and @bclifford47, so follow my -21 friends !!!"
Chelsea's forgotten man, Florent Malouda, reminds fans that he is still at the club playing with the Under-21s.