By Sammie Frimpong, Edmund Okai Gyimah & Evans Gyamera-Antwi
Following his exploits for German club Greuther Furth, Ghanaian lateral defender Baba Abdul Rahman has earned himself a move to Bundesliga side Augsburg. With that, the queue of the 20-year-old's admirers gets ever longer.
Somehow, though, Ghana coach Kwesi Appiah would not be counted among of those. So then, here's to convince you, Kwesi, on why Rahman should be among the next batch of players you invite for senior national team duty: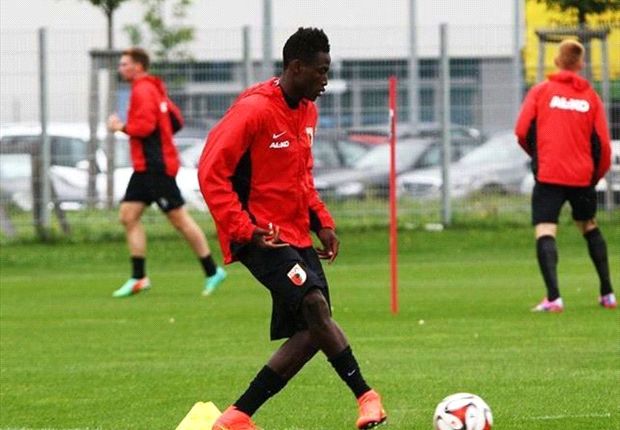 HE IS ON THE RISE
Rahman, quite unbelievably, has played top level football for no more than three years. A loan move to Ghanaian giants Asante Kotoko in 2011 from lower-tier outfit Dreams FC sparked it all and, since then, he has only soared higher. Rahman caught the eye - even that of Arsenal coach Arsene Wenger, who once personally invited him for trials – and eventually found himself a transfer to then newly-promoted Furth. Two years later, he is back in Germany's top-flight (following one season spent with Furth, now relegated), this time with Augsburg. Don't bet against him reaching greater heights, such is his class.
HE IS VERSATILE
Rahman joined Furth a left-back and indeed operated in that role for a considerable while. By the time of his departure, however, the Cloverleaves' manager, Frank Kramer, sought to move him into an advanced position on the same flank. Rahman didn't disappoint, scoring twice and earning a penalty in his last game for the club. Such versatility is a quality Ghana could use, for he is capable of contributing as much defensively as he does in an offensive sense. For what it's worth, he is great with both feet as well.
HE IS TESTED AND PROVEN
If Appiah wonders whether or not Rahman would be any good in national colours, he would do well to take a look at the young man's performances at last year's U20 World Cup in Turkey. Having sat out Ghana's opener - a 3-1 loss to France - Rahman was selected to start the Black Satellites' second group game (against Spain) by coach Sellas Tetteh and took his chance like a duck to water, featuring throughout the remainder of Ghana's ultimately rewarding campaign.
Even in a team that had its attacking players stand out, Rahman more than held his own. So then, who thinks he cannot make the step up to feature for the Stars? Any hands up?
HE IS A NATURAL LEFT-BACK; A NATURAL LEADER, TOO
The left-backs Ghana currently has - the likes of Harrison Afful, Kwadwo Asamoah, and Daniel Opare - are mostly of the makeshift sort. Rahman, in contrast, isn't. Left-back is his natural slot, and he would be a perfect fit. At present, Ghana has few of his like and, among that rare breed, Rahman is finest. He is also a born leader, having skippered while at Dreams FC, as well as during his days with Ghana's U17s and U20s.
HE IS CONSISTENT AND DISCIPLINED
Just over two seasons spent playing at the top might seem somewhat lean a yardstick by which to measure a player's consistency. Still, Rahman - in the said period - has rarely suffered a significant dip in form. Rather, he has maintained his standards, racking up 20 games in his debut season for Furth and 22 in the next. Discipline-wise, Rahman is again a definite improvement on most of the left-back options presently available to Appiah. Forty-odd matches in one of Europe's most physically demanding footballing countries has yielded no more than three bookings, all yellow cards.
And that sums up just the kind of player Rahman really is, doesn't it? Calm, colorful, organized, and efficient. Call him up and play him, so Juventus' Asamoah - at present being wasted in defence - could be freed and put to better use.
Really, what's not to like, Kwesi?