EXCLUSIVE
By Sammie Frimpong & Ahmed Attah
Ghana striker Asamoah Gyan is "honoured" to have made it into the prestigious Goal 50 for the 2013-14 season.
The Goal 50 is an annual award that recognises and ranks the world's 50 best footballers of the season.
Speaking to Goal on being notified of his latest feat, Gyan could not hide his delight, expressing his gratefulness to "the players in the [Ghana] national team and at Al-Ain for making this possible."
"Without them I couldn't have achieved this laurel. I'm very happy to have been selected in this important list. Being considered one of the top players in the world is a great achievement. I'm happy but I didn't do this alone. I thank everybody for their support. Working hard is the secret to my success – that is advice I would give to all individuals," he said.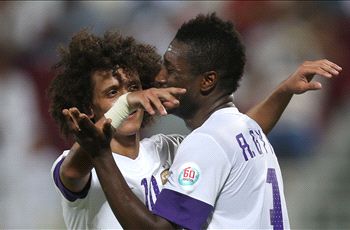 "I'm very happy for this award. I really appreciate. I'm happy to become the first Ghanaian to be named in the respected Goal 50"
"It is a big honour," Gyan continued. "I'm very happy for this award. I really appreciate. I'm happy to become the first Ghanaian to be named in the respected Goal 50. I'm extremely happy and it means a lot to me that my performance is being recognised."
Cristiano Ronaldo won the 2014 edition of the Goal 50. Gyan, who ranked ahead of the likes of Juventus ace Paul Pogba (38) and Dutchman Robin van Persie (41) in 35th place, did not fail to note the significance of the award, insisting it would prove 'a spur' in his quest to attain even greater heights.
Personal success it might be, but the ex-Sunderland striker humbly acknowledged the contribution of several others without whose inspiration he might not have reached this far over the past 12 months. Among these he named Ghanaian music artiste 'Castro', a friend of Gyan's who drowned at sea during a leisurely trip he took in the 28-year-old's company earlier this month but has not been found yet, causing great furore in the west African country.
"I want to dedicate this wonderful award to my late mom, team-mates, my club, family and friends and above all my missing friend Castro," Gyan said, after which he also expressed his gratitude to his fans, as well as to "Goal for this honour."

He added: "It doesn't matter where you play – if you play in India – it is working hard that is more important. It is great to see other Africans in the list. They have lifted their countries flags high. I am the only person from Ghana in the list. I am proud to be able to lift the flag of the country high.
"I want to thank my club team-mates – without them I wouldn't have achieved this, my staff, the president and my fans. I am still young and am still working hard – definitely there are still many good things to come."
Gyan, whose exploits at the 2014 Fifa World Cup saw him strike twice to claim Africa's all-time topscoring record in the Mundial history (six goals overall) from Cameroon legend Roger Milla, has since re-joined UAE-based outfit Al-Ain, for whom he scored 29 league goals last season and is the leading scorer in the ongoing edition of the AFC Champions League.

Goal will like to thank Al Ain and their Media Coordinator Khaled Mustafa as well as Gyan's manager Dentaa for making this exclusive interview possible.
Click HERE to see the full list for the 2014 Goal 50
HAVE YOUR SAY
Do you agree with our list of the world's 50 greatest players of the 2013-14 season?
Get involved via our Goal 50 section this month
. Give us all your views on the debate by commenting below and by getting in touch on
Facebook
or
Twitter
using the hashtag #Goal50.