TRIBUTE
By Sammie Frimpong

One day, you'll be just a memory for some people. Do your best to be a good one. – Anon
When a great man dies, his well-lived existence is assessed and hailed from varying perspectives. In the hours since he died of an untimely cardiac arrest at his London residence on Saturday, the same rule has been applied to ace broadcaster Komla Dumor's life. And - from what has been heard thus far - he has emerged with top marks, at least on the counts to which the public has largely been privy.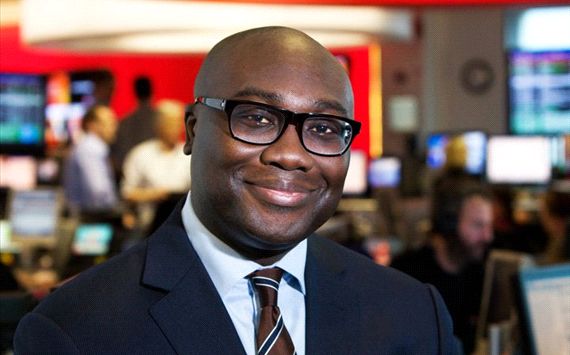 1972 - 2014 | 'THE BOSS PLAYER' IS GONE TOO SOON
A brilliant journalist (employed in an elevated portfolio by the British Broadcasting Corporation at his death), they've called him; also a fine family man, and a jolly good fellow; a guy you would be privileged to share a bottle of beer and hot kelewele with any day.
Dumor excelled at something else, though: Football.
It wasn't that he was particularly outstanding on the ball. Hardly.
In fact, in a Q&A conducted with the BBC not long after he joined the institution, Dumor revealed he couldn't even 'dribble a football'.
Yet he loved the sport to a fault, and especially when the Ghanaian national team, the Black Stars, were involved. His most passionate remarks and posts on social networking fora would often be in reference to the Stars' fortunes or events happening in the team's camp ahead of a big game.
| | |
| --- | --- |
| Dumor never missed an opportunity to declare his unabashed support for the national side, be it in his office at the BBC when Ghana won a game, or while covering the 2010 World Cup in South Africa | |
For instance, when it was announced sometime in 2013 that Kevin-Prince Boateng was making a return to international football some two years after walking out on the side, Dumor queried on Facebook:
"Kevin Prince Boateng has come out of his self-imposed retirement just in time for the last match to qualify for Brazil 2014. What does that say to the players who remained dedicated to the Black Stars for the years he chose club over country?"
Those words truly echoed the general sentiments on the matter back home, and a good fraction of the hundreds of comments the post fetched certainly proved so. And when Ghana beat Egypt 6-1 in Kumasi to all but seal a place at this year's World Cup, Dumor cheered thus:
"Ghana's Black Stars in an emphatic win in the World Cup qualifiers. 6-1 against Egypt's Pharaohs. My Brazilian Portugese lessons will not be in vain. Tudo Joia!"
Ah, if only he knew...
Dumor never missed an opportunity to declare his unabashed support for the national side, be it in his office at the BBC when Ghana won a game, or while covering the 2010 World Cup in South Africa where he watched his boys romp memorably to a quarter-final appearance.

BBC chief international correspondent Lyse Doucet, in the corporation's own tribute to him, mentioned football among the three Fs that dominated Dumor's life, his 'faith' and 'family' being the others.
Dumor's last written article for the BBC's website, on his highlights for 2013, mentioned Ghana's qualification to Brazil 2014 as arguably the concluding year's brightest note for him.
"Ghana, my team, qualified for the football World Cup," he gushed.
The personal feel in that statement lay in much more than the italicized words (italics ours, by the way), drawing deeply from a fountain of joy and pride bubbling within. One could only imagine how his thumbs bristled with excitement as he typed those words.
It's going to be hard being in the office tomorrow knowing that Komla Dumor will never again sit on that desk away to my left mocking my Warriors, with some help from Peter Okwoche





- BBC's

Farayi Mungazi on Facebook
Who is to tell whether he might actually have been gearing up seriously for the summer's action in Brazil?
A portion of a quote attributed to him earlier in this write-up hinted that the late 41-year-old had apparently already started up on his mastery of Brazilian Portuguese; he might as well have had his London-Rio-London return ticket booked in advance!
If ever they lacked enough motive to put on a great show at the World Cup, Ghana coach Kwesi Appiah and his charges now have one more good reason to glitter come June: doing the memory of one of the team's biggest fans justice.
Really, Dumor would have desired no less; if for nothing at all, at least just so he could get one over Nigerian Peter Okwoche and Zimbabwe's Farayi Mungazi, his fellow sports-loving African mates at the BBC, while indulging in some light-hearted workplace banter.

For a fact, Dumor might never have been as adept with a football at his feet as he was at handling a microphone and the biggest of interviewees. In his heart, though, he indulged the beautiful game right to the end, as only a 'Boss Player' like him could.
So long, Komla.

Game Over.


Goal Ghana has its own

and

account, so for all the latest news and features on Ghana football follow us by clicking on the above links