COMMENT
By Nana Frimpong
Former Ghana regular goalkeeper Richard Kingson could be on the verge of a return to the national fold, specifically for the upcoming 2014 World Cup two-legged play-off against Egypt, if media reports are anything to go by.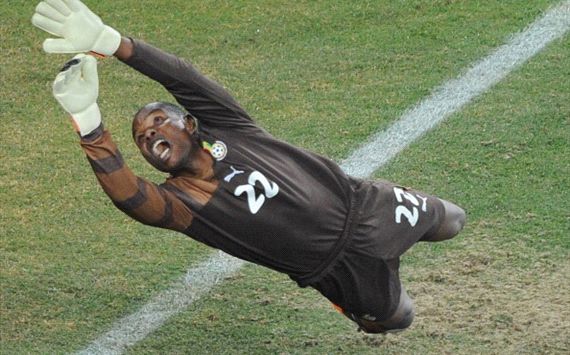 There is some sense behind calls for the veteran custodian's re-entry to the Black Stars' set-up, a little over two years since his last call-up. Kingson, affectionately referred to by his admiring countrymen as 'Olele', abounds in experience, a commodity that many local football fans and authorities believe would come in handy in the double-header versus the potent Pharaohs.
But that is as much as anything Kingson has to offer the national cause. If coach Kwesi Appiah's policy of handing call-ups out solely on merit is anything to go by, Kingson barely deserves one. The main reason why Kingson was dropped in the first place was his lengthy spell of inactivity at club level. After being released by English side Blackpool in the summer of 2011, a two-year period of dormancy ensued which he only arrested last July when he signed for Cypriot club Doxa Katokopias. Even so, the ex-Wigan keeper has played no more than three games for his new employers - all three games contested by Katokopias in the latest season of Cyprus' league football, in fact - and has conceded six goals in two games which followed a debut performance that saw him keep a clean sheet. Needless to say, the quality of Cypriot football is quite suspect.
Juxtaposed to the present fortunes of the three goalkeepers who have regularly occupied the goalkeeping slots available in the Ghana team during the time Kingson has been out, Kingson pales into insignificance.
Fatau Dauda, the usual starter for Ghana these days, has joined South African giants Orlando Pirates where he is set to engage in fine competition with Bafana Bafana goalkeeper Senzo Meyiwa after recently securing his work permit. One of Dauda's back-ups, Daniel Adjei, has already established himself in the Premier Soccer League, consistently and zealously minding goal for Free State Stars. The other, Adam Kwarasey, excels weekly in similar style for Norwegian outfit Stromsgodset. Collectively, the trio share a sum of senior international caps that is but a fraction of Kingson's record haul of 90, yet they do have lots of time on their side to develop and mature some more (each finds himself on the kinder side of 30), a luxury that Olele, at 35, clearly lacks.
OPPORTUNISTIC?
And then there is the kind of picture a recall for Kingson at such a time would paint, the mosaic of an opportunist that gets ever more vivid whenever he arrives late to cash in on the sweat of his peers. It might have happened just once before, but a second occurrence would certainly make it a trend, and that is bad enough.
The first instance was in 2006 when, just months prior to Ghana's maiden participation at a Fifa World Cup, Kingson was brought in as coach Ratomir Dujkovic's preferred goalkeeping option at the showpiece event, displacing Sammy Adjei and George Owu who had worn their gloves out getting the four-time Africa champions qualified for the tournament in the process.
Should that 'trick' be repeated this time - Ghana have already cleared six qualifiers under the care of Dauda and his current deputies - eyebrows would certainly be raised.
Would the FA - the same body which oversaw that eerily similar incident seven years ago - be willing to risk the potential scandal that could be triggered by an en core?
Is Kingson any worthier than Dauda, Kwarasey, Agyei, or even Guadalajara's Razak Braimah, are?
Would Appiah's rubber-stamped system of meritocracy be sacrificed on the alter of public sentiment or perhaps pressure from above?
We'd soon find out.

Follow Nana Frimpong on

Goal Ghana has its own

and

account, so for all the latest news and features on Ghana football follow us by clicking on the above links