FEATURE
Fiifi Anaman | Ghanaian Football Writer
It was only his debut, his first time playing a competitive game outside Ghana. But within four minutes his intentions were clear.
It was not that surprising that 23-year-old Yakubu Mohammed started for South African outfit Maritzburg United against newly-promoted Polokwane City in Saturday's Professional Soccer League (PSL) opener.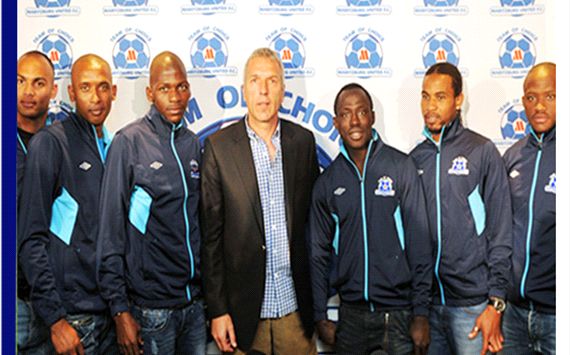 UNVEILED |
Yakubu Mohammed (fifth from left) being outdoored with five others
Mohammed had been unveiled with his number nine shirt a week before, after a successful trial that saw him score twice in a warm-up friendly - all these, after apparently 'failing' to impress the technical handlers of Orlando Pirates where he was initially billed to join from Ghana's Ashanti Gold SC.
Pirates coach Roger De Sa revealed why Mohammed, scorer of over 50 goals in five seasons in Ghana's top flight, had failed to make the cut. "He had one session and after 30 minutes, he pulled off. He was out of breath and he couldn't keep up. So I mean really are we going to sign a player who can only do 30 minutes of training?"
De Sa's revelation was shocking. Something surely, must have gone wrong. Mohammed is a striker who has hit double figures (10, 16, 14) in league goals in Ghana for three seasons running, a rare feat, including being the second highest scorer twice in the past two seasons. Couldn't train for 30 minutes? Something definitely didn't add up. De Sa was either lying or the weather and altitude conditions (as popular South African football magazine KickOff had argued) had affected his fitness.
It was hard to find any convincing justification for his hasty rejection, except for the conspiracy theory that said Ashanti Gold CEO Cudjoe Fianoo had tried to force the Ghanaian on the Sea Robbers, after they had only demanded for Yakubu's Ashanti Gold team-mate and Ghana international goalkeeper Fatau Dauda. It essentially meant Pirates wanted to find a way of getting rid of the striker, who they had never seen play or wanted, and so De Sa's weird explanation, as well as this seemingly harsh revelation by a Pirates source - "After spending sometime with us, we saw that he was not fitting into our system and we told him to go back to Ashanti Gold,"- were all surely excuses to get Yakubu out of the picture once they had finalised Dauda's move.
The rejection was unfair. His track record, which De Sa (rather ignorantly) attacked indirectly – "That's why our national team struggles, because every foreigner that arrives here with a half a CV, we sign," - suggested he should have been given the benefit of the doubt.
But he wasn't. Mohammed was denied the move, his reputation tarnished in the process. His confidence bruised as he was left to find another club. His managers acted swiftly, acting upon an interest expressed by Maritzburg, under a coach who knows Ghanaian football all too well; Ernst Middendorp.
Maritzburg, also home to Ghanaians Frank Gyamfi (former Wa All Stars) and Awal Mohamed (former Asante Kotoko SC) finalised his deal and unveiled him, a gesture that symbolised clearing his name and proving he was indeed fit and productive. An avenue to show Pirates what they passed up on beckoned.
"Insha Allah," he typically said. "They (Pirates) will surely regret not signing me up." You couldn't blame Mohammed for being eager to set the records straight. His determination to recover from the disappointment – which had really gotten to him - with positivity and focus shone in eagerness to start playing. Middendorp also seemed sure of his new signing; sure he would play a key role in propelling his side to their much cherished top eight ambition, despite the general feeling that he was a Pirates 'reject'. "From what we've seen so far he will be a positive member of the squad and he also wants to prove himself coming out of Ghana into South Africa."
Days later, Mohammed, four minutes into the game, had just sent a fearsome rocket of a shot from a free kick inches over the Polokwane City goal. The sheer drive and desire with which he smashed the ball reflected his insatiable hunger to prove himself. To this he worked hard, covering every inch of grass he could, searching for a debut goal that would be the ultimate humble pie.
Sixty-eight minutes into the game, 38 minutes after his supposed 'burn out' time, Yakubu stood behind a free kick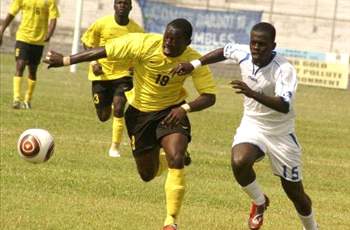 "But more of such focused, hunger driven displays, beefed up with more goals, and he wouldn't be too far from earning his dream first cap"
similar to what he had hit earlier in the first half. Experienced left winger Dillon Sheppard stood beside him. Sheppard had curled Maritzburg's second danger-area free kick over unto the top of the net after Yakubu had had his initial attempt, and so it was time for the Ghanaian to try again.
He took in a deep breath, anticipating a gentle lay on from Sheppard, which was perfect – just like the ferocious shot he unleashed into the bottom right corner of the net. Mohammed run straight to the technical area and hugged his team-mates on the bench. Then Awal Mohamed, Ghana's national best defender in 2012 who was rumoured to have had a hand in Maritzburg's interest in Yakubu by personally recommending him, joined him and other team-mates for a gleeful dance on the touchline.
That was the only goal of the game, securing three vital opening day points for 'The team of choice'. Yakubu's fairytale debut didn't end with the goal, he was also handed the Man-Of-the-Match award.
A debut game, a match winning goal and a MOTM award. What better way to finally prove one's self. Happiness and satisfaction in equal measure was written all over his face as he posed with his MOTM cheque, his smile signalling his own little, but significant triumph.
The Maritzburg fans present cheered. "It filled me with joy that I was able to score for us to win and make them happy. That's what every fan wants, to win," he said.
Mohammed will hope the goal is only the start of good things to come. He has put the Pirates episode behind him, even refusing to comment on it any longer – "I don't want to think about it. All I'm concentrating on is how to be on top of my game so I receive a national team call-up."
That last bit has been an obsession of his. Mohammed is not yet capped at senior mainstream level (mainstream because he has featured for the local national team, scoring two goals), and he wants it now more than ever. He wants it bad.
It's the reason, he had revealed earlier, he went to South Africa – to seek a new challenge and excel - an achievement he hopes will catch the eye of the national team selectors. Given Ghana's unhealthy over reliance on captain Asamoah Gyan for goals, it has always been hard to comprehend why Mohammed's form in Ghana, though impressive, was never enough in the eyes of the Black Stars handlers.
But more of such focused, hunger driven displays, beefed up with more goals, and he wouldn't be too far from earning his dream first cap. Mohammed is on a mission he believes will work out, for good. "You know, football is a way of life for some of us, so when we get the opportunities, Allah sees us through."
Keep calm and watch Allah see Mohammed through the tempestuous obstacle course that challenges (and normally overcomes) Ghanaian footballers in South Africa.
Follow Fiifi Anaman on