Ahead of tonight's Champions League final, Goal goes down memory lane and assesses the role of Ghana's Kuffour and Tanko in the two clubs' campaign years ago
SPECIAL
By Nana Frimpong
The last time Bayern Munich and Borussia Dortmund won the Uefa Champions League -in 2001 and 1997 respectively - each had a Ghanaian on their team.
In the former's case, the player in question was an integral component whose contributions proved quite immeasurable, while the latter's would not be regarded as any more than just another squad member.
Somehow, though, both - Samuel Osei Kuffour for Bayern and Ibrahim Tanko for Dortmund - ended their careers having savoured the glorious taste of being champions of Europe.
Goal's
Nana Frimpong assesses the contrasting fortunes enjoyed by Kuffour and Tanko at their respective clubs ahead of tonight's Uefa Champions League final between the two German giants in Wembley.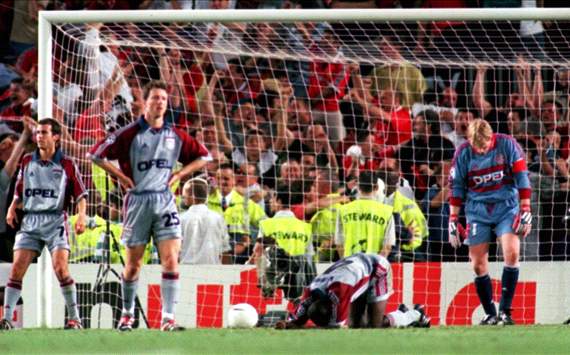 CRESTFALLEN |
Kuffour couldn't control his tears when they lost to United in 1999
Sammy Kuffour joined the Bavarians in 1993 on the back of an impressive performance at the Olympics Football tournament in Barcelona a year prior from Italy's Torino as a 17-year-old. Highly-rated as he was, Kuffour initially found himself at the bottom of an intimidating pecking order for a starting role in central defence yet his quality soon shone after a year's loan at FC Nuremberg with his enormous physical strength and determination propelling him into the niche of arguably Bayern's most reliable centre-back for the next decade or so.
In that period, he bagged 17 major winners' medals, including one from the 2000-01 Champions League season (two years before, Kuffour's Bayern had lost in the final of the same competition to Manchester United). In the Intercontinental Cup final later that year, Kuffuor scored a last-gasp winner against Boca Juniors of Buenos Aires, a deed which -along with the anguished emotions he expressed ever so unashamedly in the aftermath of the dramatic loss against United in the 1999 Champions League final - endeared him to the Bayern faithful.
Indeed, so widespread was the adulation commanded by Kuffour that when the Ghanaian ceased to curry favour with the Bayern technical bench - with the hostile Felix Magath replacing the more favourably inclined Ottmar Hitzfield - and was not starting enough games, the Bayern faithful protested loudly during the club's games in that period. Eventually, Kuffour was phased out by Magath and Lucio - the Brazilian defender who established himself as Magath's favourite - yet his unceremonious departure did precious little to erode his legend and rob him of his rightful place among Bayern's pantheon, a truth evidenced by the fact that quite a number of his former peers at Bayern turned up for his testimonial game held in Ghana a few years back.
Ibrahim Tanko, Kuffour's fellow Kumasi native, was not so fortunate. Also another who was groomed in his formative years by Alhaji Karim Gruzah's King Faisal (as did Kuffour), Tanko had a great start when Paris Saint-Germain snapped him up at age 15 in 1992.
Two seasons later another European giant, this time Germany's Borussia Dortmund, came knocking. Tanko, naturally a supporting striker, was handed his debut by Hitzfield, the very man who held Kuffour in such high esteem, against VfB Stuttgart in September 1994, an appearance that made him the youngest to feature for the Ruhr outfit after Nuri Sahin and Lars Ricken. Tanko eventually finished his debut season with a respectable return of 14 games and one goal, young and immature as he was. Subsequent seasons, however, proved injury-plagued and brought less joy for Tanko, resulting in more frustrations than any real progress.
Tanko featured in considerably fewer games and ultimately starred in just three of Dortmund's fixtures in their Champions League-winning campaign. That, plus two Bundesliga titles won earlier, would remain the only major successes Tanko chalked in the famous yellow-and-black shirt. For the rest of his Dortmund career, he alternated between the club's junior and senior sides. Eventually, in 2001 Tanko was released to SC Freiburg, but not before being suspended and suffering the shame of failing a test for cannabis.
Thus, while Tanko would perhaps be inclined to remember his time at the Westfalenstadion as perhaps the most rewarding spell of his 15-year German sojourn, it would not be for any more than the single Champions League triumph that masked many troubles. Somehow, though, one wonders if Dortmund and its fans would have any fond memories of him at all.
Follow Nana Frimpong on