Two weeks ago,
Ghana
coach Kwesi Appiah undertook arguably the most anticipated routine of the office that he holds – the naming of his squad for the 2013 Africa Cup of Nations.
Being a local coach himself, the expectations of a high local contingent being named were high. In the end, there were six of them, but the headline grabbing inclusion was Yahaya Mohammed.
"I was surprised," the Amidaus Professionals man of the moment opined. "Even though it has been one of my targets this season, if you look at the players that were used for friendlies and qualifiers since last year, my name never came up. Not even for the local Black Stars. It was really surprising, but that notwithstanding, I have worked hard for it."
Cut the number to 20 & I'll be in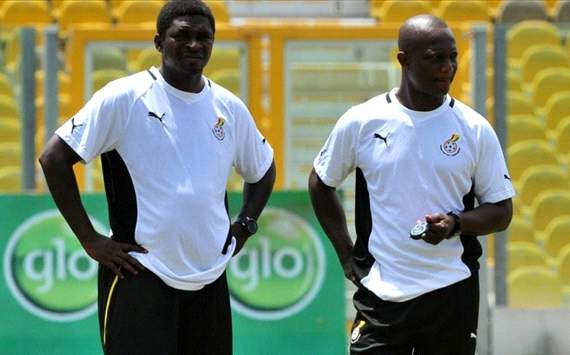 DILEMMA |
Kwesi Appiah and his assistant Konadu will have to drop three players
Many people though, believe that he might end up being a member of the squad who is there to add up to the numbers. Three players are going to be dropped before the final tournament, but Ghana's 'Taribo West' remains confident he will make the final cut. "I have strong hope that out of even the final 23, if 20 are selected, I, Yahaya Mohammedwill be amongst those 20. I'm so confident because I'm working for it."
"Even if I'm dropped, I believe the coach has the technical eyes to justify his decision, and it will even turn out to be an opportunity if he does nonetheless. I've already made the 26 [and] that means something in itself. We've got qualifiers and the main World Cup coming up too, he can give me another chance to show what I can do."
"The squad is good. It's one of the best that we've ever had," he continued. "If you look at all the players, who does not have form on his side?"
"Asamoah Gyan has the form?" the host, Adam Adjei asked. "Asamoah Gyan?" he asked in return. "Captain? Form?" he continued teasingly, cleverly swerving the question. "Boakye Yiadom has it?" Adam asked again. "Mmmm" he replied interestingly. ('Mmmm' is a typical Ghanaian response, often meaning yes). "Emmanuel Clottey has the form?" Adam asked for the third time. "Yes…. Yahaya too has the form!" he answered confidently. Epic.
One could not help but notice his 'love for questions' manifesting itself. So, if he had the power to drop three players, who would he drop? Enter sarcasm.
The coach sees differently
"Yahaya, one. You add the other two!" he said sarcastically. "So are you eliminating yourself then?" Adam asked. "I'm also asking you a question. Yahaya, one. Who are the other two?" he replied typically with another question. "Okay, you suggest the second one and I'll help you with the third!" he continued wittingly. The host dropped the question. Mohamed was being too smart.
People view him as the best player in Ghana's top flight currently. Does he think so himself? "There are probably other players who are better than me," he said. "But as I said, the coach (Kwesi Appiah) has the technical eye. He sees things differently."

"Look, I don't praise players, but this boy [Mohammed] is good."





- The late Jordan Anagblah
With the nation in high hopes of winning its first Afcon in over 30 years, Mohammed believes success for Ghana in South Africa is possible. "No one goes into a fight and says 'I'm going to lose, I'll be back'" the current top scorer of the Ghana Premier League said. "We have a chance," he continued. "If you look at the last two to three editions, we were either second or third. So we have a bright chance of bringing something back to our nation."
The issue that has taken Ghana by storm recently is the proposed $8 million Afcon budget earmarked by the GFA for the tournament in South Africa, and how the players' demands for increments in winning bonuses have contributed to the extravagance of the figure. "I don't know anything about it (players' demands for increments)," Mohammed said, quite emphatically. "I only want the trophy and how it would represent history in my career."
The BIG but
The on-loan Asante Kotoko player has often been described as a genius with a major flaw – his temperament – which many predict could end up being his Achilles Heel. Parma, asked about his 'adopted son', said "Yahaya is a fantastic player. Very committed on the field of play. But…."
Yes, but. A big, big but.
"….but his only problem is his off the pitch qualities. He needs to work on that."
But after all is said and done, his quality, which has defined his meteoric rise, is undoubted. "Look, I don't praise players," the late Jordan Anagblah, former GFA vice president once told Parma during the 2007 Toulon tournament. "But this boy [Mohammed] is good."
Regrets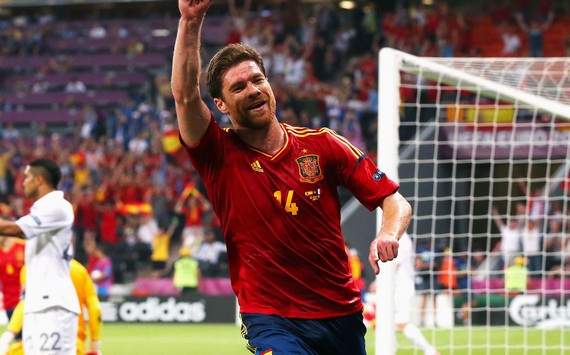 ROLE MODEL |
Xabi Alonso has inspired Yahaya Mohammed
He cites Amidaus as the best thing to have happened to him, whilst he believes leaving OGC is the worst decision he took. "I was injured then, and the club looked after me. They believed in older players as against younger ones like myself, so I wasn't getting opportunities. I terminated my three-year contract after they had offered me another year. I remember switching off my phone during those times, even though important people in my life like Parma called to advice. I had made up my mind."
"I regret that decision now," he said.
So, where will Mohammed be playing in the next three years? "Madrid," he said ambitiously. "I'll be playing at Real Madrid. That's my dream team."
Role model? "Alonso," he said. "Xabi Alonso."
Click here to read part one of this article
Goal.com Ghana wants to acknowledge Asempa FM's Adam Adjei for this interview. Make a date with his Sports World show which airs on Asempa (94.7) FM, Accra, every Saturday at 10am.