Inter-Royals Football Club, an Accra-based colts football team has been presented with $7,000 cash and $3,000 in football gear for winning the maiden edition of the Africa Airtel Rising Stars football tournament played in Nairobi, Kenya.
The Ghana Team progressed to the Africa tournament after they triumphed in the national event played in Accra.
The managing director of Airtel Ghana, Philip Sowah, presenting the cheque to the handlers of the team said Airtel was committed to fulfilling its promise made to the team before the tournament. Mr. Sowah said Airtel was proud of the achievement of the team as it brought honour to the country. He said Airtel is happy that the Airtel Rising Stars (ARS) initiative is already yielding positive results for the country.
Mr. Sowah cited the case of Priscilla Okyere, the captain of the national Under-17 team, the Black Maidens,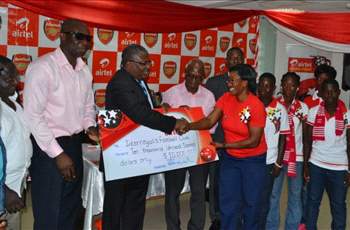 who was a participant at the maiden edition of the Airtel Rising Stars held last year. "Priscilla as you know, led the national team to win Africa's first medal at any female soccer global competition; her exemplary leadership on the field and immense talent is one that Airtel is proud of and that is why we want to help in the further development of Priscilla by rewarding her with GHC 5,000 to be placed in an investment fund for her," he said.
Okyere was one of six best players from Ghana who attended a soccer clinic in South Africa last year under the auspices of Airtel through the Airtel Rising Stars program. Okyere said she was grateful to Airtel for the reward and the opportunity she had to take part in the Airtel Rising Stars. "It taught me a lot of things I didn't know before," she said.
The chairman of the National Juvenile Committee (NJC) of the Ghana Football Association, George Afriyie said his outfit was happy with the ARS initiative being pioneered by Airtel. He said the NJC is looking forward to continuing the collaboration with Airtel to help unearth soccer talents at the grassroots level.
Airtel Rising Stars is an initiative geared towards unearthing footballers who are in school. Two of the players from the just ended event have been called into the national U-17 team, the Black Starlets.