Ghana
international midfielder Bernard Yao Kumordzi has his fingers crossed to represent the west African country at the 2013 Africa Cup of Nations in South Africa.
After sealing a three-year deal with Belgian premier league giants KRC Genk, the 27-year-old is hoping to win a lot of laurels as well as get a lot of playing time for Black Stars call-ups.
The former Norrkoping midfielder granted an exclusive audience to
Goal.com Ghana
recently and revealed his plans for the future
How did you get to Klagon FC Youth?BK
: Klagon is an area close to Tema and that's where I grew up so that was why I started my youth football there.
How was that experience?BK
: It was great because I was playing in a town where everybody in the town knows me.
Did you have a nickname?BK
: My nickname was Kumo
Were you a good student back in school?BK
: I was good at the early stage, but I started losing everything when my interest for football started growing.
Which team did you support as a boy?BK
: Arsenal.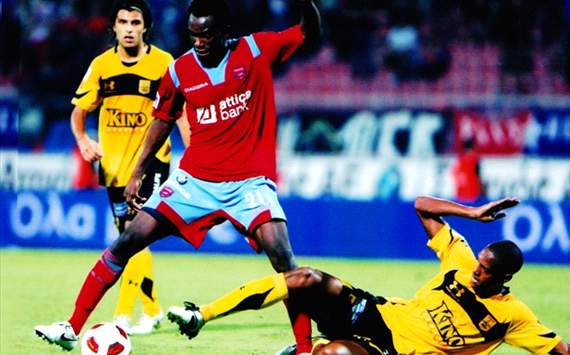 He loves the game |
"I love watching football. That's all I do in my spare time."
Do you have any weaknesses on the pitch?BK
: I don't really notice any weakness now. I have worked on all my weakness.
Who are your three favourite midfielders?BK
: Michael Essien, Zinedine Zidane and Xavi Hernandez
What are the highlights of your career that you will never forget?BK
: There was a situation where I got two yellow cards in a game, but the referee did not send me off. I played all the game.
Have there been any low moments in your career that you don't ever want to remember?BK
: That was back at Panionios in Greece. I got a low back pain injury that kept me out for almost seven months and it stopped me from an opportunity to join Olympiakos who expressed interest in me at that time before the injury.
Who is the best player you have played with?BK
: Uruguayan footballer Álvaro Alexander Recoba Rivero is the best player I have played with.
Can the Black Stars qualify to the 2014 World Cup?BK
: I believe that the Black Starts will qualify for the World Cup 2014 in Brazil because Ghana is blessed with quality players and with the current form of the team, Black Stars will qualify.
Would it be a dream to play your first tournament for Ghana at the 2013 Africa Cup of Nations?BK
: I will be there, if I have to be there, but it will be a dream to represent my nation at the highest level.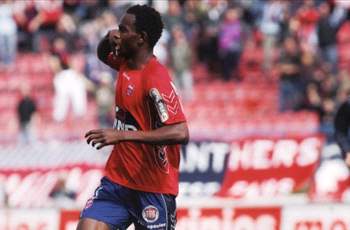 "My main objective is to win titles and I think we have a good team to achieve that."
The Swedish media once described you as Nigeria international Nwankwo Kanu. How did you feel?BK
: I have heard that and I felt great [because] it played a part in my career progress. It feels good to be compared to a star, and that spurred me on to live up to the challenge.
What has been the most embarrassing moment in your career?BK
: The most embarrassing moment was when my transfer to Olympiacos was called off at the last moment
Best advice received and from who?BK
: I was very lucky to have a lot of people advising me but for the past two years now it's my manager Paschalis Toundoris who has been the strong person beside me.
Who would you say is the funniest guy in the Black Stars team?BK
: Jonathan Mensah is the funniest in the Black Stars team, but he is serious when he has to.
Which woman do you admire most in the world?BK
: Sorry, but my wife is that woman. I admire her so much although I appreciate women who are doing well in their various fields of work.
What do you do in your spare time?BK
: I love watching football. That's all I do in my spare time.
What is your greatest fear in life?BK
: Injury
How will you love to be remembered?BK
: The midfielder that scores goals.
What car do you drive?BK
: BMW x6
Can you describe yourself in three words?BK
: Calm, intelligent, mentally strong
What would you have become had you not been a footballer?BK
: I really don't know. Football was the only thing I wanted right from childhood and I worked towards it.
You recently signed for Genk and so far how is the experience like?BK
: The experience is good because Genk is one of the top clubs here. It is a profession club and I am happy to be here.
How is your relationship with your new coach?BK
: My relationship with my new coach is good. He is an open person and I am glad to have him as a coach.
What are the objectives you have set for yourself in Belgium with your new club?BK
: My main objective is to win titles and I think we have a good team to achieve that. So I am hoping and waiting for God to answer my prayers.