EXCLUSIVE
By Kent Mensah
Ghana
Under-20 winger Ebo Andoh has revealed leaving Porto to AEL Limassol was aimed at getting a first-time call-up at club level as well as gain easy access to the Black Stars.
Speaking in an exclusive interview with
Goal.com Ghana
, the 19-year-old said his dream is to play in the 2014 World Cup in Brazil and he is very hopeful he has a lot under his sleeves in the coming season to realise that vision.
Below is the full interview:
You recently moved from FC Porto to Cyprus champions AEL Limassol, what prompted this move?Ebo Andoh (EA)
: It was quite simple; I want to play first-team football. Now, I have the opportunity to play at that level and in the Champions League. There wouldn't have been much chance of senior appearances at Porto next season, so I decided to make the move. I feel I am ready for first-team football and I hope it can help me achieve my goal of getting to the national team ahead of the 2014 World Cup. That was in my thinking too.
In your Champions League second-round qualifier you will face either Linfield of Northern Ireland or B36 of the Faroe Islands, what do you make of those draw?EA
: I think it's a good draw for us, but we need to work hard and qualify for the next stage. There can be no excuses for us.
You have been in Cyprus for a week or two now, how have you found life there so far?EA
: I am really enjoying it so far. The weather is great, it is really hot, and I was given a great welcome by everybody here. The coaches and players have been great, they are all treating me well. I have felt at home in Cyprus so far.
How did it feel to have fans gather to welcome you to the club on your arrival?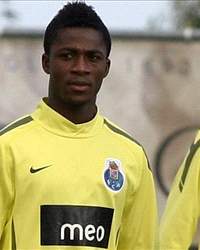 "My dream is to play in the 2014 World Cup. If God can allow me to play at the African Nations Cup that is good for me, but it is too soon I feel."
EA
: It was amazing. I wasn't expecting it at all. They came up to me and said we are taking you to meet the fans and they were all there. They were happy for me and I hope I can work hard to fulfill their belief in me. I really hope I can please them with my performances.
Was it a difficult decision to leave Porto?EA:
Yes, it was very difficult because Porto is a good club and I like them a lot. But, I need to pursue the thing I want most and that is to play first-team football. I think it's going to be a good decision for me and my family as well. It was a big decision for us, but I feel happy here.
You were linked with several teams including a big side in France. Why did you choose Cyprus?EA:
There were a few offers, but the most important thing is to judge where you will be happy. It's not about money. I just wanted somewhere where I could play every game. I think that is the most important thing. I'm 19 years old and I have the chance of a fresh start at this great club, so I think it's good for me. I can hopefully play each week and in the Champions League also.
Did you know anything about Limassol before you joined? Did you manage to speak with Chris Dickson?EA:
No, I didn't speak with anybody. I spoke with my agent and I knew they are not a big team in Europe, but they are a good team – they were champions last season. I think it is a good next step for me.
You leave your friend Christian Atsu at Porto, are you hopeful he can make an impression on the first-team this year?EA:
I hope he can. I really hope he pushes on and does well there and for the national team. I am praying that he can achieve his dreams this season.
What about you? What are your dreams in the coming years?EA:
My dream is to play in the 2014 World Cup. If God can allow me to play at the African Nations Cup that is good for me, but it is too soon I feel. I am aiming for the 2014 World Cup and I am working hard each day to try to get there.
You left Ghana two years ago, what do you think you have learned in this period? What would you advise other Ghanaians wanting to come to Europe?EA:
Many things. I feel I have had a good education in my two years at Porto and learned many things. I have had a good start under the excellent coaches at the club. It's not easy to make it in Europe, discipline is so important and you must work hard each day. The game is really different. Over here there are a lot smaller, technical players, whereas back home power is most important. I would tell them to put in the effort, be self-disciplined and keep praying so their dreams can come true. Talent is not the problem.
Do you think it was a good decision for you to leave Ghana at such a young age?EA:
I think it has been the right decision for me because it has allowed me to improve my all-round game. A footballer's career is limited, but I am here and I have more time to achieve my goals now. I really feel I am a better player now.



I need to pursue the thing I want most and that is to play first-team football. I think it's going to be a good decision for me and my family as wel





- Ebo Andoh

You were in the Under-20 side, but recently you haven't been selected. Does that make you more determined to get back in?EA:
When I was playing in Ghana, I was very visible each week. Then, I moved to Porto and it is very difficult for them to see me playing in the Under-19 side. This is part of the reason I am so keen to get first-team football, so they can see what I am doing and I can earn my place back in the Under-20 side. I never stop trying to make it into that shirt and eventually to the Black Stars. It's my aim to get in the U20's once again and play in the African Cup of Nations.
Do you have a message for the new Goal.com Ghana website?EA:
I hope this is good news for everybody in Ghanaian football. It will allow Ghanaian people to keep track of those players doing well outside of the country, whilst also allowing those outside Ghana to learn more about our football. My new colleague Chris Dickson is an example, he scored so many goals last season, but I think he is not known in Ghana. I hope this site will give people like him that opportunity, to allow their countrymen to hear of what they are doing in every game and every week.
Follow Kent Mensah on