The new Totel Football free-to-play fantasy football game has landed with a variety of great prizes to welcome you on board.
As with most other fantasy football games you pick 11 players and four substitutes from the week's Premier League fixtures to compete against fellow fantasy managers.
This offer is open to new and existing TotelFootball customers that have signed up through Goal.com. Anyone without an account to sign up here ready for the next gameweek. Only customers who sign up through Goal.com and are over the age of 18 will be able to enter this league so be sure to use this link.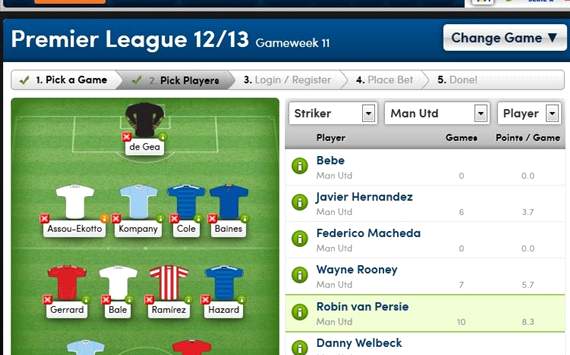 Your overall success hinges on the performance of your selections on the pitch, with points awarded for events such as assists, goals, clean sheets but taken away for conceding goals, penalty misses and receiving cards.
The Totel Football game differs slightly in two ways; firstly each game week brings a new competition, meaning you get to choose a new team for each round of fixtures.
Secondly, players do not have valuations and there are no budget restrictions (although you can only choose two players from each club).
So if you've always wanted a strike force of Robin van Persie and Luiz Suarez with Juan Mata, Santi Cazorla and Gareth Bale providing the ammunition, you can do just that.
This league will be exclusive to Goal.com readers over the age of 18 who sign up through the site and there's also the chance to pit your fantasy football brain against some of Goal.com's staff every week until the end of the season.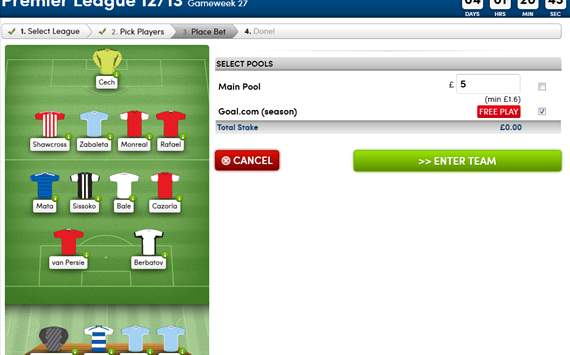 Another 8 game weeks remain in the Premier League this season, meaning you have plenty of opportunities to enter the competition.
Winners will be determined by adding together each fantasy manager's six highest scores (so you will stand a chance of winning even if you miss another week), the more points you earn the more likely you are to win.
A top five overall finish will secure a prize, with the overall winner pocketing an iPad 3 and the second to fifth winning a Premier League football jersey of their choice.
To enter the Goal.com league, select your squad for this week, then click on the Free Play option when you see the league selection screen (see above).
Anyone without a Totel Football account can sign up here.
Good luck!