He is still banned from football until the last week of October, but Luis Suarez will claim a small victory in the Court of Arbitration for Sport's decision on Thursday to reduce the severity of his four-month ban.
Whereas Fifa originally prohibited the Uruguay striker from showing his face in any football context, Suarez can finally get back to work and prepare for his return to the field. And what's more, some of that preparation can be done in friendly matches, both for Barcelona and for Uruguay, even before October 25.
It is by no means exoneration, but it is a far cry from the original decision which basically stripped Suarez of all dignity. He has won at least a little bit of that back thanks to CAS' verdict.
One major loser, though, is the Uruguayan football association, AUF, which saw no shift in their star man's nine-match international ban. But, in many ways, this battle was never about them.
Suarez's lawyers admitted that they had a much less persuasive case against that portion of his punishment than they had over the domestic legislation. If they'd resigned themselves to anything, it was the striker's absence from Uruguay's next eight competitive games, including the entire Copa America next summer.
"We are really frustrated because everybody on our legal team did a great job, put in a lot of effort, and we believed that we might see at least one or two or four matches removed. Without knowing the grounds for the decision, the panel was really tough as with Fifa," claimed the AUF's lawyer Daniel Cravo to Sky Sports.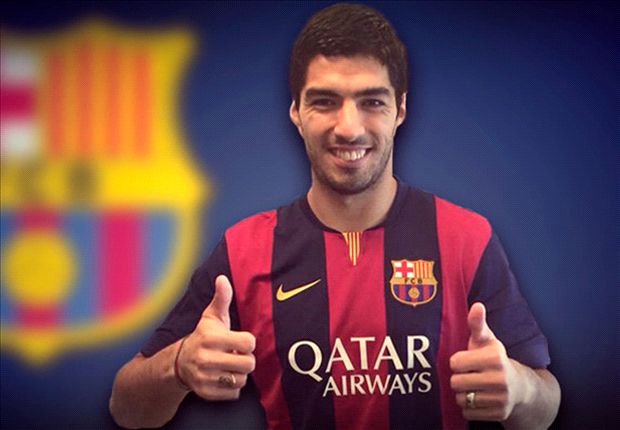 Thumbs up | Suarez will be able to train and play for Barca in friendlies
The national side do regain his services for their forthcoming international fixtures against the likes of Japan and South Korea now that he is no longer banned from all football activities, but that is small comfort. The AUF were always likely to come off worst in this.

Although a four-game reduction, which Cravo hoped for, would still have only seen Suarez potentially return for the final of the 2015 Copa America, the tournament has still been robbed of one of the continent's best players. But this loss will benefit Uruguay's rivals such as Brazil, Argentina, Colombia and hosts Chile - all of whom will be aiming to win the tournament.
Barcelona, of course, finally get to unveil Suarez as their player. They paid €88 million for somebody who, until now, has not even been allowed to have a look around the Camp Nou. And while it is true that the striker can play no part in their first 11 competitive games of the campaign, they will not lose too much sleep.
Not only do they have a favourable La Liga fixture list between now and the end of the 27-year-old's suspension (the weekend of the Clasico against Real Madrid), they will also be seeded in the Champions League, meaning they should avoid any majorly taxing clashes in the three matchdays Suarez will miss.
They would have loved to have him back sooner, but they'll take plenty of solace in their ability to use him in their final pre-season friendly against Club Leon on Monday, as well as any training games they can fix up over the next two months.
He might not be completely back, and Uruguayans may not be appeased in the slightest, but Suarez is at least no longer on the outside looking in. And Barcelona can finally roll out the welcome mat for their big summer signing.