Goal's guest writer explains why the global showpiece might just be hyped more than it is actually worth
COMMENT
By Daniel Nabary
It is an incredibly short tournament, spanning almost the same number of weeks as national competitions of far lesser repute yet the euphoria with which it is anticipated is simply spectacular.
No surprise there, though.
It's the World Cup, afterall.
Whenever it is due, the world does come to a standstill, doesn't it? Your favourite television programme gives up its slot on the channel schedule and, were we to collect data, it would be revealed that productivity in most places comes to a low during World Cup season.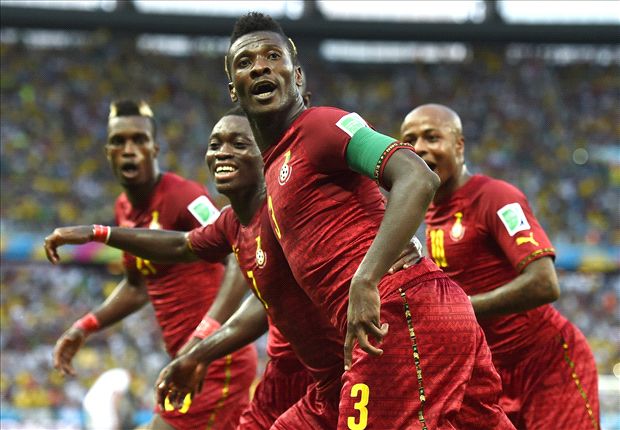 While there is little doubt that the Mundial is the planet's biggest football showpiece, this writer has long observed comments so detractive of other notable competitions around the world.
"The World Cup," some have claimed, "makes the Champions League look like a joke."
"The World Cup is the greatest show on earth; the remainder are really just cool commercials," others have said rather mockingly.
As though such derogatory comments weren't enough, the argument on social media and in several other circles has been - and is - that, for any player to ever dream of being legitimately mentioned among the greatest in the annals of the beautiful game, he needs to win the covetous World Cup trophy and/or at least perform well at the tournament, thus disparaging the worth of team and personal honours won at club level.
It's thus easy to understand why the World Cup could be quite overrated.
This case holds especially true in the wake of Cristiano Ronaldo and Lionel Messi being showered with praise by latter-day fans as the best footballers there have ever been, in spite of the fact that the pair have only managed a combined total of eight goals - five for Messi, three for Ronaldo - in three world cup finals, behind a tall list of players that include legends like Gerd Muller (14); Jurgen Klinsman (11); Eusebio, Christian Vieri, Paolo Rossi and Roberto Baggio (9). Even German Thomas Muller (10) and Spain's David Villa (9) - both contemporaries of Messi and Ronaldo - rank far ahead.
In truth, goals are not the sole measure of how good or bad an experience a player has at any given World Cup but, with reference to Ronaldo and Messi, that surely is a genuine source of concern, given that the duo rarely break a sweat while ridiculing defenders with their unparalleled goalscoring rate for their respective clubs, Real Madrid and FC Barcelona.
The World Cup, when it comes around every other leap year, lasts for no more than a month. Thus, on average, a player would contest three editions of the World Cup in their entire career. Just a few do get to savour more, and only three players have participated in five editions since the tournament's inception in 1930.
Do we really wish to go down this lane? Narrowing down a player's greatness to - out of the hundreds of games he'd probably play by the time his career is over - just three months' worth of football?
Heck, even the most basic of statistics suggest that there couldn't be a worst form of sampling.
What actually makes people rate players highly based on their World Cup exploits is a certain generalized understanding that matches on that platform have the highest stakes and are thus ultra-competitive. It is for this very reason that a game won at the World Cup earns the most points per Fifa's criteria of ranking national teams.
This competitiveness associated with the World Cup is only hypothetical, though. Perceived, not real. Results of World Cup games suggest the tournament is only as keenly contested as the Uefa Champions League or any of the other competitions mocked with statements as those quoted at the outset. Just how does the 8-0 drubbing of Saudi Arabia by Germany at Japan/Korea 2002 or the heavy 7-0 defeat suffered by North Korea against Portugal at the World Cup eight years later make its outcomes more closer to call compared to the supposedly 'cheap' Uefa Champions League which, on occasion, has recorded identical scorelines even in recent seasons?
Granted, there is a huge gulf in class - at least on paper - between teams that make it to the World Cup, and although Fifa attempts to restore some parity by limiting the number of representatives from non-performing continental confederations, this purpose hasn't been achieved absolutely.
In 2010, then 78th ranked New Zealand (from Oceania) made it to the World Cup and impressively drew all three group games against Slovakia, Paraguay, and an ailing Italian side before exiting. Imagine, though, that they had been drawn in the same group as eventual winners Spain. How was such a mismatch ever going to be marked as competitive? Or let's just say the All Whites had met Argentina and Messi had taken advantage of a weak opposition like Klose did against Saudi Arabia in 2002 (notching three of the eight goals that sunk the Asians) - would such a feat alone necessarily have made Messi 'one of the greatest'?
Hardly.
What bodes well for the World Cup and for other international competitions is that the former pops up only once in four years and each edition is so short-lived.
It's like this: we tend to crave more for food we like when we don't get it as regularly as we wish. When we do, though, it is only available in smaller quantities relative to the meal we like and yet eat everyday.
We love our club football and the big games played on cold, wet mid-week nights. And the Champions League - among other competitions - is anything but a 'commercial'. It is indeed as exciting as it comes, what with the intriguing away-goal rule and all the other mouthwatering ingredients.
In reaching this conclusion - that the World Cup thrives on hype - certain assumptions have been made. Among these is the noteworthy truth that some truly brilliant players don't ever get to play at the World Cup because they are from some of football's least fancied nations, while others would never make an appearance due to ill-timed, last-minute injuries. All of this makes the claim that 'a player needs to win the World Cup to be considered great' even sillier.


So, yes, the World Cup is definitely the biggest stage any footballer could grace, but to argue that his greatness should be determined by just how well he performs in merely 21 matches or likely less is only as good a piece of reasoning as the performances of Messi and Ronaldo at the World Cup.