Ghana lost 2-1 to perennial Fifa World Cup opponents USA at the Estadio das Dunas in Natal on Monday night. In a display that had flaws stamped all over it, Goal highlights the most glaring:
Concentrate!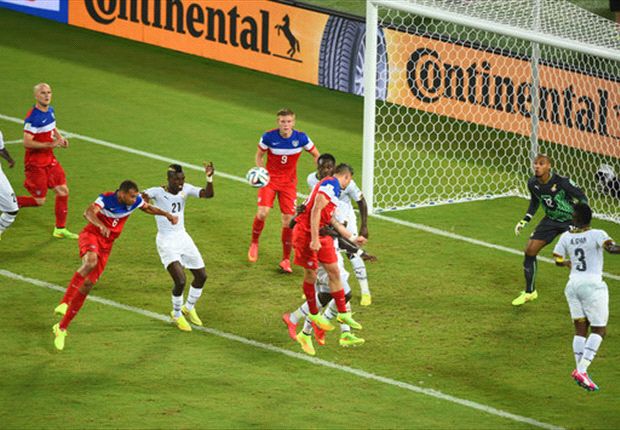 The timing of the two goals Ghana conceded said much about the team's levels of concentration, particularly in defence. They got too comfortable and sluggish during moments when any side is deemed most vulnerable - soon after kickoff, and in the immediate aftermath of a relieving equalizer - and got punished by the more driven, highly intense Americans. Otherwise why would Clint Dempsey be granted freedom of the Ghanaian penalty area so early in the match, or John Brooks be permitted that much space to cause ultimate damage? Against ruthless Germany and swift Cristiano Ronaldo-led Portugal, such margins of error would be exploited even more cruelly. Kwesi Appiah should get his boys to focus when it matters most.
Right man, wrong role: the botched Asamoah experiment continues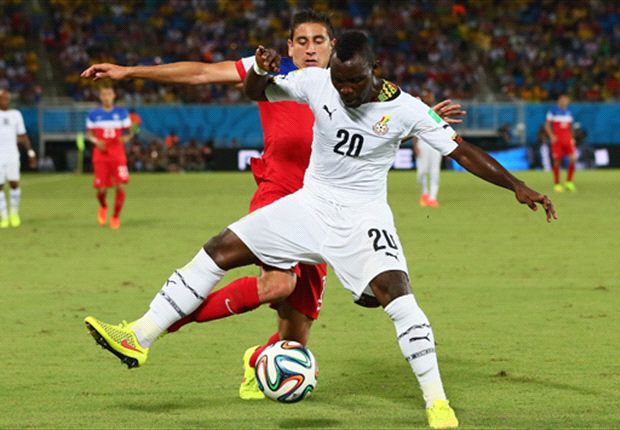 Appiah wasn't wrong when he decided, against better judgment and popular opinion, to start Kwadwo Asamoah in the left full-back role he thrives in at Italian giants Juventus. Ironically, though, Appiah wasn't too right, either. Asamoah put in a decent shift at his post, granted, but it was so painfully obvious that his fortes would be better utilised in his natural midfield playmaking niche at a time the team seemed so bereft of the creativity required to unlock a heavily guarded American defence.
Keeping it low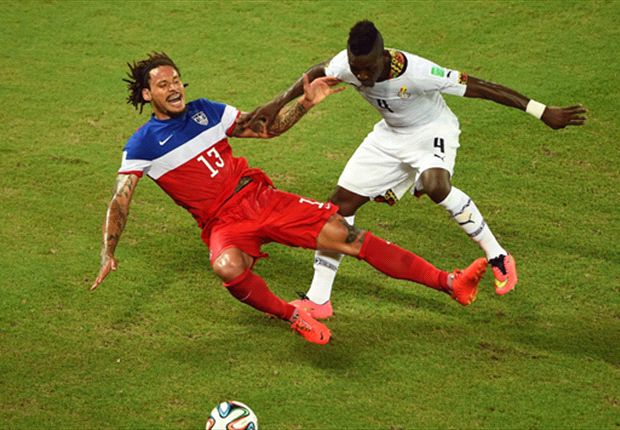 Lofted balls haven't really ever been the Ghanaian way. Our national teams - from youth level upwards - have always preferred to play on the deck, as that approach suits the nation's football stereotype and has stood the test of time. It was that trait which endeared Ghana to the world in 2006 and 2010; it was, too, the very element the Stars lacked last night. The high balls weren't getting to their targets - Asamoah Gyan and, to an extent, the younger Ayew - courtesy some woeful deliveries by Daniel Opare (I'd get to him soon, that boy!), yet neither himself [Opare] and the more impressive Christian Atsu thought much of varying their methods and preferably going back to the basics. I don't blame them, though; it is Appiah who ought to have noticed and responded. Perhaps he did - by introducing the like of Kevin-Prince Boateng who tried threading things through the middle with relatively greater success - but only not early enough.
Boateng, not Jordan, for Waris

Few begrudged young Jordan Ayew when he was named against the USA as Asamoah Gyan's strike partner. A week prior, in the friendly versus South Korea, the 22-year-old had got his first international hat-trick, following months spent flattering to deceive. He seemed ready to replace the injured yet more trusted Abdul Majeed Waris in perhaps the biggest game of his Ghana career. Before long, however, he appeared fazed - missed one great goalscoring chance just before recess - and was hauled off, after 59 minutes, for Schalke 04's Boateng whose big-match temperament and superior experience did increasingly more to add much-needed bite to Ghana's attack. Jordan, at best, might have been effective as an impact sub. Until Waris recovers - and probably even after he does - Boateng would be the better alternative upfield.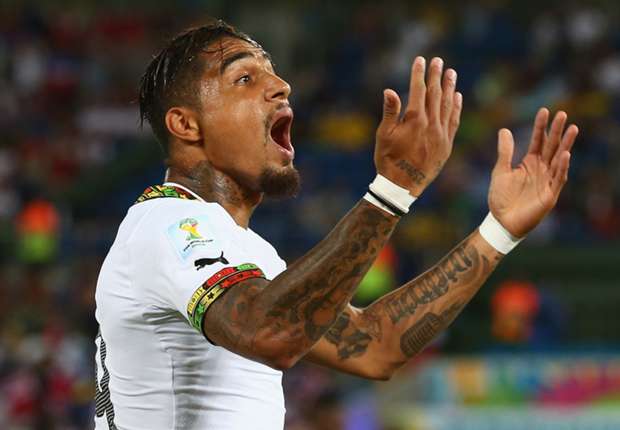 Like seriously...Opare?
Daniel Opare has always been a favourite of this writer, right from his days with the Black Starlets (class of 2007). As he has matured, though, Opare's offensive threat has waned considerably and has become a genuine source of concern for critics and admirers alike, the culmination of which was his performance against the Yanks. It wasn't as though more suitable options weren't available. Samuel Inkoom gives more quality going forward, while versatile Harrison Afful does tidy work on both flanks, yet it was the struggling Opare who starred and almost begged to be replaced.
Of course he couldn't say so out loud, and that is where Kwesi Appiah's fault lay. He should have known. Maybe he did. Or maybe he didn't. Either way, the buck stops with him.


Goal Ghana has its own

and

account, so for all the latest news and features on Ghana football follow us by clicking on the above links