So the 2014 Fifa World Cup is finally with us, eh?
Well, here's a sweet little letter from home, ahead of your Group G opener on Monday against the USA.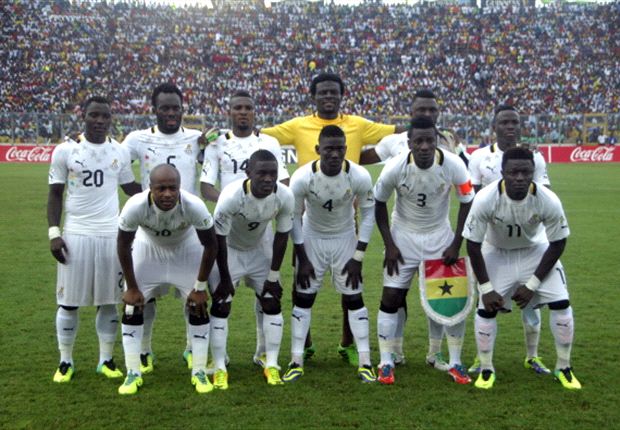 To All: Undo [the] States Again
There are a few questions to which the average tax-paying Ghanaian would require no answer but a strong, emphatic 'NO'.
Are the USA good enough to avoid a third straight loss to Ghana at as many editions of the Fifa World Cup?
Are they any better this time because they have a new coach, namely one who claimed bronze at the 2006 World Cup?
Should they be shown a little more sympathy than usual simply because they are without 'Captain America' aka Landon Donovan (arguably the greatest American soccer player there has been, for a fact)?
Hardly, lads.
Hardly.
Those are the vibes emanating from home. Expectations are already high among your countrymen, especially after the friendly a week ago against South Korea that made it actually seem as though you could beat the modern-day Spanish, Brazilian, Dutch, and Argentine national teams to gold in any round-robin tournament.
Can you, though?
Glued to our TV sets - watching on GTV/TV3/DSTV etc - we would know by midnight.
Every type of Ghanaian football fan - the Worrier, the Admirer, the Clueless, the Old-Timer, the Die-hard et al - would be watching.
The President himself is backing you to win, and for good reason. With the US Dollar pummeling the Ghana cedi so badly on the currency markets, he is really counting on you to exact revenge on the football pitch.
Before I sign off, though, there are a few personal messages/concerns from home those being addressed below would do well to take note of.
To Whom It May Concern...
First, Fatau Dauda.
What's good, 'Lion Face'? And how is the beard coming along?
Well, whatever.
Ghanaians just wish, if indeed you'd get to start versus 'Amrika' against the coach's better judgment, that you would cut down on the drama. The unnecessary drama, that is. Against Korea you threw yourself all over the place when there was little apparent goal threat - just who were you trying to impress?
Only actual saves count, remember, not feigned ones. Again, none of those frightening face-in-camera poses this time, please; my five-year-old cousin remains haunted at night by that horrible image from the 2013 Afcon.
Do pass the letter over to Asamoah Gyan now, please; the next few words are his.
Ghanaians saw the new celebratory move last Monday, 'Baby Jet', and many loved it. They want you to know just how ready they are to 'do the dance', starting this evening, and all they ask is that you let your club form and that slightly heavy backside count a little more often than at previous World Cups. Can you grant them that, at least?
Finally, to coach Kwesi Appiah.
After that thrashing of Korea, few are those who retain genuine doubts regarding your worth. And while success in Brazil is reasonably deemed non-negotiable by many, there are those who are a bit more concerned about your matchday outfit against the USA. Could you ditch the sartorial costume/polo shirts and opt instead for good old 'kente' fabric?
Some have also suggested, too, that you address your players in vernacular (Twi, preferably?) when shouting instructions from the touchline, just so Jurgen Klinsmann and co. don't figure out what you are actually saying. Logical?
That's just 'by the way', though.
May I ask about Abdul Majeed Waris, please? Is he fully healthy already? If not, Jordan Ayew - if what we saw against Korea is anything to go by - would fit just right. Contrary to what we might have thought prior, that boy can really 'play ball', so do use him.
Lastly, To All:
We would be monitoring tonight, no doubt, and Ghanaians wouldn't be too pleased if a poor performance and result renders their wake-keeping vain. They would, as usual, be scrutinising every pass and move, every goal and miskick.
Win, and people would momentarily forget you'd be $17000 richer for it.
Lose, and you know just what awaits you.
See you after full-time, then.
With love...
...from Accra.


Goal Ghana has its own

and

account, so for all the latest news and features on Ghana football follow us by clicking on the above links