Goal runs through five of the epic goal celebrations seen of African footballers at the Fifa World Cup
That the African loves drama is no secret. Whenever he combines that with his passion for football, the product is sheer bliss. Over the years, the Fifa World Cup has been lighted up by such instances and, ahead of Brazil 2014,
Goal
recollects five of the most memorable individual goal celebrations African footballers have served up at the World Cup.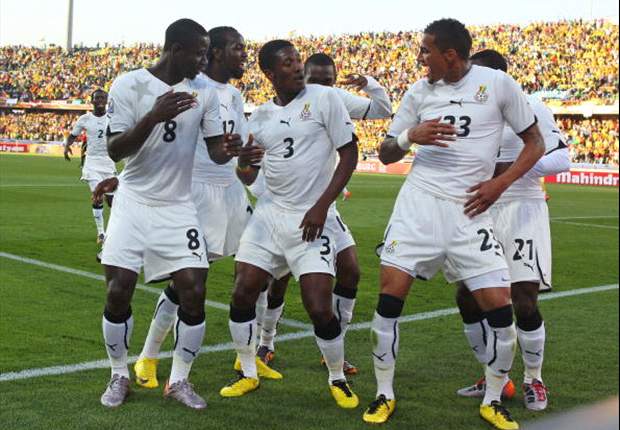 Ghana's lead striker was in such fine goalscoring form at the 2010 Fifa World Cup in South Africa, and his equally impressive dancing mood certainly complemented the former. At that tournament, Gyan treated the world to his lively, eye-catching goal celebrations, enacting a dance that Ghanaian readers would later identify as the 'Azonto', albeit a crude form of the original. That he scored against three of Ghana's five opponents at the tournament meant Gyan had ample opportunity to exhibit his entertaining dance-moves. Too bad he missed that last-gasp penalty against Uruguay in the quarter-finals - the world would certainly have applauded Gyan at his jubilant best. Alas...
JULIUS AGHAHOWA – Nigeria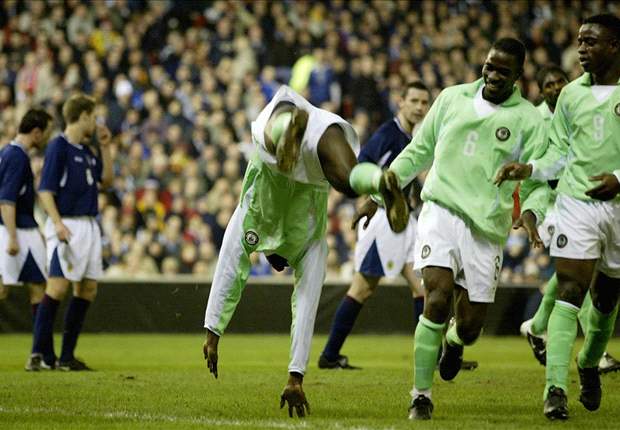 Julius Aghahowa did attain much fame as a footballer for Nigeria and a host of European clubs, but considering his fairly impressive acrobatic skills, he might as well have tried out his prospects for an Olympic medal in gymnastics or some other discipline. For a fact, almost all his goals were celebrated with a captivating somersault. Of all the instances, though, the most classic example being that which saw him pull off an astonishing sequence of seven flips in his country's second game at the 2002 World Cup [versus Sweden], in the aftermath of delivering a peach of a header in the 27th minute past Swedish goalkeeper Magnus Hedman. Given that it was the only goal Nigeria would score throughout a pitiful campaign, it must have been worth every stretch of Aghahowa's sinews. No highlight reel of the 32-year-old's career would be truly complete without it.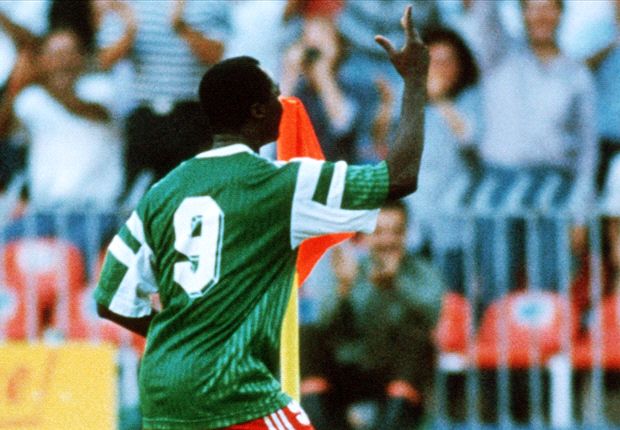 For a long time, goal celebrations were considered merely routine for scorers - nothing really out of the ordinary. That was all to change rather significantly, however, when at the 1990 World Cup in Italy, a then little-known 38-year-old, mustachioed Cameroonian arrived on the global scene to show the world exactly how it really ought to be done.
That fellow, Albert Roger Mooh Milla, did not even merit his place on the team per the criteria of the national team selectors (he was actually retired when Cameroon qualified) and only had his place on the team vetoed at the last-minute by Paul Biya, the country's incumbent head-of-state. Thus, for him to come to the tournament under such circumstances and steal the limelight as he did, with his brilliant performances as with his now legendary celebratory jig, was nothing short of amazing. Milla was, by some distance, the oldest player at that edition of the Mundial and, in the opinion of most of his critics, about a decade past his prime. Still, he was able to mark his appearances - all from the bench - with four goals, each of which he celebrated with a delightful hip-swinging, foot-twitching, belly-wiggling dance by the corner-flag so energetic you would expect it from someone at least 15 years younger. The 'Makossa', they called it.
Finidi George, in his glory, was as elegant a footballer as any, with his slender, graceful gazelle-like movement and all. The one instance the 1995 Champions League winner would be remembered longest for, though, was one that smacked of anything but class. Nigeria were playing Greece in a group game at the World Cup held in the summer of 1994, and George had just scored a goal of rare beauty, picking the ball just outside the area and chipping it over Greek goalkeeper Adonis Minous. In celebration of his stunner, George made a dash for the corner-flag, leaving spectators wondering if he was going to do a simple knee-slide, or perhaps a 'Milla'. As it turned out, though, he did neither; instead, George went down on all fours, advanced some distance in that posture, and slightly raised one limb to mimic a urinating dog! Even as he did so, eyebrows were raised as those who observed, fans and team-mates alike, seemed lost in deciphering exactly what message George intended to convey with that most unusual choice of celebration.
Sometimes the best goal celebrations are not necessarily those pre-meditated or elaborately choreographed. Occasionally we are treated to one that reveals what most of us seek in a proper goal celebration: raw, unbridled, unfeigned emotion. For the least forgettable illustration of such in the continent's history, we turn to another Nigerian: one-time African Footballer of the Year and record Super Eagles goalscorer Rashidi Yekini. The goal that prompted the celebration itself - a simple tap-in from a Finidi George cross, scored on June 21, 1994 - was not in itself a thing of exceptional beauty. Rather, it was perhaps the realisation that hit him a split-second later that he had just scored Nigeria's maiden World Cup goal that moved him to react the way he did: following the ball into the goal and grabbing a chunk of the twine, glancing skywards, and screaming emotively. A poignant sight, if there ever was one. Yekini -who passed away sometime in 2012- might have achieved a lot in his illustrious career, but that single moment, brief as it was, would stand out as his most enduring memory.
Goal Ghana has its own

and

account, so for all the latest news and features on Ghana football follow us by clicking on the above links