COMMENT
By Peter Staunton
Joachim Low has taken Germany close to the title in his three tournaments in charge to date. If the failures of Euro 2008, and even the World Cup four years ago, could be excused by a lack of quality or experience in the playing ranks then Euro 2012 will have to go down as a disastrous loss. There won't be many more chances for him to get it right and so Germany must deliver.
The potential demonstrated in Austria-Switzerland and in South Africa ultimately counted for nothing at the Euros. That team, like this one, was not in development; it was complete but they blew it. Now Germany have a second chance with their main cast of players largely still in their peak. For Low, it could very well be his last. He has a contract to see him through to 2016 but failure in Brazil will no doubt see him back in the job market.
The coach has been sounding cautious notes in the run-up to the World Cup, dampening expectations on the side as his own methods have been called into question by the German public at large. "On paper we have a top team but reality sees it differently," he told
Frankfurter Allgemeine Zeitung
in May. "We have some players who have been injured for months. We have some players who are not playing regularly for their clubs. We have some players who are struggling for form and others who are fighting little injury concerns."
Germany have, in recent years, cultivated technically brilliant football but have lacked what might be termed those traditional Teutonic qualities which served teams of the past so well. Willpower and determination are elements that Bastian Schweinsteiger in particular has identified as essential for tournament football.
"If we develop a good team spirit, then demonstrate our footballing quality and recapture the typical German virtues, then we will play a very good tournament," the midfielder told
Bild
this week. "The will to win the title is there. We have become technically perfect footballers in Germany. But without the passion and the will, our typical German virtues, we will not win anything in Brazil. It is a tournament of willpower."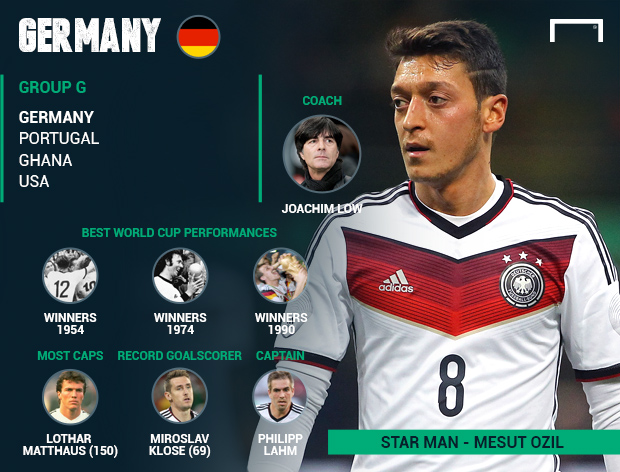 Battle-hardened by Bayern Munich's treble disappointment in 2012, as well as that bitter semi-final defeat, Schweinsteiger and FCB roared back in 2013 to clinch a treble. This Germany team has that same Bavarian contingent at its core with capable support from the Borussia Dortmund brigade also in the ranks.
Germany's chief gameplan involves dominating the ball, so Low can be reasonably confident that his fragile back-line will not be confronted all that often. Look elsewhere in the squad and Germany are possessed of an embarrassment of riches. This squad contains, perhaps, the strongest line-up of attacking talent ever sent by a German team to a World Cup. The Germans scored 36 times in 10 undefeated qualification matches.
Although veteran Miroslav Klose is, on paper, the only out-and-out striker in the 23-man squad, Low uses the Lazio man as only one option of many in his playbook. The German attack is multifaceted, experienced and capable. Lukas Podolski and Andre Schurrle made their cases for starting berths thanks to their second-half showing against Cameroon in Monchengladbach last week.
Thomas Muller, four years on from winning the Golden Boot in South Africa, is older and wiser. Mario Gotze is developing well and is a favourite of Low who likes to use the Bayern Munich playmaker in a withdrawn striker role. Stitching it all together is Mesut Ozil who, after an indifferent season at Arsenal, is aiming to impress in South America.
If Plan A is not working for Low, he can go to B, C or D. No nation heading to Brazil can match their strength in depth up top. Strength in depth in other areas of the field is enviable too and necessarily so. Germany have been hit by an injury crisis at the worst possible time, the latest being the ankle injury suffered on Friday night by Marco Reus. However, just as Rene Adler and Michael Ballack's injuries on the eve of World Cup 2010 opened the door to Manuel Neuer and Sami Khedira, there is a new, eager bunch ready to seize their chances. In the place of Reus could come Julian Draxler, who is ready to come of age.
German preparations for the tournament have been forensic. The German football association, the DFB, commissioned their custom-built, €30 million Campo Bahia base 30km north of Porto Seguro on the Bahia coast immediately after the draw. It boasts 60 rooms in 14 accommodation blocks, a training pitch, a pool and a fitness centre among other amenities. It is located in the same climactic zones as all three of German host cities in the group stage. Crucially, it leaves the Germans within a short trip to the airport and a subsequent two-hour flight for their games in Salvador, Fortaleza and Recife. Rest and recovery in such exacting conditions will be vital and the Germans have left nothing to chance.
Germany should have no trouble avoiding defeat against Portugal in their first match given the injury trouble to their key man Cristiano Ronaldo while Ghana and USA will be peremptorily dispatch by a side far better. With the lessons learned by the coach at Euro 2012 and enriched by his key players' experience in both success and failure at club level since then, this German unit goes to Brazil as a more fortified, mature one.