FEATURE
Abdul Muftawu Nabila
In December 2013, Ghana was handed a daunting challenge during the Draw for this month's Fifa World Cup: difficult opponents, tropical venues, and wearying trips across Brazil.
The nation ended up in potentially fearsome Group G and will play tournament favourites Germany, Cristiano Ronaldo-led Portugal, and old foes USA.

Ghana defeated the latter in the course of her first ever World Cup appearance in 2006 and repeated the feat during the 2010 edition in South Africa, and it is against this same opponent that the Black Stars commence their third successive World Cup outing on June 16 at Natal.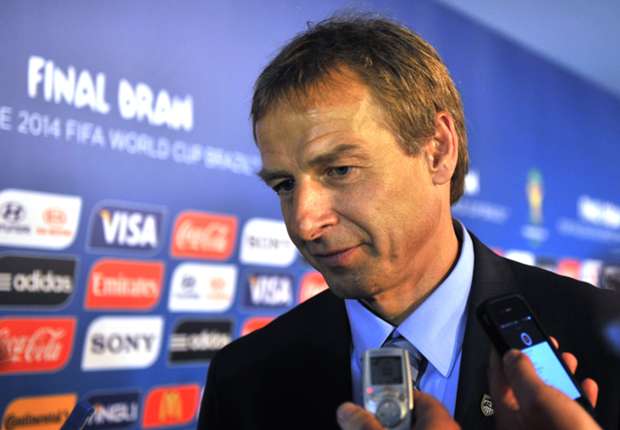 CRUNCH TIME | Klinsmann poised to reverse the 'curse'
This time the Americans would be under the guidance of former Germany international Jurgen Klinsmann who has created a new atmosphere of confidence and competition in the team since taking charge. He, like Ghana coach Kwesi Appiah, experimented with different set of players during the qualifiers.
The Stars and Stripes won seven of their 10 2014 World Cup qualifying games, racking up 15 goals in the process, conceding just eight, and losing only once [to Honduras]. They set a national record of 16 victories in 2013 - including one over mighty Germany - which at least gives them the confidence that they are capable of contending with any given opposition.
Klinsmann has said his side's 'minimum' aim is to reach the knockout stage, and a win over Ghana would be the perfect start towards realising those ambitions.
Regarding the threat Ghana present to their own objectives, U.S skipper Clint Dempsey, who scored eight goals during the qualifiers and continues to provide the attacking thrust he regularly demonstrated in his years with Fulham and Tottenham Hotspur in the English Premier League, observes: "They [Ghana] are a team that beat us, kind of crushed our dreams of being in the World Cup, so I think we're due a little bit of luck and we're due a win against them."
That said, Ghana would be no sitting ducks.The country survived arguably Africa's toughest qualifying group, winning all but one fixture and ending up with a huge positive goal difference. It was no easier fare in the second phase [the play-offs], as Ghana was paired against seven-time African champions Egypt. However, a surprise 6-1 win in Kumasi all but secured Ghana another World Cup ticket, before playing out an ultimately meaningless 2-1 reverse in Cairo.
Statistically, Ghana stand tall against the Americans, with two wins, four goals scored, and two conceded in as many games.
Many an American might take solace in the old adage that 'stats do not play football', and that 'there's always a first time.' A Ghanaian could retort, though, that while stats do not play football, it is what you do over and over again, and the manner in which you do it, which produces the stats.
Ghanaians' expectations ahead of the Mundial shoot straight through the roof, with belief rife that the Black Stars can reach the semi-final stage. Head coach Kwesi Appiah is cautiously optimistic, though. He speaks of a team that is capable of going a step better than the previous tournament.
| | |
| --- | --- |
| | The collective core of the sides which beat them twice prior - featuring the likes of Michael Essien, Sulley Muntari, Asamoah Gyan, Kevin-Prince Boateng, Andre Ayew, Jonathan Mensah, and Samuel Inkoom - is still around |
"When I look at our mix of youth and experience, the hunger of this team, I feel we can do something special in Brazil," Appiah says, adding: "I have always been confident that we can do better than we did in South Africa if we get it right."
If 'nearly' could kill a bird, Ghana would have been the first Africa nation to reach the last four of a World Cup after all the drama that swathed the quarter-finals meeting with Uruguay four years ago. Just think about it: Luis Suarez's cynical handball on the goal-line could easily have been deemed a goal by referee Olegário Benquerença, while Asamoah Gyan's penalty could have hit the back of the net and not the cross bar.
We know - as does Appiah and his players - what to expect in the first 90 minutes of Ghana's latest World Cup adventures. The USA are obviously a different proposition this time, but so is Ghana, given that Appiah has stocked his 23-man squad with 16 [quality] World Cup debutants. The collective core of the sides which beat them twice prior - featuring the likes of Michael Essien, Sulley Muntari, Asamoah Gyan, Kevin-Prince Boateng, Andre Ayew, Jonathan Mensah, and Samuel Inkoom - is still around.
Ghana's frontline which dropped the USA dead in South Africa may not change, but we now have, in addition, a certain Majeed Waris who has taken to international football like a duck to water, with Chelsea-owned Christian Atsu also mesmerizing defenders for fun and being voted best player of the season at Vitesse Arnhem (where he has been on loan for 2013-14) after just 24 appearances for the Eredivisie side. The duo bring different quality attacking options and can be unleashed by Appiah to get the business done.
Then again we have highly-rated Afriyie Acquah, who this writer believes will be key to Ghana's chances, to marshal the midfield alongside trusted combatant Rabiu Mohammed, implying U.S midfielders Jermaine Jones and Michael Bradley will find it hard to supply the pair of Dempsey and Jozy Altidore upfront.
Tactics-wise, on matchday, we may see a 4-2-3-1 system for Klinsmann's men clash with Appiah's preferred 4-4-2. Both sides will feel the pressure to open their World Cup campaign with a big win, ensuring that sparks would fly all around. Still, expect Ghana to record full marks.
Score that 3/3.


Follow Abdul Muftawu Nabila on

Goal Ghana has its own

and

account, so for all the latest news and features on Ghana football follow us by clicking on the above links