SPECIAL
By Sammie Frimpong
On a weekend when Chelsea, equipped with Jose Mourinho's admirably successful bus-parking methods, threw a spoke into title rivals' Liverpool's hopeful quest for a long overdue 19th league crown, one of the Blues' own was soaking up personal acclaim somewhere in the Netherlands.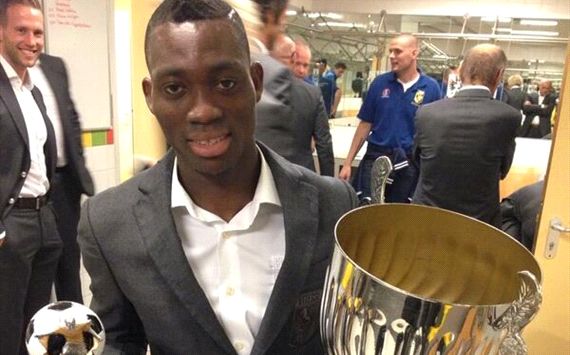 AWARD WINNER | All-smiling Atsu with his prize
Ghana international Christian Atsu, one of six Chelsea youngsters on loan at Dutch outfit Vitesse Arnhem at the start of 2013-14 (two of those, Gael Kakuta and Sam Hutchinson, were recalled in January and forwarded to other clubs temporarily), picked up the prize for the Vitas' Player of the Year after being adjudged so by the club's fans. Atsu, signed by Chelsea only last summer from FC Porto, thus distinguishes himself as easily the best of the bunch sent Vitesse's way by the Europa League holders.
The gong is the second PoTY the Ada Foah native has claimed in separate stints as a loanee, the first coming two seasons ago while farmed out by his former employers to Portuguese side Rio Ave.
Atsu has been absolutely instrumental in a championship campaign in the course of which gutsy Vitesse attempted a credible push for the Eredivisie title before ultimately being overtaken by Dutch football's mightier forces. His five goals in 25 appearances have proved a mere footnote in what has undeniably been a memorable term, during which the 22-year-old has been a significant cog in the plucky unit that has been Peter Bosz's team.
All that, in spite of the fact that Atsu missed the season's first eight league games due to protracted paperwork.

It is, of course, quite inevitable that Mourinho and his coaching staff back in London, caught up as they are in the heat of their own silverware-winning business, do permit themselves the occasional break to take stock of how their lads on loan are faring. Needless to say, they would have spotted the one who seems to glitter more than most: Atsu.
Still, the Ghanaian winger has some more to do to show himself really capable of bursting into a creative department at his parent club that drips with talent, and the 2014 Fifa World Cup in Brazil could just be the setting in which Atsu could force a wider audience - Mourinho included - to applaud and admire his doubtless genius. Should Atsu excel with the Black Stars in emerging from frightening Group G en route to hopefully creating beautiful history, a call from Mourinho late in the summer wouldn't be too poorly placed.
If anything, Mourinho's faith in fielding young Czech defender Tomas Kalas - himself once a member of Chelsea's Arnhem-based contingent - for the entire duration of the club's duel at Anfield on Sunday in lieu of the injured John Terry should inspire belief in the chances of Atsu and his colleagues of making the cut in the Special One's plans someday.
With the gates of Stamford Bridge half more open to him after his latest [individual] feat, Atsu would do well to fancy - and certainly enhance - his prospects of donning the revered blue in the not-too-distant future.


Goal Ghana has its own

and

account, so for all the latest news and features on Ghana football follow us by clicking on the above links