Goal commends Ghana's referees for displaying some guts albeit a little later than they really ought to. Just how long, though, can they keep the show of bravado up?
COMMENT
By Sammie Frimpong

It is quite saddening that it has taken another beating - and before that, a lamentable yet very avoidable death- to prompt Ghanaian referees to wise up and consider adopting a long-delayed measure of common sense, namely, an extensive boycott of all league games beneath the country's elite division till their safety concerns are addressed.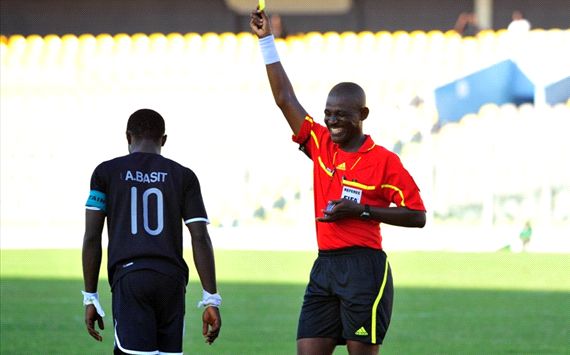 The happenings of the last few weeks have highlighted in the deepest possible hue of red the poor conditions of service of local match officials, particularly security-wise, which has seen many a referee physically abused at match centres. These instances have occurred mostly during games which do not receive detailed attention or strict coverage, the climax of which was the assault -and subsequent related death - of 21-year-old Kwame Andoh Kyei quite recently.
Rather regrettably, Ghanaian match officials, regulated by the Referees Association of Ghana (RAG), never quite deemed the incident that claimed Kyei's young life -which transpired at Bordie (Western Region) in a third-tier game between NaaJoe United and Gold Stars- as the last straw that broke the proverbial camel's back. Instead, off they trooped in their numbers to handle the next round of league games at all levels (bar those that took place in the Western Region's Division Two) last weekend, without as much as wearing black armbands to show commiseration with their fallen colleague and his bereaved. Not even the customary minute's silence was observed. Shrug it off they had, seemingly.
Apparently it took something extra but significantly less tragic to bring the referees to the brink of reason. Tamale-based Class One referee Ali Alhassan, while officiating a game at Goaso between Unity FC and Techiman City last Sunday, was severely manhandled and chased across the field by charged players, fans and club officials after issuing a yellow card to a player of the home side (Unity FC) for a goal scored with the hand.
When the referee appeared too weakened to resume his duties -and this was early in the first half, mind- the supporters rushed on him again, this time to forcibly prop him up and, after getting the hosts' medical staff to 'attend to' his injuries on-pitch, made him see out the game. Ali, according to eyewitness accounts, could barely jog.
Of course it could all have been prevented had RAG been reactive enough but, like they say, it is better late than never. Or so retired Fifa referee and member of RAG Joseph Wellington seems to think.
"Everybody is expecting us (RAG) to do something, but I must say everybody including the Ghana FA, media, and security must play a role," Wellington told Accra-based Radio XYZ.
"What happened over the weekend is unheard of because the security men told the referee his security cannot be guaranteed."
Ahead of a scheduled sit-down with the Ghana Football Association later this week, Wellington breathed a very justified and very real threat.
"We are seven people who make up the RAG, and we will meet on Thursday before a meeting with the Ghana FA on Friday.
"I know the Ghana FA itself is worried but I must admit we could consider a nationwide boycott when we meet on Thursday."
Let's just hope they don't cower before the powers-that-be when it matters most, shall we?


Goal Ghana has its own

and

account, so for all the latest news and features on Ghana football follow us by clicking on the above links