COMMENT
By Owusu Ansah Doe
Ghana's Black Stars were foiled in their quest for a first piece of silverware in over three decades in the finale of the 2014 CHAN tournament contested over the weekend.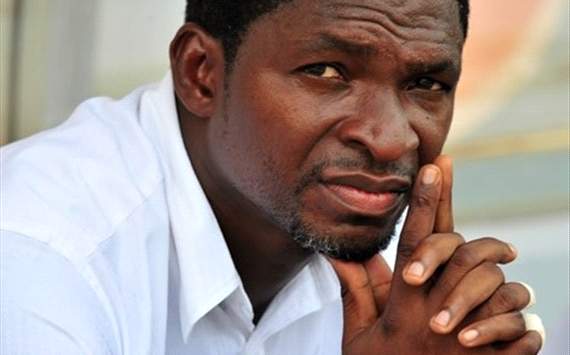 Local Black Stars coach Maxwell Konadu
On the night, Libya defeated Ghana 4-3 on penalties after the sides couldn't be separated after 120 minutes. To be fair, though, most football enthusiasts least expected such an outcome given that Ghana, a powerhouse in the African game, were facing a country ridden by civil strife until
recently and who had barely seen any effective domestic action in excess of a year, namely Libya.
Ghana's ambitions had been boosted by its determination to atone for losing the finale of the CHAN's maiden edition some five years prior, a 2-0 reverse to DR Congo. Ghana had enjoyed a great dose of luck from the start of their campaign in South Africa, through to the penultimate match against regional rivals Nigeria.
Ghana's opening group game with Congo (Brazzaville) saw them win 1-0 courtesy Theophilus Anobaah's heavily deflected shot, even as Maxwell Konadu's charges woefully underperformed. That result was followed with a dour draw against Libya, a game in which Ghana must have rode on absolute luck not to have lost. Kwabena Adusei anchored the west Africans to nail Ethiopia
by a converted penalty in another average showing galvanized only by a solid defensive display in their third group fixture.
A quarter-final date with DR Congo saw Ghana emerge victors by another Adusei spotkick; yet again a heroic defence, led by ever-impressive goalkeeper Stephen Adams, cushioned the Stars.
Ghana's love affair with Lady Luck came to fore again in the semi-finals as freescoring Nigeria were held and eventually knocked out albeit cruelly on penalties.
When it mattered most, though, Ghana put up its best show at the tournament yet failed to hurt Libya, even after extra-time and subsequent shootouts. Ghana dominated for large spells of the game but only ended up creating nearly as many half-chances as Libya, with neither coming close to converting any.
Calm and resilient Libya were hoping to stretch the game to tipping point and admirably did so. The Mediterranean Knights' prowess lay in taking penalties, no doubt, as they had reached the
finale after defeating their opponents in the earlier knockout rounds through that means.
Little did Ghana know she would be next in Libya's list of shootout victims, after Gabon and Zimbabwe. The north Africans, true to form, scored all first three kicks while Ghana squandered two of theirs, with Asiedu Attobrah's converted strike giving Ghanaians some hope which keeper Adams quickly built on with two fine saves from Libya's next kicks. Before long, the affair had reached sudden-death where Tijani Joshua's miss proved the difference, allowing Libya to score and secure their first major international title.
Considering the circumstances, it could be said luck simply eluded Ghana on the occasion.
Apparently, Ghana had lost her closest friend at the worst possible instant.


Goal Ghana has its own

and

account, so for all the latest news and features on Ghana football follow us by clicking on the above links