FEATURE
By Sammie Frimpong

It is just past the halfway mark in the first half of Chelsea's last league game of 2013, against Liverpool at Stamford Bridge, with the scores tied at 1-1.
The camera suddenly captures one of the home team's substitutes, 31-year-old enforcer Michael Essien, and although it is but for a fleeting moment, the look on the Ghanaian's face provides ready fodder for any interested in reading meanings into such.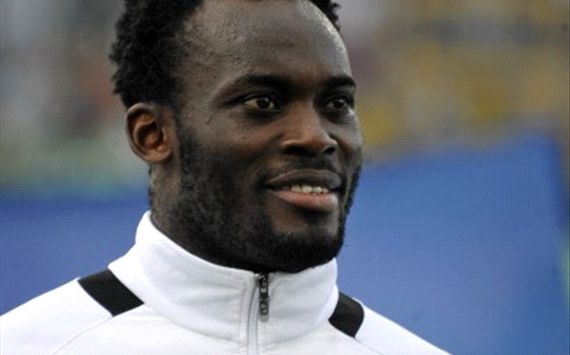 In that instant, Essien appeared not his usual cheerful nature, a little moody even, as he watched the umpteenth Chelsea game this season from the fringes, knowing his chance to taste action in such a high-octane match would probably never come. And, indeed, it never did.
In an earlier era at Chelsea under current Blues manager Jose Mourinho, the midfielder would have been among the first names on the club's team sheet for a game that had so much weighing on it. Mourinho once referred to him as one of his genuine 'untouchables', along with the likes of Frank Lampard, John Terry, Didier Drogba and Ashley Cole. Essien spared Mourinho and Chelsea's blushes on at least one occasion, notably a stunning last-gasp equaliser in the league against Arsenal in December 2006 that preserved the Portuguese's unbeaten record at home.
Put simply, Essien was a sine qua non in the Special One's plans back then. A fit and in-form Essien was a priority option for Mourinho, a player whose bum just was not deemed worthy of the substitutes' bench. Mourinho, remember, had gone to great extents to sign Essien from Olympique Lyon for a fee that stood for a while as the club's record transfer expense.
However, Mourinho's exit from Chelsea in 2007 almost coincided with a bad streak for Essien as he suffered a series of niggling injuries that knocked him straight off his prime and out of a starting spot for the Londoners. In came Mikel Obi who thrived under subsequent Chelsea managers not as much due to his own ability as on Essien's prolonged absence. Essien's chances of a return were further blighted with the neo-Chelsea project launched and financed in a big way by club owner Roman Abramovich. An infusion of a stream of younger and fresher midfielders meant Essien was required to seek playing opportunities elsewhere albeit only temporarily. He did not have to search for long, though, as Mourinho quickly summoned and welcomed him to Real Madrid where the two-time Champions League-winning coach utilised him to good effect.
| | |
| --- | --- |
| Interestingly, both 'father' and 'son' have publicly expressed absolute belief in each other amidst all the uncertainty and gloom | |
Thus when the gates to Chelsea were re-opened to Mourinho in the summer of 2013 and he packed up for a return to the Bridge, Essien - whose season-long loan deal with Los Blancos had expired - had much reason to believe his playing prospects at the Bridge would be boosted significantly. Five months into the new-season, though, Essien must be feeling extremely disappointed and hard done by. That Mourinho considers him inferior to the likes of Mikel and Ramires is bad enough; that he has seen just six games worth of first-team action this term (three apiece in the League Cup and in the Premier League) is even worse; while his omission from the club's squad for the group phase of the Uefa Champions League this year qualifies as arguably the biggest vote of no-confidence yet from his 'daddy'.

Granted, Essien has not exactly helped himself when he has played, with a dreadful back pass earlier in December against Southampton that saw the Saints take an early lead standing out as a definite low point, as well as picking yellow cards in nearly all of his outings for Chelsea this term which earned him an accumulated suspension. Still, he has shown glimpses of the brilliance that characterised his old self for club and country, and while his pace and strength have taken a hit with age and injury, Essien retains a considerable part of his game that should earn him much more playtime than he is enjoying now.
Interestingly, both 'father' and 'son' have publicly expressed absolute belief in each other amidst all the uncertainty and gloom.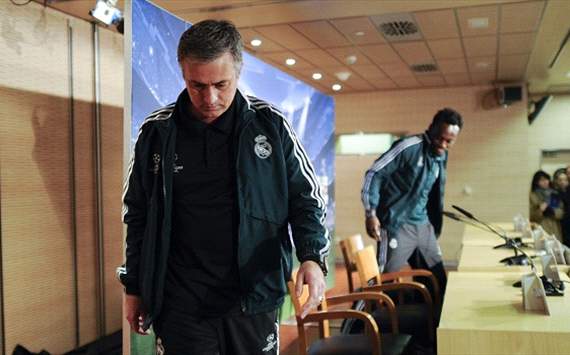 MARRIAGE ON THE ROCKS | Daddy and son going through difficult moments
Mourinho, after Essien's error against Southampton, defended his protege, saying: "Everybody makes a mistake. Strikers they miss goals, goalkeepers they make mistakes, midfield players, they lose balls, especially when they try to play. And he tried to play. It was a back pass and they scored the goal."
Mourinho even went on to refer to Essien as 'my man' - whatever that meant - and has also offered him a place in Chelsea's contingent for their remaining games in Europe this season (a decision of doubtful sincerity, in fact, considering that it is apparently being prompted by injury to young Dutchman Marco van Ginkel)
Essien, too, was quick to pour cold water on suggestions in the Ghanaian media of a growing grudge between himself and his club manager. "I have absolutely no issues with Mourinho," he told Accra-based Asempa FM in November.
"People like to talk a lot and most of what they say are not true. I have been in football for some time now so I am not really bothered by the lack of first team action at Chelsea."
Honest as those words sounded then, one is inclined to doubt whether they ring as loud and true now, especially after his perceived frown, coming at the end of a week during which he had been linked with a move away from London ahead of a World Cup year. So, then, beef or no beef?

The jury is still out.


Goal Ghana has its own

and

account, so for all the latest news and features on Ghana football follow us by clicking on the above links