SPECIAL
By Sammie Frimpong

Ghana's task of qualifying from Group G - comprising Germany, Portugal and the USA - at next year's World Cup seems a task daunting enough, yet the situation is hardly hopeless.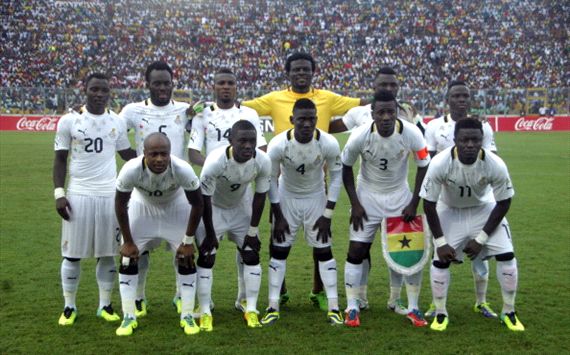 There are a number of measures that could be put in place by the national team's stakeholders to ensure that, once again, the Black Stars upset the odds at the Mundial. Here are a few:
UPGRADE THE COACH
Ghana coach Kwesi Appiah has truly done a wonderful job in guiding the Black Stars to the Fifa World Cup, becoming the first Ghanaian to do so. Thumping victories over Lesotho, Sudan and Egypt in Kumasi have proved special highlights in his time in charge of the team, while his ability to eke results from the tightest situations have also seen his stock rise some more. Still, though, Appiah's technical decisions have been uninspiring at times and thus would need to step up a notch or two, especially ahead of a tournament where he is set to compete against experienced and classy coaches like Joachim Low, Paulo Bento, and Juergen Klinsmann. Thankfully, the Ghana Football Association has already made plans to that effect, with Appiah and members of his backroom staff being scheduled for a capacity building stint with some European coaches in the not-too-distant future.
UTILISE SCOUTING
Ghana's successes at the last two World Cups - at least in the group rounds - were largely credited to some excellent scouting work of our opponents on both occasions done through some of the country's finest technical eyes and ears. This time should be no different. Detailed information on the training habits and tactical methods of our prospective opponents ought be compiled and assessed, along with any additional information that could prove vital and which might provide us some leverage. To that end, the GFA should make the necessary resources available.
ARRANGEMENT OF 'PROPER' FRIENDLIES
Ghana's choices of friendly matches in recent times have been occasionally suspect and underwhelming. The Black Stars' dates against national sides whose standards are often well below ours have done us little good and, perhaps ahead of Brazil 2014, the GFA would do well to revise its criteria for selecting potential opposition in friendly games. To beat the best, the national team would have to practise against the best.
PROMOTE STABILITY
Many an African side has been rocked by destabilising incidents in their preparations for past World Cups, and Ghana's national team authorities would be obliged to ensure a similar fate does not befall the Black Stars. Where there appears no pressing need to chop and change, personnel - on the field and in the technical area - should be maintained just so the momentum with which the qualifying campaign ended would be carried into the finals itself. Really, why fix it if it isn't broke?
INSTILL CONFIDENCE
Against opposition as strong as those Ghana have been drawn with, it is indeed easy to grow faint-hearted. Much as most would love to deny it, those teams are presently among the best in world football, be it as it is that all three are above Ghana in the latest Fifa rankings. Ghana, however, need fear no foe. At Germany 2006 and South Africa 2010, similar hurdles were scaled to the admiration of the rest of the world. In the current Black Stars setup, the country boasts a bunch of proven winners, mostly culled from the Black Satellites squad that claimed silver at the World Youth Championships in 2001 and that which became Africa's first to win the world title at U20 level some four years ago. The entire country, then, should be inspired by such confidence.


Goal Ghana has its own

and

account, so for all the latest news and features on Ghana football follow us by clicking on the above links