Planted in the so-called 'Group of Death' and handed arguably the harshest fare of all five African sides qualified for Brazil 2014, Ghana seem cornered and already beaten but...
ANALYSIS
By Sammie Frimpong

Any Ghanaian who sought an appropriate reaction to Friday evening's tough World Cup draw would surely have had a whole range to pick from.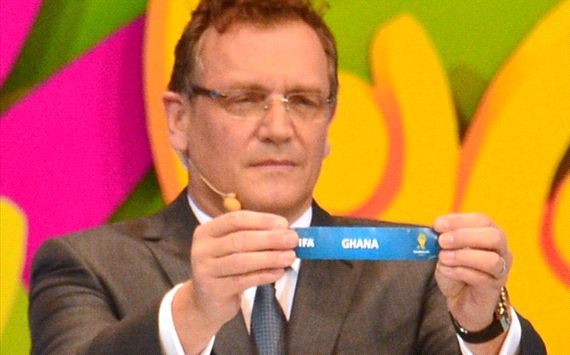 Chuckle? Frown? Sigh? Yell? Curse? Swear?
Or, yes- faint, perhaps?
Well, in truth, whichever of the above one opted for - bar the latter which definitely is a bit overboard - would have been completely warranted.
For a fact, the Black Stars are in trouble, of the sort that no amount of patriotism can dismiss.
Germany and Portugal, the two nations against whom Ghana would conclude its Group G adventures next summer, are among the best there are in international football. Twenty-three World Cup appearances between the pair aside, each boasts an array of individual talent that could decimate any given national side, not least Ghana's.

GERMANY
The Germans, our opponents on June 21 in Fortaleza, have got the impeccable Mesut Ozil in their ranks, a player capable of threading goalscoring assists through the eye of a needle. The 25-year-old's talents would be complemented by those of a squad mainly culled from the Bayern Munich and Borussia Dortmund sides that have been almost untouchable domestically and in Europe in recent times.
Throw in born poachers Mario Gomez and Miroslav Klose, both of whom continue to impress in Italy's Serie A, and the scenario of a probable nightmare seems almost complete. Even worse is the fact that the Germans regard this World Cup as possibly their most realistic opportunity yet to add to Die Mannschaft's hat-trick of world titles, the last of which was won in 1990, and wouldn't mind simply treading all over Ghana on their path to likely World Cup glory. As German legend Lothar Matthaus put it emphatically in an interview with Fifa.com earlier this week, "Germany's chances of lifting the World Cup... is now or never!".
Need I say more?
PORTUGAL
Portugal are...well, Portugal: the team that almost always abounds in creative widemen but boasts few clinical finishers, consequently flattering to deceive at major tournaments. Part of that stereotype is likely to hold true ahead of Brazil 2014 when Portugal coach Paulo Bento draws his final list of 23, only that, these days, one of those wingers, a certain Cristiano Ronaldo, consistently outscores most of the game's true strikers at club level [for Real Madrid], and if his displays over a two-legged playoff tie against Sweden that saw the Iberians qualify for the Mundial are anything to go by, that incredible goalscoring form might just have started to reflect in a large way on Ronaldo's Portugal career. And that is bad news enough for Ghana.
| | |
| --- | --- |
| The onus now lies on coach Kwesi Appiah to formulate a fail-safe strategy and draw on the very best of Ghanaian football talent available as he prepares for the tournament | |
Ronaldo aside, Bento could still call on a handful of other highly-rated stars -the likes of Pepe, Fabio Coentrao, Nani, and Joao Moutinho- to contribute their bits in a bid for what would be a maiden world crown for Os Navegadores.
The fact that Germany and Portugal would play in the opening group fixture could complicate things some more. Should the outcome of that game put either side at a disadvantage, they certainly would seek to fire on all cylinders against Ghana.
Hopefully, though, by the time such an unfavorable prospect materializes, Ghana could well have picked maximum points off its third opponents in the group, the USA, against whom the west Africans have won during their last two World Cup appearances. The spur from such a victory could propel the Stars on to put up a brave fight against the group's heavier weights and possibly -just possibly- upset the odds so highly stuck against them.
It wouldn't be easy, though, mind.
With dates against an efficient German side that has grown in leaps and bounds since defeating Ghana at the previous World Cup; Portugal, powered by Ronaldo, a man in the form of his life; and the Americans who, along with the other two groupmates, are ahead of Ghana in the latest Fifa rankings, the onus now lies on coach Kwesi Appiah to formulate a fail-safe strategy and draw on the very best of Ghanaian football talent available as he prepares for the tournament, for that appears the only way out of a situation which, at least on the surface, looks somewhat hopeless.
Of course, though, this is Ghana afterall, schemers of all results positively surprising on a good day. The task at hand, worrisome as it seems, isn't quite beyond us.
We can -and hopefully will- overcome.

Follow Sammie Frimpong on

Goal Ghana has its own

and

account, so for all the latest news and features on Ghana football follow us by clicking on the above links