COMMENT

By
Wayne Veysey
at Cardiff City Stadium
Decisive and dynamic in equal measure, Aaron Ramsey is leading an Arsenal title assault that had seemed unthinkable a few months ago.
A pair of superbly taken goals against the club he joined aged eight provided further proof of the 22-year-old's killer instinct and capacity to ghost into goal-scoring positions.
RAMSEY'S KEY MATCH EVENTS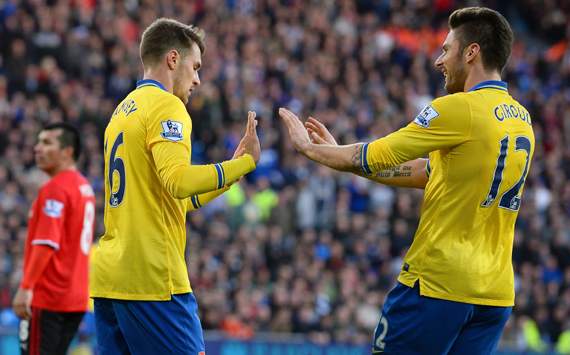 | | | |
| --- | --- | --- |
| | 29' | Opened the scoring |
| | 90' | Scored Arsenal's third goal |
PLAYER RATING

4.5
Dynamic and decisive in equal measure. The highlights were a superbly taken pair of goals to take his goal tally to 13 in a remarkable season but, apart from his considerable attacking threat, covered every blade of turf in another outstanding performance. Got a warm reception against his old club and, later, declined to celebrate his goal.
While his season tally of 13 goals from 22 Arsenal matches is one of which any centre-forward would be proud, Ramsey's contribution extends far beyond a passable impression of Frank Lampard at his peak.
The Welshman's driving play, smooth passing and speed of thought have emerged as the catalysts of a title challenge that had appeared beyond Arsenal even after the deadline-day capture of Mesut Ozil.
It is little wonder that club insiders rated Ramsey even higher than Jack Wilshere before the double leg break that played havoc with his early career.
Ozil, Wilshere, Olivier Giroud, Santi Cazorla and company have all provided flashes of brilliance this season but it is Ramsey who is the heartbeat of this emerging team. There was majesty in his play at the Cardiff City Stadium.
The spotlight had been on the Cardiff old boy before kick-off, when he was afforded a warm ovation from the supporters who remember him in his precocious teens as the youngest debutant in their history, aged 16 years and 124 days back in the spring of 2007.
As a mark of respect, Ramsey declined to celebrate his 12th and 13th goals of a remarkable personal campaign. The first came in the 29th minute, when an excellent run into the box was rewarded with a geometrically-perfect Ozil cross that he steered sublimely past David Marshall in goal. Given the distance from goal - around 12 yards - and the speed with which he arrived in the box, it was some finish.
Ramsey's second highlighted his desire and formidable energy levels. There seemed little doubt what the end result would be in the 92nd minute when a one-two with Theo Walcott gave the midfielder a clear sight on goal. There was only a small gap to Marshall's left, but such was the ferocity and accuracy of Ramsey's right-foot striker that the keeper had little chance.
Non-celebrations from players against their former clubs smacks more of nonsense PR than taking the moral high ground.
But, such was the warmth afforded to Ramsey from all corners of the stadium that it would have felt a little class-less if he had done an Emmanuel Adebayor and sprinted the length of the pitch after scoring.
Ramsey's rise, and the return of Flamini to Emirates Stadium, has pushed Wilshere out wide and away from the two central midfield spots in front of the back four.
The Englishman did not seemed too inconvenienced in midweek, when he scored two goals, or inside the first minute at Cardiff, when only the crossbar stopped him scoring his second consecutive goal before 60 seconds had registered on the clock.
But Wilshere is having to accept a reduced role in the pecking order behind Ramsey. He was paired with Mikel Arteta in the Welsh capital, a partnership that laid the foundations for a fluent Arsenal performance and a victory that was as convincing as the scoreline suggests.
What stood on a day that the Gunners extended their league lead to seven points is Ramsey's range of skills and positional versatility. As comfortable screening the defence, marauding or dashing to the by-line to pull crosses back for Giroud, he is the prototype modern midfielder. A kind of British Bastian Schweinsteiger.
Crucially, he is as effective paired with the guard dog Flamini or the polished enforcer Arteta. Whatever personnel Arsene Wenger chooses, Ramsey has established himself as one of the first names on the team-sheet.
He can do little wrong in an autumn that he no doubt wishes would never end.
Follow Wayne Veysey on