COMMENT
By Tom J Doyle
"It's the best we've played in my time here and there's more to come." That was
David Moyes
's appraisal of
Manchester United's
emphatic 5-0 drubbing of
Bayer Leverkusen
, but those words could just as easily have been reserved for
Shinji Kagawa
, who served up a timely reminder of his worth to the Scot with a fine display.
It is tempting to fixate on Wayne Rooney's four assists or Ryan Giggs' evergreen performance in the middle of the park, but Kagawa's intelligence and ability to open up space for his team-mates was integral to United's ability to retain their shape and ruthlessly exploit Sami Hyppia's side on the counter-attack time after time.
DEFINING EVENING?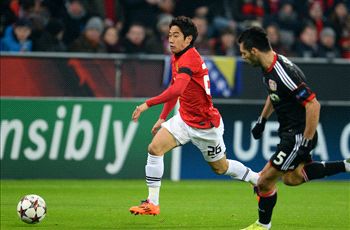 PLAYER RATING v LEVERKUSEN






Playing just off Rooney in attack, the Japanese schemer impressed for Moyes's team, with the likes of Spahic and Toprak struggling to pick up his intelligent runs.
FROM OUR LIVE! COMMENTARY


SMALLING MAKES IT 4-0! The right-back tried to claim Spahic's own goal as his own but this one is definitely his! He adds the final touch on a well-worked team move that was instigated superbly by Kagawa. The midfielder chipped a pass through to Rooney inside the box, he tried to lift a shot over Leno and into the far corner, but it needed a close-range finish from Smalling to get it over the line.
He has struggled to make a name for himself so far at Old Trafford, thanks in the main to Rooney and Robin van Persie's blistering partnership, and recently made his frustrations known to his manager.
But Kagawa is not the type to sulk, and Wednesday's performance was not a case of putting himself in the shop window for any suitors. On the contrary, the Japan international is desperate to prove himself to Moyes and to establish himself in Manchester.
With Van Persie out injured for the trip to the BayArena, Kagawa seized his chance, dropping deep into central positions to pick his passes and initiate counter-attacks. His skill and efforts were key to Antonio Valencia's opener; his desire to press forward with the ball and then meet Rooney's cross allowed the Ecuadorian the necessary space at the back post to tap home, and highlighted the threat the Japanese poses when driving at opposition defenders.
Even his defensive work was more diligent from the centre, as he picked Emre Can's pocket for the first goal - one of two interceptions on the night and a marked improvement on recent league games.
The impudent flicked pass for Rooney to set up Chris Smalling for 4-0 was a delight to watch, and while Leverkusen were atrocious on the night, Kagawa showed he can pick apart teams when given time and space in the middle.
"Shinji and Wayne played very well," Moyes told
Sky Sports
of the duo's partnership. "Wayne had four assists tonight, and Shinji was terrific as well. Its a long season and we're going to have to make sure we have different combinations for different games, and tonight Wayne and Shinji were very good."
The former Borussia Dortmund man has found it hard this season, undoubtedly. He played just 45 minutes of United's first seven Premier League games, and
Goal has previously reported that he has sat down with his advisors and Moyes about his role at the club
.
But far from his portrayal as an outsider, a brooding figure on the training ground (thanks mainly to poorly translated quotes given to Japanese media, it must be said), Kagawa is a quiet but popular member of the United squad, always working hard to improve and carve out a place in Moyes' plans.
Wednesday's performance has finally brought that determination into the public domain, and Moyes now has a decision to make. It is the kind of challenge Sir Alex Ferguson, the master at getting the best out of his squad and rotating his key players, would have thrived on.
It is not something the former Everton boss has a great deal of experience in, and is yet another example of the step up he has made by moving to Old Trafforrd. At Goodison Park he relied on largely the same starting XI week in, week out. Now he has at least 20 players knocking on his door.
It will therefore be interesting to see if he seeks counsel from Giggs, Rio Ferdinand and Phil Neville, who have so far helped to smooth his transition, over whether to give Kagawa a run in the No.10 role against Tottenham on Sunday.
Yet his decision making may be aided by another senior voice at Carrington; Robin van Persie, frustrated by Moyes' intense training methods, is now effectively dictating his own schedule and will inform his manager if he is ready for the trip to north London following injury - not the other, traditional, way around.
Moyes' comments on Wednesday suggest the Japanese's budding combination with Rooney will be just another option at his disposal rather than the main attraction, so you can expect Kagawa to grab any opportunity he is given in the absence of Van Persie with both hands.
He is clearly determined to prove himself, and the situation is made significantly easier by the fact that his advisors are not pushing for a transfer - his £70,000-per-week wages will unlikely be matched elsewhere, especially at Dortmund where he was earning a third of that.
Moyes, though, must still handle the situation carefully. He cannot afford to take Kagawa's willingness for granted, even unwittingly, and will at some point have to work out how to effectively fit the playmaker, Rooney and Van Persie into the same line-up.
The better Kagawa plays, the bigger the challenge for Moyes. It is another happy headache for the new manager.