SPECIAL
By Sammie Frimpong
Ghana and Egypt, two of African football's traditional powerhouses and holders of 11 Africa Cup of Nations titles between them, contest the reverse of a Brazil 2014 qualifying play-off in Cairo next week, with the former going into the fixture with a 6-1 result from the first leg.
Individually, the two nations are mighty forces to reckon with; put together, they could produce a world-beating XI, and Goal presents an all-time combined team drawn from both countries.
GOALKEEPER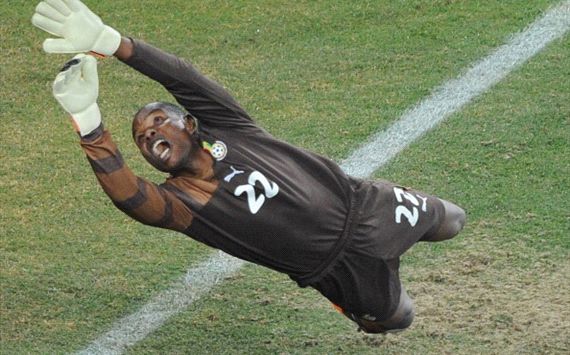 Picking a man to guard the posts for this team proved something of a headache, with each country presenting a credible candidate for the role. Ultimately, though, Ghana's
Richard Kingson
gets the nod by virtue of his experiences and exploits at the World Cups of 2006 and 2010. The other, Egypt's Essam El-Hadary, racked up a hat-trick of Afcon triumphs while he remained the Pharaohs' undisputed No.1 and thus gets a thoroughly deserved special mention.
DEFENCE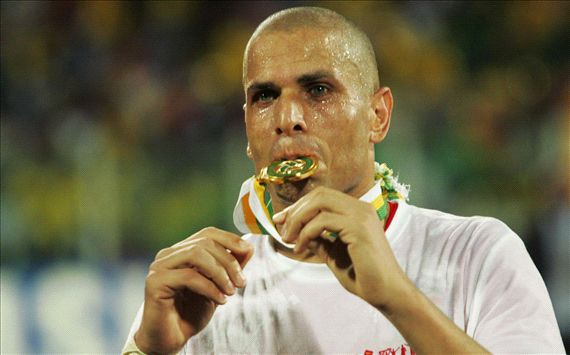 'Olele' is shielded by a central defensive pairing as efficient and qualified as any, comprised of the vastly experienced and decorated duo of
Wael Gomaa
and
Samuel Osei Kuffour
. Gomaa, since his first call-up for Egypt in 2001, has been an integral part of the national side, winning three continental crowns and being ranked among the tournament's official Best XI each time, such is his brilliance. His partner, Kuffour, has had an impressive career with Bayern Munich translate at international level. Kuffour played at every rung of Ghanaian youth football ladder, winning major laurels at each stage, before climaxing years of distinguished service to his nation with an appearance at Germany 2006.
Flanking the pair are arguably the finest full-backs produced by their respective countries: veteran
Ahmed Fathi
- an incredibly versatile player equally adept at playing across midfield - on the right, and
Isaac Asare
, a three-time Nations Cup participant with Ghana reputed for his tactical discipline and fluid movement, on the left.
MIDFIELD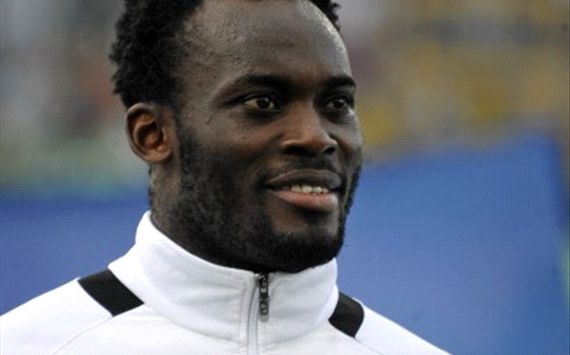 Michael Essien
and
Mohamed Aboutreika
provide loads of energy and creativity in midfield. Essien has steadily become a reference point for tireless box-to-box midfield activity after turning out for Ghana at the 2001 Fifa U20 World Cup in Argentina where he helped his country to a runners-up finish. His worth to his country has increased exponentially since those early years, powering the Black Stars to a maiden World Cup showing in 2006. A two-year hiatus that served to aid him in recovering fitness and form in the aftermath of a bout of career-hampering injuries over, the 30-year-old has returned to give Ghana's latest World Cup tilt a final push over the line, playing a starring role in last month's mauling of Egypt. Essien's fortes are balanced ideally by Aboutreika's finesse, creating a tandem capable of upsetting any given opposition. For observers of African football, Egypt's magical No. 22 needs no special introduction. Twice - in seasons 2008/09 and 2012/13 - Aboutreika has been included in the annual Goal 50 lists, and placed 2nd in Caf's 2008 African Footballer of the Year rankings. In each of Egypt's Nations Cup victories in 2006 and 2008, he got the decisive strikes in the finale (in the former instance, a winning kick in a shootout against Cote D'Ivoire) and, with 14 goals, is Egypt's all-time leading scorer in World Cup qualifiers.
ATTACK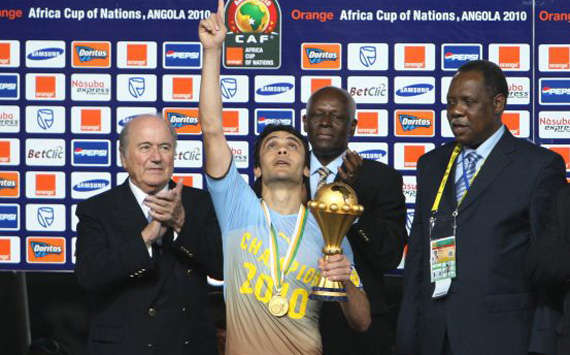 This dream line-up's attack is arguably as star-studded as any other department already described. The two preferred wingers evoke lots of nostalgic memories from their countrymen and are held in high regard in their respective nations. Take
Mohammed 'Polo' Ahmed
for instance. Outside his homeland Ghana, little is known of this extraordinarily talented left-winger so good he was aptly nicknamed the 'Dribbling Magician'. Polo plied his trade during the 70s and 80s and featured for the senior national team by his 17th birthday. He famously declared himself an even better footballer than four-time Ballon D'Or winner Lionel Messi, and few who ever saw him play would have any qualms with that rather wild claim. Manning the opposing flank is
Ahmed Hassan
who played at eight Nations' Cup editions and whose 184 caps are an international record. Interestingly, Hassan's debut for his country was against Ghana in December 1995.
At the peak of the 'Christmas Tree' formation this team is designed to play is another accomplished Egyptian: the legendary
Hossam Hassan
, currently in charge of a Jordanian national side that only need overcome Uruguay to qualify for Brazil 2014. Hassan, Egypt's record goalscorer with some 68 goals, pairs upfront with Ghanaian
Abedi Pele
, another African football statesman who until very recently also enjoyed similarly unmatched top scoring honours for his country.
COACH(ES)
Hassan Shehata (Egypt) and Charles Kumi Gyamfi (Ghana) are managerial luminaries for their respective countries and occupy lofty places in the annals of the continent's game, being the only coaches to have achieved trios of Nations Cup laurels.
Truly, neither is less worthy of handling this 'Dream Team'.
Follow Nana Frimpong on

Goal Ghana has its own

and

account, so for all the latest news and features on Ghana football follow us by clicking on the above links