COMMENT
By Nana Frimpong
It has been as good a day as any to be Ghanaian, watching the Black Stars hammer the record continental champions by nearly as many goals as they (Egypt) have won African titles.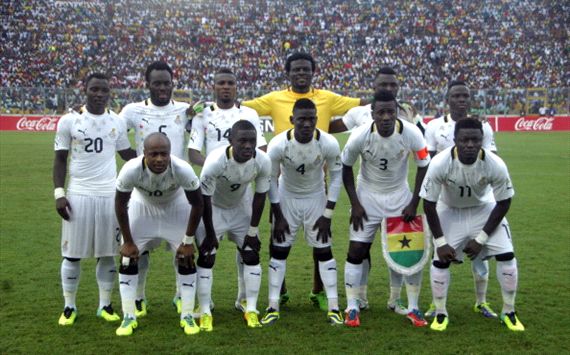 Granted, 6-1 is not the heaviest win Ghana have chalked in recent memory. Sometime last year, we did beat Lesotho in an earlier Brazil 2014 qualifier at the same venue - the Baba Yara Stadium - 7-0, yet it never felt the same, partly due to a prolonged black-out that took some shine off that result and the strength of the opposition.
This time, the satisfaction was infinitely greater. Here we were putting Egypt - they of seven African titles - to the sword, with remnants of the old guard Asamoah Gyan, Sulley Muntari and Michael Essien collectively contributing four strikes, while new boys Christian Atsu and Majeed Waris also getting in among the goals. Somewhere between the six-pack, veteran Egyptian playmaker Mohamed Aboutreika grabbed a goal from the spot that might have sparked dreams of a comeback for the Pharaohs with the scores pegged at 2-1, yet which ultimately proved scant consolation. Ghana had sold Arab nation Egypt its worst Eid-ul-Adha ever.
"Six-to-One," read the dreamy final scoreline on the jet-black scoreboard.
See American Bob Bradley standing dejected and akimbo with his 'sakora' head bowed, contemplating his third defeat in as many encounters against Ghana and how his sides have shipped in 11 goals and scored just twice in the process.
See Kwesi Appiah grinning wide yet modest as ever, even as he stands on the brink of becoming the first indigenous trainer to send Ghana through to the Fifa World Cup, thus zipping his tireless critics in the process.
See Richard 'Olele' Kingson on the bench beaming, scrolling through his personal Twitter and Facebook accounts searching out which new
#OleleFact
has emerged over his exclusion from the starting XI on his return to international duty.
And, oh, see me in faraway Kintampo, several miles away from the match venue and following proceedings on GTV (the only regular television network available in these parts), the critic in me temporarily forgetting the fact that each member of the team would be $15,000 richer by midnight and all along reflecting on the words of Exodus 14:13b.
The next time the senior national team engages in 'meaningful' action - the return leg in Cairo next month not inclusive, of course, for obvious reasons - though, I would not be watching on a screen.
Should I recover all monies owed me by debtors and successfully supplement it with a sizable loan from my bank, I would be in Brazil for the Mundial itself, cheering the boys on at the Maracana or some other big World Cup stadium when they are playing, or sun-bathing and sipping a chilled pina colada off the famed Brazilian coast while surrounded by beach volley-playing young men, bikini-clad ladies, and sandcastle-building kids in their numbers.
Thanks to the Stars' sterling performance tonight, I'm due to book an early flight.
Brazil 2014, here
we
I come!
Follow Nana Frimpong on

Goal Ghana has its own

and

account, so for all the latest news and features on Ghana football follow us by clicking on the above links