SATIRE
By Nana Frimpong

Have you ever wondered what the situation in the Black Stars camp would be like had Italian maverick Mario Balotelli not decided against representing Ghana?
Well, Goal provides a sneak preview of some of the weird yet fairly probable prospects below: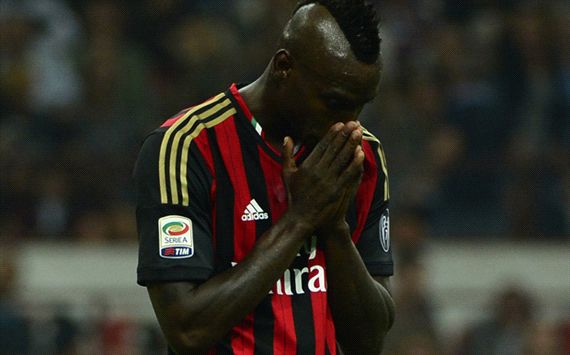 GHANA WOULD BE MORE SUCCESSFUL
Ghana's failure to realise its ultimate ambitions at recent major tournaments has been largely due to its inability to find the goals that would have ensured success, especially an inexplicable impotence from the penalty spot that plagued the country at all of its three most recent high-profile outings. At the semi-final stages of the last two Africa Cup of Nations against Zambia and Burkina Faso respectively, as well as in the 2010 World Cup quarter-final clash with Uruguay, the Black Stars were required to do no more than convert a penalty on each occasion to secure progress yet failed. Balotelli, however, has a reputation for being as clinical as anyone in the game could be from 12 yards. Only recently did he miss a spotkick in 21 attempts, and Ghanaians can only imagine just what might have been had it been Balotelli who had stepped up for those penalty-taking duties in lieu of Asamoah Gyan and Mubarak Wakaso in those instances.
SULLEY MUNTARI WOULD BE HIS BEST FRIEND
Balotelli isn't really known to be intimate friends with anyone, but he certainly would have found a soulmate in Ghana's Sulley Muntari. The pair share much more in common than merely being hunky and intimidating fellows and hailing from the Ashanti town of Konongo. For one, they have notoriety for petulance and have played together at both Milanese clubs - birds of a feather, definitely.
HE WOULD TAKE THE FUN OUT OF GOALSCORING
Balotelli, clearly, is one who doesn't particularly revel in the art of scoring goals. Rarely does he celebrate with anything more than a scowl or a queer T-shirt message, often leaving his visibly elated team-mates uncertain whether to rally around him or return to their own half sheepishly as though nothing worth jubilating had happened. Now that could be a serious problem were he representing Ghana, for our national team players certainly do love to go to extremes when celebrating goals. Really, consider just how awkward it would be seeing the remainder of the Ghana team doing the lively 'Kangaroo' or the 'Azonto' dance by the corner flag in honour of a Balotelli goal, and the scorer himself observing them from the middle of the park with a bewildered glare - or, yes, his patented Philip Addison-style scowl - with hands-on-hips!
HE'D BE 'FACE OF POLYTANK'
Some of Ghana's stars used to be/are icons for some of the country's biggest product brands/businesses: Asamoah Gyan for Melcom, Michael Essien for FanYogo, Andre 'Dede' Ayew for FanIce, Samuel Inkoom for Voltic, John Boye for Blue Jeans, etc. Now you would like to think that Balotelli, highly marketable as he is, would certainly have grabbed one of those commercial deals had he played for the Black Stars. And which product would he likely have been associated with? A Polytank water reservoir, methinks. Of course, that would mean former Ghana regular goalkeeper Richard Kingson would have had to make do with his Kalyppo deal only. Who is to say, though, that Balo doesn't fit the 'Polytank image' slightly better than 'Olele' does? He is, after all, big, tough and has very thick skin, if only not steady enough.
HE WOULD WRITE A MILLION LETTERS OF APOLOGY
What seems to be the newly established norm for insubordinate and prematurely retiring Black Stars players is to write letters suggesting a change of mind/behaviour in order to be recalled to the national set-up. In that regard, Balotelli would have been required to write as many of those as occasions on which he would err, in view of his penchant for flouting every rule in the book. The mailbox of Kwesi Appiah - or whoever the Stars' coach happens to be - would be bursting with deliveries from the postman signed 'Yours ever-so-contritely, Mario Balotelli.'


Goal Ghana has its own

and

account, so for all the latest news and features on Ghana football follow us by clicking on the above links