Goal highlights the reasons why career prospects in South Africa appeal to many Ghanaian footballers these days
SPECIAL
By Nana Frimpong
South Africa has long been known as a reserve where some of the biggest and most valuable gems have been discovered, among them the world-famous Kimberley and Dudley diamonds.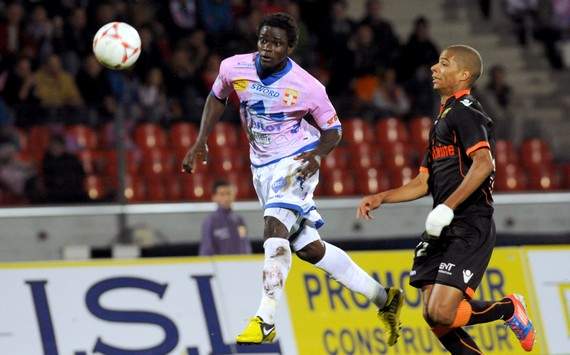 SPRINGBOARD |
Evian's Jonathan Mensah used the PSL as a launchpad to the French Ligue 1
The peak of the mining business in the Rainbow Nation prompted a 'gold rush' that saw people move to the country to carve fortunes for themselves. For entirely different reasons, however, South Africa has lately proved a goldmine where several Ghanaian players have headed to seek pastures our local game has apparently failed to provide them.
Goal
identifies five of these:
South African football abounds with wealthy club owners who are not scared to break wage and transfer fee barriers to stock their sides with the best footballing talent from far and near, irrespective of expense; the likes of free-spending Irvin Khoza, Kaizer Motaung, Patrick Sokhela and Patrice Motsepe all certainly fit the bill. Really, few Ghanaian footballers could ever refuse the juicy offers these wealthy men make which contrast very much with their local earnings. Many top-flight South African clubs also have access to facilities most of our own can only fantasise about, from ultra-modern stadia to well-equipped training complexes, itself a primary reason why a number of European clubs have considered South Africa a favourite stop in their pre-season itinerary. That our local players seem barely able to resist the lure to benefit from such fine resources is hardly without reason either.
As things stand now, there are quite a few Ghana-based footballers who would favour a move to South Africa over one to Europe if offered both. The motive is quite simple. The fact that Ghanaian football is not so highly thought of outside Africa ensures that, in most European lands, not much regard is given our footballers. On the contrary, Ghanaian talent is quite sought-after in South Africa, a country not quite up to Ghana's standards at continental level. Thus, celebrity status - and especially when they have one Black Stars cap or more on their CVs - as well as a regular starting spot is often guaranteed. Quite understandably, then, few would pass up the chance.
Footballers, like all other learners of a craft, only get better with frequent practice, a need that the Ghanaian football calendar - with its 30 league fixtures and handful of games offered by the FA Cup as well as other mini cup competitions - barely satisfies. In contrast, the South African schedule is certainly packed with more action, what with a 30-game league season topped by three major Cup competitions in the Telekom Knockout, Nedbank Cup, and the MTN Top 8 which collectively offer some R18.25 million to their winners. There also are a few prestigious off-season tournaments, notably the Nelson Mandela Football Invitational that sees the country's elite play against some of the world's finest sides, mostly from the English Premier League.
As far as domestic African championships go, South Africa's is as glamorous as any there is. Well-resourced, well-organised and featuring some of the best players there are on the continent, it is little wonder that scouts and clubs of the West follow South Africa's top-tier arguably more than they do any other on the continent. It is for this reason, no doubt, that Mark Fish, Benni McCarthy, Steven Pienaar and a host of others earned moves to some of Europe's bigger clubs directly from the ABSA Premiership, hence it seems only reasonable that quite a few Ghanaian players would also desire to use experience in South Africa as a ticket to the big-time.
For many Ghanaians, South Africa is a second home, with many flocking to the country for the chief purposes of seeking improved economic conditions. And while Ghanaian footballers cannot entirely be placed in that bracket (of job-seeking immigrants), those who have joined the SA-bound bandwagon could certainly make much use of the company and comfort provided by their non-footballing countrymen hence effectively erasing the potential challenge of homesickness, juxtaposed to playing in far more distant places. That aside, most South Africans who are yet to forget the exploits of Ghana's Black Stars when the country hosted the World Cup some three years ago remain highly considerate of and kind to Ghanaian immigrants, not least our footballers.

Follow Nana Frimpong on