Are you wondering how football clubs come by their names and why some go as far as using terms such as Scorpions, Dwarfs etc, then this is the right piece for you to enjoy
FEATURE
By Nana Frimpong
What's in a name?...

...Well, plenty, if the names of some Ghanaian football clubs are anything to go by.
Scouring through the list of sides engaged in action at all levels of the country's tiered club football system, one comes across a variety of names, most of which set you thinking just what might have prompted them.
Actually, the nomenclature follows certain trends, if they are to be studied intently.
GEOGRAPHIC LOCATION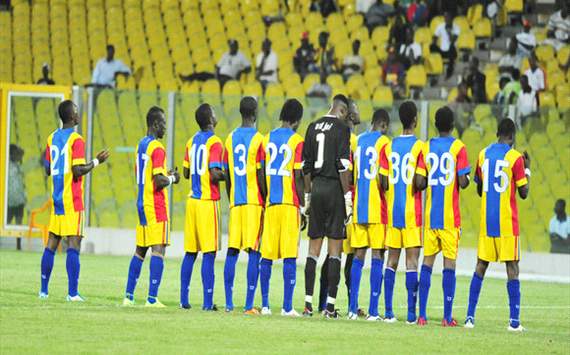 Hearts of Oak come from the capital Accra.
The first and perhaps most popular is that which suggests the specific geographic location of a club. The names of Kumasi Asante Kotoko, Accra Hearts of Oak, Sekondi Eleven Wise, Cape Coast Ebusua Dwarfs, and Wa All Stars, for instance, inform that the clubs are based in the Ghanaian cities of Kumasi, Accra, Sekondi, Cape Coast and Wa respectively. Indeed, to find a local outfit bearing a name that gives a fair idea of the particular area with which it identifies is hardly unusual, with the pattern being just as widely employed in Europe and elsewhere.
INDUSTRIAL CONNECTIONS/ORIGINS
Like some of the former USSR's biggest sides - the likes of CSKA Moscow, Dynamo Kiev, Lokomotiv Moscow - a number of Ghanaian football clubs have their foundations inextricably linked to certain businesses/industries/institutions - both public and private - that have existed and thrived in Ghana, and duly reflect the fact in their names, among them the likes of Ashantigold, Pure Joy Stars, Akotex FC, Dumas Boys of GTP, Neoplan Stars, Power FC, and Ghapoha FC.
FOREIGN CLUBS
There is a trend growing increasingly popular on the domestic scene, one that has seen some of the newer Ghanaian football outfits named after popular European football sides. Elite division clubs such as Berekum Chelsea (ambitious and successful aristocrats like their English namesakes) and Berekum Arsenal, lower league sides West Ham United, Sporting St. Mirren, Techiman AC Milan, Bolga Juventus, Deportivo FC, and Berlin FC have all sprouted across the country. And, for good measure, there even exists a Division Two club in sea-side city Cape Coast whose name pays tribute to Egyptian giants and record African club champions Nady Al-Ahly!
SUFFIXES
For a number of the novel club owners in Ghana, the usual suffixes of FC (Football Club), United, City, etc is never quite fitting enough to describe the sides they have formed. And so they often go for the more elaborate and exotic: Freedom Fighters, Babes, Professionals, Stars, Vipers, Labourers, Hotspurs, Rovers, Allies, Knights, Hi-Kings, Sparks, and Classics among others.

RELIGIOUS UNDERTONES
The names of certain clubs do reveal some inspiration from religious sources. King Solomon FC, for instance, reminds one of a certain wise and wealthy ruler mentioned in the Bible whose wisdom bordered on the legendary, while No Weapon, Cornerstones, and Rehoboth FC also suggest Scriptural connotations.
ANIMATE/SUPERNATURAL REFERENCES
Nature and the esoteric also appear to have inspired quite a few, with references to some animate and mythical elements in the names of a handful of clubs, names such as Vipers, Lions, Dwarfs. Needless to say, some of these clubs are so called to inspire fear in opponents based on certain supposedly formidable traits of the characters after which they are named.
MISCELLANOUS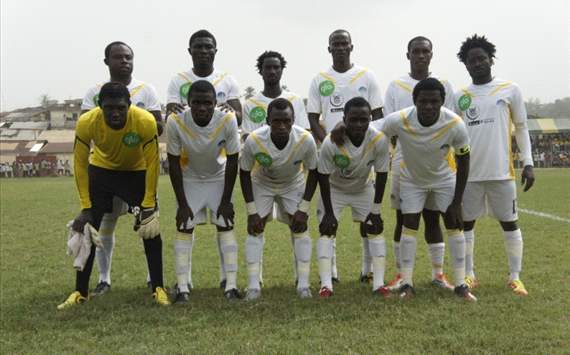 MEDEAMA - My Brother
There are other clubs - a great many, in fact - whose names carry meanings (if they do at all) not easily obvious to the observer and can probably be interpreted best by those affiliated and properly acquainted with their history. These include Hasaacas, Feed Us 123 FC, Horribians, Shelter Force, Dormaa Kyenkyenkye, Odwen Anomah FC, Mighty Jets, Eleven Wise, Bazooka FC, Medeama etc. Surely, though, they all do have meanings, don't they?
Do share with us, then, in the comments section below if you have the faintest idea. And if there are other unusual names of Ghanaian clubs that you mind to share, please do so as well.


Follow Nana Frimpong on Twitter