FEATURE
By Fiifi Anaman| Ghanaian Football Writer
Ransford Osei shocked everyone at the stadium with the sheer quality of his finish. It was a weird sight – something we had not seen in a long, long while. Yet it was déjà-vu. Nostalgia.
He has always had it in him. But it chose to come out – or he chose to unleash it – with virtually the last kick of the game of Kotoko's epic FA Cup semi-finals win against Amidaus Professionals.
The goal, his second of the day, was as important as the first (which had been an equaliser). This goal was not only massive because of the technical brilliance that went into it, it was because it secured Kotoko's second FA Cup final in three years, keeping their dream of a double alive.
A corner had come in, Ransford took it on his chest, only to lash it on the volley with such fine skill that it rattled the net before anyone could see what had actually happened. "That is the hall-mark of a finisher," his coach Mas-Ud Dramani praised after the game.
The look on his face when he reached the corner flag to celebrate was that of relief, of joy. It was the first time he had scored twice in years.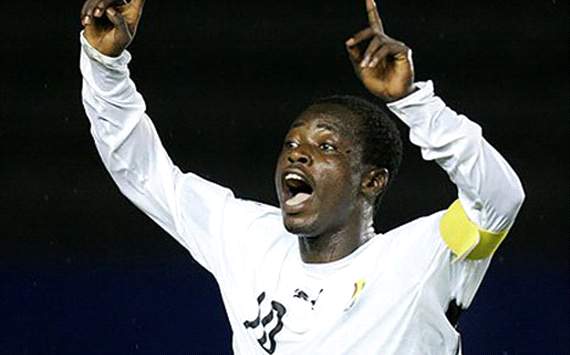 ONCE UPON A TIME
Once upon a time, Osei scored like he had been injected with a drug that fueled an affinity for goals. He would score effortlessly, like he had been cursed. He scored so well that he became obsessed with the art.
"Whenever I miss chances I can't sleep at night," he told FIFA.com years ago, when he could barely go a game without scoring. "I go through them over and over again in my mind, replaying them until I find the exact movement I should have made out on the pitch. When I'm sure I've learned my lesson I relax a little bit, but even then I know I'm not going to sleep that well."
He was that good. Osei won his first golden shoe award at the 2007 Africa Under-17 Championship, then exploded at the World Cup later that year, scoring six goals in seven games as Ghana finished fourth. At that point, he was considered Ghana's next goal machine: Ghana's answer to a Samuel Eto'o, and perhaps, the first striker since Tony Yeboah to make an impact in Europe. When Ghana's U20 national team went to Rwanda for the Africa U20 Championship in 2009, eyes were on him to confirm a trajectory of progression. And he did.
He scored seven times in five games as Ghana won the trophy. Thus came his second golden shoe award in his fledgling career, at only 19 years of age. He was hungry to perfect his trade, to sustain the form through his transition from a teenager to a man. "I'd love to have Patrick Kluivert's heading ability, the speed and ball control of Samuel Eto'o and the finishing skills of Thierry Henry. I've got a few videos of him that I watch very closely," he once said.
At the 2009 FIFA Under 20 World Cup in Egypt, Osei was part of – a very vital part of, in fact – the Ghana team that secured Africa's first World cup trophy at Under 20 level. He was amongst the goal scorers too – scoring four times.
Then it happened. He went downhill – seemingly inexplicably. Osei never enjoyed a good start to his club career, and never really found his scoring boots on that plane either. After a stint with Ghana's Kessben FC (Now Medeama) at which he failed to replicate his signature form from Ghana's youth levels, he proceeded to Maccabi Haifa in Israel, a move that yielded only two league goals – during which, in fact, he was loaned out to FC Twente's 2009-10 Eredivisie winning side.
A return to Africa was on the cards. It looked like he was going to be one of those players who were made only for youth football. Osei made it back to Africa, signing a six-month deal with South Africa's Bloemfontein Celtic.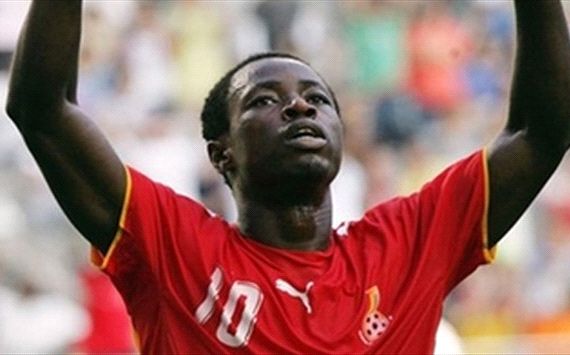 "I am not too much bothered by my goal drought."

GREAT PROMISE
"He is a player of great promise and will add a touch of class to our squad," said Celtic CEO Khumbulani Konco upon announcing his signing. It seemed to have been a long time, but the interesting thing was, he was still promising. At 21 years, he had a lot of years ahead of him to battle what was becoming a "club football curse." He, however, only scored once for Celtic, struggling to hold down a starting berth.
Ransford's 2009 Fifa Under 20 World Cup Golden Ball and Shoe Winner strike partner Dominic Adiyiah was similarly experiencing a weird retrogression. The two had grown from potential to waste within years after dazzling fans with their breathtaking talent. Their coach, Sellas Tetteh, expressed worry. "It's very disappointing because these were two clinical strikers. They could win every game for you. I'm surprised because they had so much to give. But I guess they couldn't maintain and sustain the momentum. It's very difficult to understand why they couldn't do well while the projection took place."
The expression "they couldn't", emphasis on 'couldn't', seemed to suggest hope on them was being fast lost, if not lost already. But both remained very young and with much time to rediscover what made them stars in their youth.
Osei received a call whilst in South Africa. It was time to come home. Coach Mas-Ud Dramani had just taken over at Kotoko, and needed some potent legs upfront. Despite the fact that Osei had barely scored for three years, the manager knew what he had seen in him. He took it upon himself to rehabilitate the striker, whose psychology needed working on – after his time abroad had left him having a low opinion of his once dangerous prowess.
"I brought Ransford as a result of the monitoring I did with the technical directorate (of the GFA). He had an excellent youth development programme, but between his youth development level to the highest level he was lost," the coach explained after the game, the accuracy of his submission being discerned by pressmen present. "Ransford never knew me, but I followed his exploits from the youth development level and when I came him, I was like no, let's look for this guy. I realised he was in South Africa, so I asked for his number and gave him a call. I told him it's better to be playing than not playing; even if you're at Real Madrid and you're not playing it's better to be playing for Guan United in Tamale, so that you can develop. He listened to me and came down."
"He had injury problems so I needed to be very careful with the way I played him, and most of the time I would get him on the team and not play him at all – but I knew what I was doing for him. There's the need to know you can kill his career if you don't play him very well, though he might want to play all the time."
"I want to play, be active and be on form," Osei said after starting his first competitive game for the Porcupine Warriors. His start in Kumasi proved tough; first, there were the injuries, and when the injuries curtailed, the goals wouldn't come. But he remained calm and optimistic, working hard. "I am not too much bothered by my goal drought," he said. "I keep working hard in training and I am sure if (the goals) will gradually come."
A few days after making these comments, Osei scored his first ever goal for Kotoko against Wa All Stars in the league. "I am very happy to have finally scored and I hope it will continue like this," Osei said. The patience and hard work had paid off. "I have never been in a rush and I kept saying the time for me to score would come and I thank God it's finally here."
Another goal followed in a 3-3 league thriller against Liberty in Kumasi, with his third goal coming in the 5-0 FA Cup round of 64 thumping of lower division side Japekrom in March. Then he went two months without a goal.

SURPRISE
He must have been surprised to see his name on the starting team sheet in such a major semi-final on Sunday. "I believe he was even surprised playing as a starter ahead of Seidu Bancey," Dramani said. "It was purely tactical. Finding the right materials to fit into our game plan."
Osei turned out to be just right, inspiring the win with a clinical brace – the second of which reminded us all of the little boy who once bossed penalty boxes in all those youth tournaments. The goal brought his FA Cup tally to three.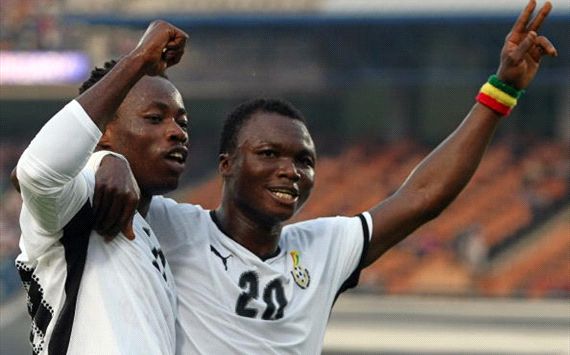 Tetteh: "We cannot write them off... They can bounce back in great style."

He would increase his season's tally to six goals overall in Kotoko's crunch Premier League game against AshGold in Sekondi.
Osei can only hope the sparks he's beginning to (re)produce is the start of resurgence; a beginning act of finding his lost talent. His hunger to return to the highest level remains his most potent asset.
"Ransford is all about goals. The injuries have slowed me down but you all know what I can do. This is the beginning of many to come," he beamed on the team bus back to Kumasi.
The last part of Tetteh's gloomy comments about his one-time goal poachers might turn out to be pivotal. "We cannot write them off. This is football and anything at all can happen. They can bounce back in great style."
Ransford can. He wants to. His story is far from over.

Follow Fiifi Anaman on Twitter