FEATURE
By Nana Frimpong
The average stadia-frequenting Ghanaian football fan, it appears, never learns.
Barely a week after the 12th commemoration of the nation's - and indeed Africa's - worst stadium disaster (an incident triggered as much by crowd misconduct as by police irresponsibility) on May 9, scenes at Berekum's Golden City Park over the weekend indeed leave many wondering whether at all this canker of hooligan acts would ever be eliminated entirely from our football.
In the case of Berekum Arsenal last Sunday, the ferocity with which the fans seethed and acted had a particular edge to it. It did not help that Arsenal are a team severely threatened by the drop - ranked 15th presently on the league log - and also the fact that this is a club that, along with being largely unaccustomed to losing at home (much less by a scoreline as heavy as the 3-0 Kotoko condemned them to), do host their home fixtures at a venue regarded as one of the Premier League's least safest in recent years. Punished in the past for similar occurrences, Arsenal's benefactor Yakubu Moro has often found himself pleading on behalf of the fanatics that attend his side's home games, and would invariably be doing so yet again before the dust on the freshest installment of hard-core violence settles.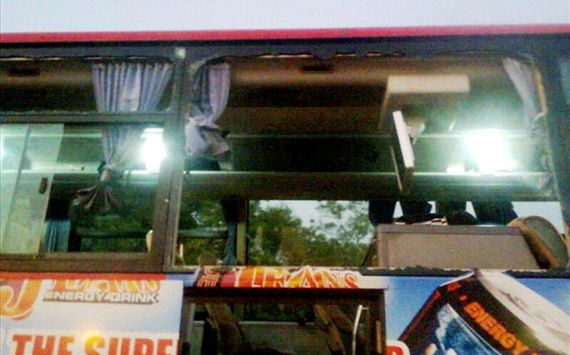 VANDALISED |
Kotoko players and officials were ambushed in Berekum after a 3-0 win
And yet it has not been only Arsenal who have flouted the rules in such a manner.
For believers in the efficacy of 'karma', Kotoko received as just a treatment as they themselves subjected Medeama to in the aftermath of their mid-week top-of-the-table clash in Kumasi, an episode that - much like yesterday's albeit to a slightly lesser extent of savagery - featured smashed and damaged vehicles, along with a fair share of assaulted fans, players and officials. One matchday earlier, supporters of the Porcupine Warriors had contributed to the rowdy scenes witnessed at the Ohene Djan Stadium in protest at the error-strewn show from Class One Referee Nuhu Liman when their team played Hearts of Oak in Accra. And, of course, the Phobian fans were no less guilty on that occasion.
Ebusua Dwarfs were barred from honouring any of their first few home games this season at their favoured Robert Mensah Stadium as punishment for bodily assault on match officials late last season.
Trips to certain other grounds in the league remain daunting for similar reasons, and occasionally such hostile, often brutal dealings only spark threats of retribution in kind in the reverse encounters.
The short- and long-term effects of these gross misdeeds are quite telling and are partly the reasons why our domestic game remains so backward.
Mass exodus of our players to foreign leagues where their lives would not be perennially endangered results, and a failure to replace them adequately incurs a net loss in quality. The league would lose its brand allure, too, with few enterprises reasonably willing to finance or associate itself with a franchise that breathes blood and gore and breeds indiscipline. Stressed and intimidated officials would only have their already gaping error margins widened further which, in turn, sparks more wrathful scenes, thus establishing a truly vicious cycle.
One only need to observe the downward trajectory experienced by English football especially in the eighties - circa Heysel and Hillsborough - to assess just how much a system plagued by hooliganism suffers.
Bad as things already are, though, they could get far worse. Or much better, conversely.
And although the Disciplinary Committee of the Ghana FA has flexed its muscles some more by banning the above erring clubs from their home grounds with national and stadium security also expected to deploy greater numbers at the stadia while club owners and executives do the pleadings, arguably only one stakeholder can do the most to determine just how better or worse the situation gets: the very fans who refuse to learn.