From Grass to Grace
SPECIAL SERIES
By Nana Frimpong
Two days after he moved in with Coach Smith, he finally got introduced to the members of the team he had heard so much about already. Quite reasonably, he was excited; a good dish of 'waakye' topped with every sort of delicacy - the best breakfast he'd had in a long while - had placed him in a bright mood earlier in the morning.
He certainly was delighted to meet his new colleagues, and was quite optimistic they were, too. Well, at least they all wore smiles, although some beamed more than others. To him, they were all friendly fellows he'd soon get along with nicely both on-and-off -the-pitch.
To them - well, most of them at least - he never really looked the part of a footballer. His scraggly, lean physique might have inclined them to believe he'd make a better ball-boy than a team-mate, but for the briefing the coach had provided on the new boy at the conclusion of the previous training session: this scrawny, hungry-looking lad apparently abounded in raw talent. They were just about to see just how much he was worth though and, perhaps more importantly, inflict some humiliation, once the warm handshakes and grins were over.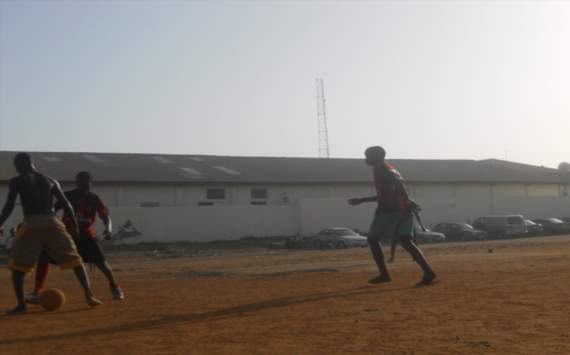 This they sought to do through a session of 'aabaten', one of the many variants of soccer that required to the new boy to operate in the centre of a circle formed by his senior colleagues and attempt intercepting or interrupting the sequence of passes the members of the circle would try stringing together by chasing the ball tirelessly back and forth. It was a tradition Coach Smith's team had long employed as a rite used to initiate new recruits -much later in his life, he would learn from Barcelona's Xavi that a similar method was used to an exact effect on fresh entrants at the Catalan club's famed La Masia- yet the fact that this fellow seemed so fragile and was preceded by a reputation thrice his size meant they indulged in this one with even greater glee. It proved an experience to forget for him; as baptisms of fire came, this was probably the worst.
What he endured on that first day proved the least of his troubles, however, as the envy became more expressed in subsequent weeks, during which he began to assert himself as a force on the team at training and in few unofficial matches and soon rose through the pecking order to establish himself as the team's second-choice playmaker. His seniors on the team saw their elevated positions threatened, those he considered his peers felt hugely intimidated and overshadowed, and the coach... well, he was wowed. The boy was that good. Too good, infact. And to think he had developed this much largely on his own.
Initially, he didn't really think much of the hard stares and cold shoulders that met his every word and deed - perhaps they were only starting to warm up to him. When he began receiving passes later than he really needed them, couldn't find support from his team-mates when surrounded in advanced positions by opponents, and even found his boots buried in thick mud after one training session, however, his suspicions began to grow.
Gradually, he found himself being isolated even more, to the extent that he began to rue ever leaving home in the first place. Just how had he swapped the warmth his family had always provided (prior to his latter alienation, that is) for the harsh and unkind reception he was enduring now?
Things were further compounded when the coach, partly as a means of rewarding the brilliance he had displayed thus far and partly upon observing the frosty relations between the kid and his mates, decided to appoint him deputy skipper. Thrusted into a role of such eminence, Coach Smith reasoned his protege would be encouraged to work harder, and the others would be inclined to rally around him some more. He was soon to realise just how ill-informed that move was. If anything, it only inspired greater animosity.
Out of the blue, though, he soon found a friendly face, and things began to take a rapid turn.
A turn for the worse.
Click to read episode 4 -Moving out, moving on
Follow Nana Frimpong on