SPECIAL
By Nana Frimpong
When one who guided a club to every major title available in a particular season of football and added eight more in three seasons that followed decides to take a year's break from the sport only to return with the objective of managing an outfit enjoying as purple a patch as there is, you are inclined to question one thing only: Motive.
Pep Guardiola left his job at Spain's Barcelona - the managerial world's most coveted at the time of his exit - and is set to resume coaching practice with Bayern Munich, a side regarded by most as representing the European game's gold standard at present. Now, that is a right only entitled someone really good at what he does and, really, few have reason to doubt the genius of Guardiola now, in view of what remains of the legacy he left behind in Catalunya nearly 12 months ago.
To be sure, Barca have not deteriorated very much since their trainer of four seasons departed. But they have not remained the same, either, judging by the fact that under the care of two of Guardiola's former subordinates - first Tito Vilanova, and in his cancer-induced absence, Jordi Roura - the Blaugrana contrived to lose twice in the space of a week to rivals Real Madrid and have won just once in six Uefa Champions League games. In the course of that undesirable streak, they have been beaten 2-0 at AC Milan and got thumped 7-0 by Bayern Munich over two legs, none of which would have been considered even remotely thinkable to many in the era of the Santpedor-born.
Thus that much - about Guardiola's quality - has been established; he is indeed good enough for Bayern. The one thing he probably lacks yet through no fault of his is that identified earlier, courtesy the incredible work being done by the outgoing Juup Heynckes that could see Bayern end the season with a treble of silverware: motive, yes.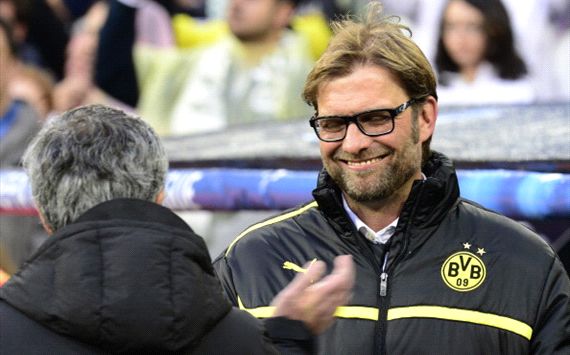 BEHIND THE THREAT |
Klopp plotted the threat to Bayern's monopoly with much intelligence
Now, though, he has found one and, quite incidentally, it is being screamed at him in bright yellow hue from the camp of Bayern's biggest domestic rivals at present, Borussia Dortmund. Die Schwarzgelben have indeed proved a handful for Bayern in recent seasons, utterly dominating them on- and off-the-pitch in the last two and trailing them by a yard or so in the current campaign. And for all the talent Dortmund have possessed in their squad in that period, much of the credit is due their bespectacled, blond manager, Jurgen Klopp, the man who has plotted the threat to Bayern's monopoly with much intelligence and meticulousness. The 45-year-old has displayed a degree of tactical nous, man-management skills and ambition that belies his age and that has seen him best some of the game's finest managers in the last few months, with the scalps of Roberto Mancini, Luis van Gaal, Heynckes, Manuel Pellegrini, even Jose Mourinho all ranking among his souvenirs.
Steadily yet surely, he has succeeded in guiding Dortmund to only their second Uefa Champions League final, placing his side in good stead to claim what would be their first continental conquest since 1997 when they play Bayern at Wembley on May 25. In Klopp, Guardiola must surely observe himself, everything he once was, and probably still is. Only that it isn't an exact reflection he might see. Klopp actually represents all Pep is thought not to be as well and bears traits that appear reminiscent of Mourinho, the nemesis Guardiola had to contend with while in Spain: calculated, ebullient, witty, cerebral, brasher than most and, yes, with a decent mop of hair.
And so Guardiola, when he does join Bayern in the summer, would either salivate -or shrink- at the prospect of crossing swords with a rival every bit as threatening as his last, providing one small reason to remain on his toes, even as he relaxes into the smooth rocking-chair that awaits him as coach of this Bayern team. So much for motive.