Ahead of Sunday's Super Clash between
Kumasi Asante Kotoko
and rivals
Accra Hearts of Oak
on Matchday-24 of the Ghana Premier League season, Goal.com compiles a team comprising 11 of the finest to play for the two clubs, a legendary Ghanaian tactician, along with a few other notable mentions.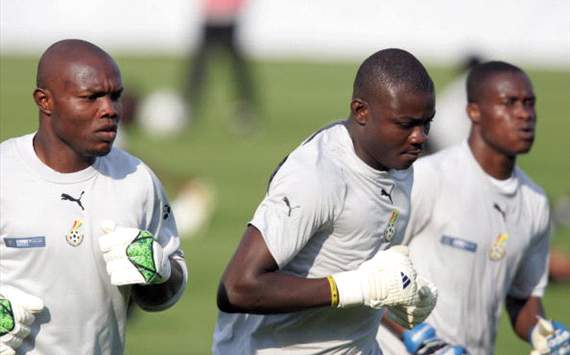 Veteran Hearts player
SAMMY ADJEI
seems the obvious choice to start in goal, having enjoyed much success playing with the Phobians in two separate stints, with his current spell proving far less fruitful than the first, that which saw him claim, among other laurels, the Caf Champions League, the Caf Super Cup, and a handful of league titles in an era that marked a purple patch for Hearts.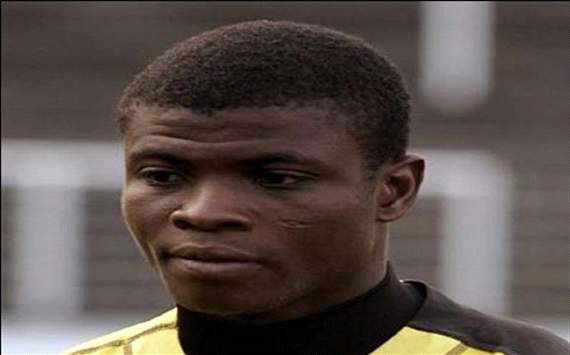 Protecting Adjei in the form of a formidable central defensive tandem is
DAN QUAYE
and
JOSEPH HENDRICKS
, two of the more distinguished defenders to have excelled on the domestic front for Hearts and Kotoko respectively. Quaye, a member of the Black Stars squad that qualified the country to and represented it at the 2006 World Cup, has had a career that alternated between Hearts and a number of Chinese clubs yet his initial eight-year experience with the capital side proved the most rewarding, as he claimed a clean sweep of Africa's major club competition silverware and played crucial roles in each triumph, sweating blood at the rear as only he could. Hendricks joined Kotoko from Sekondi Wise Fighters in 1999, and soon got entrusted with leadership responsibilities, such was his valor. His final season at the club saw him lead Kotoko to the final of the maiden Caf Confederations Cup competition only to miss out on the trophy to Hearts of Oak via a shootout in which Hendricks' missed kick cost the Reds glory. For being the man to hoist Kotoko's first league championship in a decade under coach Abdul Razak some two years earlier, though, 'Oreba' might be forgiven.
Flanking the pair on each wing are two legendary players,
JACOB NETTEY
and
AZIZ ANSAH
, who featured in some of the most intriguing Kotoko-Hearts encounters in history. Even for Ansah, a player whose career has seen him travel four continents and six countries, Kotoko have been a fairly recurring theme; really, you don't sign for a club on three separate occasions for nothing, do you? So, then, that aptly sums just how successful Ansah's time at Kotoko transpired, with his SWAG Footballer of the Year Award received in 2003 standing out as a definite highlight.
Indefatigable, hardworking, ever-loyal Nettey was as inspirational a captain as Hearts have had since the turn of the century, perhaps even in their entire history, inspiring them to a maiden continental conquest two seasons before he left the Hearts fold. A fine gentleman, yes, but an even better left-back.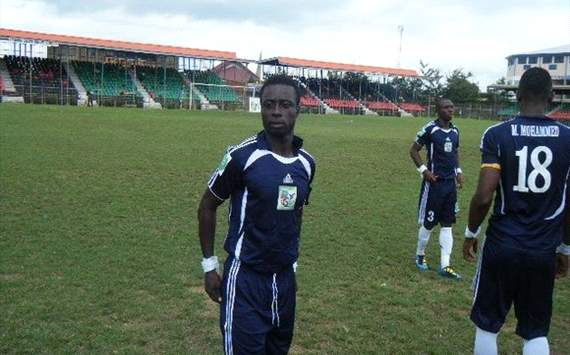 Our midfield is almost as littered with bona fide legends from either club as any department of the team, starting with ex-Kotoko star
GODWIN ABLORDEY
, the preferred anchor. Regarded by some as Kotoko's answer to Jacob Nettey, Ablordey (who actually started out at Hearts) spent several seasons with the two-time African champions, leading one of Kotoko's most talented units in recent times to within a whisper of winning the 2002 edition of the defunct Caf Cup Winners' Cup. Perhaps more than anything else, though, it is Ablordey's near-perfect record from 12 yards for which he'd probably be celebrated most by Kotoko faithful, almost always giving them something to cheer whenever called upon to deliver from the spot.
Partnering 'Champion' in the centre is 'The General', playmaker extraordinaire
EMMANUEL OSEI KUFFOUR
who remains one of a daring few to have tasted life on either side. Kuffour originally started out as a defender but was later converted into a veritable forward capable of operating efficiently in several offensive roles while with Hearts of Oak and contributing greatly to the club's successes in the early 2000s. Later, Kotoko also had the opportunity to acquire and utilise the 36-year-old's fine services, ensuring he belongs to an exclusive minority who are esteemed highly by both sets of fans.
Then there is
CHARLES TAYLOR
, arguably the most talented Ghanaian footballer in generation. The sight of the Sefwi native darting and dazzling along the left wing was always a marvel, even as he treated opponents to a good range of intricate skills that nearly always left them bewildered. Like Kuffour, Taylor succeeded in representing both Hearts and Kotoko - his switch between the clubs igniting one of the most fiery controversies in Ghanaian football history - albeit achieving far less success with the latter. Taylor - now with Ghanaian arrivistes Berekum Chelsea - no longer is the player he used to be anymore, yet the fact that he excited us like few others have in recent times earns him a firm spot in this team.
The final piece in our four-man strong midfield is
STEPHEN ODURO
, Kotoko's one-time pocket-sized dynamo and Xavi Hernandez prototype, capable of altering the course of the diciest games in more ways than his petit stature could suggest, whether via one of his clever pinpoint passes, a trademark set piece, blinding pace and dribbling, or whichever skill he opts to pull from his well-stocked set. Think of the fortes of Paul Scholes, Andrea Pirlo and Xavi all rolled into one and possessed by a single individual- such was the brilliance of 'Yaw Zico', long-serving Kotoko servant and creator par excellence.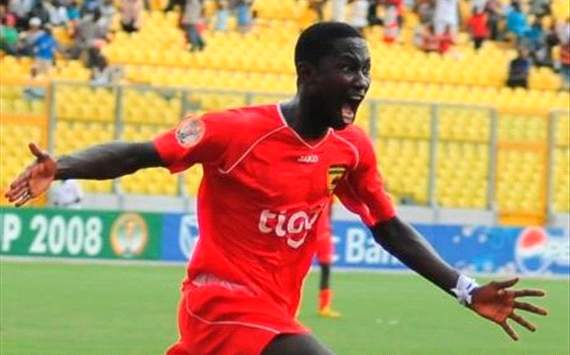 In attack, we pair two of the latter-day domestic game's finest, most potent, most feared predators,
ISHMAEL ADDO
and
ERIC BEKOE
, revered by fans of Hearts and Kotoko where they earned their individual renown respectively. Addo is arguably the bigger name, though, claiming the top scorer award at the 1999 Under-17 World Cup in New Zealand, and completing a hat-trick of local goal king titles when barely out of his teens during the period of unprecedented success for Hearts already referred to severally here. Addo was as impressive a marksman as the country's football had seen in a long time (his tally of 22 goals chalked in 2000-2001 remains the all-time record), yet even his enduring legend was threatened to be blown into smithereens by the whirl with which a certain Bekoe blitzed unto the domestic scene with Kotoko in season 2007-08. Bekoe might have just been a one-season wonder for Kotoko - the crown jewel of a very fine team put together by coach Bashiru Hayford - yet the frequency and sheer predictability with which his chart-topping sum of 17 goals came that year suggested that perhaps if he had just stayed in Ghana a little longer before transferring abroad, the ex-Hearts of Lions striker might have matured into a surpassing genius. Needless to say, the briefness of his illumination takes little gloss off his reputation, thus his well-deserved place in this combined XI.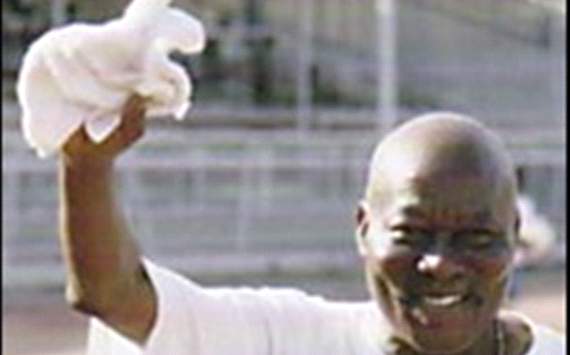 The choice of
CECIL JONES ATTUQUAYEFIO
as coach of this finely assembled team is a no-brainer, really. The 68-year-old might have been the architect of what is perhaps the greatest Hearts squad ever - one that featured every single player from the Rainbow Club's ranks that made this best XI and dished out a few sorry thrashings to Kotoko including a memorable 4-0 mauling nearly 13 years ago - yet he inspires reverence and respect in equal measure from either side of the divide. Winning the Caf Champions League and Caf Super Cup back-to-back at the turn of the century earned him plenty of acclaim, and victory in the 2005 Caf Confederations Cup - besting Kotoko in the final, incidentally - perpetually etched his name into Phobian and Ghanaian football folklore. And while the 2000 African Coach of the Year cannot reasonably expect piggy-back rides from Kotoko supporters - he has enjoyed lots of those from Hearts fans, anyway- he'd surely have a few hats doffed his way whenever he visits Kumasi. As brilliant a tactical mastermind as there ever was.
SPECIAL MENTIONS
Of course, there are several others who shone for Kotoko and Hearts yet who narrowly miss out on the final list, among them the likes of Bernard Dong Bortey, Kenneth Sarpong, Nana Arhin Duah, Michael 'Ember' Osei, Shilla Alhassan, Daniel Nii Adjei, Lawrence Adjah Tetteh, Osei Boateng, Godfred Yeboah, James Nanor, Charles Amankwah Mireku and Jacob Nettey, all of whom have contributed in some way to spicing the Kotoko-Hearts rivalry.
Surely, though, we couldn't have named them all, could we? Well, then, do share with us in the comments section below the names that in your opinion ought to have been inside the Best XI, or at least merited a mention.