From Grass to Grace
That choice, when he finally had to make it, wasn't easy. And then it was.
Papa was furious and adamant, while Mama, ever so reserved and mum, feigned an apathetic facade that belied intense inner turmoil.
The boy couldn't be serious about this 'football thing', could he? An urgent meeting of the extended family had been summoned to resolve the 'crisis' at hand and sort out the supposedly deteriorating mental state of their son.
Football, they claimed in their desperate attempts to ram some sense into his head, was merely an option for the brainless and was as unlucrative and profitless a venture as they came. They took turns to lecture for hours on end on that fine Saturday morning. Present was every individual whose opinion mattered: grandpa and grandma, uncles and aunts, older cousins; even little Kobby his nephew, a full seven years his junior - much as his tiny mind failed to discern anything comprehensible from the adults' chat - could, by the grim looks and soured moods around him, infer that his young uncle had offended them all in some way. And so he chipped in a plea, for whatever it was worth.
All on a day that most of them would rather be on their farms tilling the land and scraping the soil for a living, such was the seriousness with which they treated the issue at hand.
Not that he was particularly impressed upon by any of this. His mind had been made up a couple of weeks ago, when he starred in a football match between his school's football team (for which he'd been called up only recently) and that of a neighbouring school.
Theirs had been a fierce rivalry which had been contested in annual encounters, with his school failing to win any of the last five editions. This time, though, they did break the jinx, and he - the newest face on the team - proved the catalyst, contributing a goal and two fine assists to the 4-2 victory.
With barefoot, of course.
The hugs from team-mates, pained nods of acknowledgement by his opponents, pats of approval on the back from his coach, cheering and piggy-back rides by his colleagues, the applause and toasting enjoyed at assembly the following morning... they all made a huge impression on him. From academic gem, he'd been transformed overnight into a bona fide sporting star. He certainly wasn't swapping the latter status for anything. If one good game of football was all that it would take to be celebrated this much, it really wouldn't be the worst way to go.
The line had been crossed.
Unbeknownst to him, a scout had been present at the game and apparently saw enough to convince him of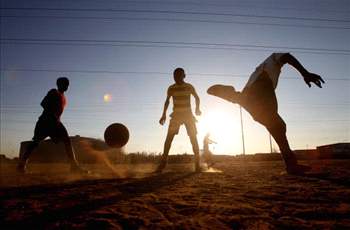 his potential. The man felt he had seen real talent, one he wished to recruit for the community's premier 'colts' team without hesitance.
A week later, the wide-eyed scout visited his school accompanied by the youth team's coach and approached the school's headmistress. The 56-year-old woman seemed initially averse to what they suggested, reasonably unwilling to have one of her hardworking students pursue a 'pointless' distraction. They sold the idea to her some more, though, till she appeared favorably disposed and then, finally, the subject of their interest was called over.
It didn't take too long for him to get fully persuaded. He couldn't believe their offer at first, yet jumped at it faster than a fish would at a live bait when he finally did.
Sure, school would suffer - that much was inevitable - and might eventually lose out entirely.
All that in exchange for a football career, though?
'Heck,' he thought. 'Damn the consequences.'
The two men standing across the table eagerly awaited his answer. And when he finally gave them one, they cheered loudly at the three-lettered word that followed his ominous silence.
YES.
Watch out for episode 4 next Saturday
Click to read episode 2 -Dreams

and

choices
Follow Nana Frimpong on