COMMENT
By Liam Twomey
Only last Friday, the
Arsenal
website ran an interview with
Abou Diaby
in which he voiced renewed hope that the worst of his injury nightmare might be behind him.
"I have tried to look after myself a lot this season by having good treatment, a good recovery [period] and all the things that make a player better," he revealed.
DIABY'S ARSENAL CAREER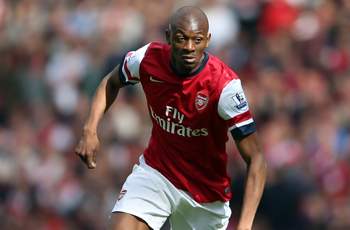 SIGNS FOR ARSENAL
JANUARY 2006

Joins Arsenal from French club Auxerre for a fee in the region of £2 million in January 2006 and makes his debut in the same month - a 1-0 defeat to Everton.
SUFFERS ANKLE FRACTURE
MAY 2006

The midfielder has to undergo three operations to repair his ankle following a challenge from then Sunderland player Dan Smith and misses the 2006 Champions League final as a result.
FIRST GOAL FOR ARSENAL
MARCH 2007

Scores his first goal for the Gunners in a 1-0 win over Aston Villa as a shot from Julio Baptista fortuitously deflects off his leg and into the net.
RED CARD AGAINST BOLTON
MARCH 2008

Diaby is sent off for the first time in his professional career for a challenge on Bolton defender Gretar Steinsson.
INJURY STRIKES AGAIN
MARCH 2008

A thigh injury picked up in March 2008 is aggravated a month later and, as a result, Diaby misses the end of the 2007-08 season, as well the start of the 2008-09 campaign.
CONSIGNED TO THE TREATMENT ROOM
JULY 2011

After featuring in 53 league games for Arsene Wenger's side during consecutive seasons from 2008 to 2010, Diaby only makes 16 league appearances in the 2010-11 season, before ankle and hamstring problems see him ruled out for the majority of the 2011-12 campaign.
MORE INJURY HEARTACHE
MARCH 2013

Diaby makes a promising start to the 2012-13 season for the Gunners but a thigh problem picked up against Chelsea in September halts his progress, before news that a cruciate ligament injury sustained in training would keep him out for up to nine months.
"I am still young and I know that I have many years left at the top level. I just need to look after myself every day and everything will be OK."
In the light of Thursday's news that
the 26-year-old will be out for another eight to nine months having torn an anterior cruciate ligament in training
, many might condemn such words as tempting fate. But then, if anyone is entitled to revel in a little optimism, it's Diaby.
Since being hacked down only four months into his Arsenal career by Sunderland defender Dan Smith – now of Northern League club Darlington 1883 – in May 2006, breaking and dislocating his ankle in the process, Diaby has troubled his own club's physios more than opposition defenders.
He has only started 34 per cent of the Gunners' 274 Premier League matches since his arrival in England in January 2006, and completed a full 90 minutes on just 48 occasions.
Of course, injuries are an occupational hazard in a sport which seems to place greater physical demands on its participants with every passing season. Many find their careers blighted or even ended by muscles which won't do their bidding and bones which can't take the strain.
But what makes Diaby's plight particularly galling is that it is stifling a clearly special talent. There are a million 'Youtube footballers', but watch any internet highlights package of him and you will see the lot: power, pace, tenacity, skill and a sure touch with either foot.
Few can feel more frustrated than Arsene Wenger who, back in the days when he still boasted practically a monopoly on bringing exciting young Frenchmen to the Premier League, plucked Diaby from Auxerre for €3 million when he was only five games into his professional career.
He saw the potential close up and the fact he still sees it whenever Diaby can drag his limbs onto the training pitches at London Colney should probably serve to explain why he remains a believer, in spite of the 23 injuries his charge has picked up in the last four years.
In November last year, even Wenger appeared to have lost patience, admitting the weaknesses in Diaby's physiology were permanent and describing them as "a concern".
By January, though, his faith was renewed, using his countryman's latest comeback as a reason not to delve into the winter transfer market for midfield reinforcements.
"The way the team is structured, Diaby is an important part of the puzzle because he adds qualities we need in the middle of the park," he told reporters.
"He has power and long strides. He is the closest to Patrick Vieira that we have seen for a long time."
In terms of physical appearance and raw ability, the comparisons to the legendary Vieira are justified. But at 26, Diaby is fast running out of time to match the Premier League and World Cup winner's enduring influence and achievements.
With every passing setback it seems increasingly like folly for either Wenger or France coach Didier Deschamps to give him prominence in their plans. And with his Arsenal contract set to expire in the summer of 2015, the likelier outcome is a downward career trajectory from here on in.
If it even gets that far. Diaby has spoken previously of contemplating retirement at the lowest ebbs of his injury struggle, and few would bet against him having similar thoughts in the coming days.
For now, though, all that will be occupying the minds of player, manager and club is the long struggle which lies ahead, coupled with the nagging thought of what might have been.