Fiifi Anaman




From the Accra Sports Stadium




Follow on
David Duncan did not want to risk failure by adhering to the orthodox convention that says preliminary domestic cup ties are essentially for resting star players whilst giving a chance to fringe ones to assess their output.
In actual fact, he was left with very little in choice. Hearts are in a precarious situation in the Ghana Premier League, only a point off the relegation zone. The possibility of winning the league – or even finishing in the top four – is, realistically, very low. This implies the only avenue through which they can make something of a thus far rocky season is through success in the FA Cup; a competition of which they are the most successful – with nine trophies.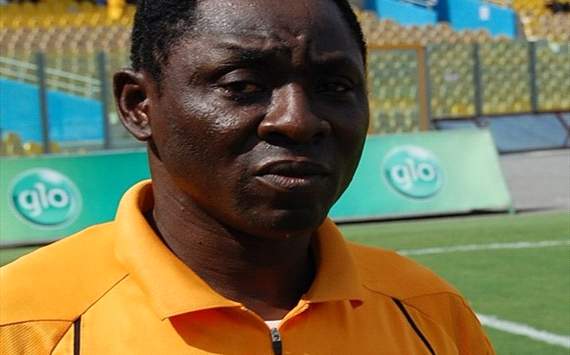 DONE FOR DUNCAN |
The head coach survived an FA Cup exit scare thanks to his captain
Success would also present an added bonus – a chance to feature in the Caf Confederations Cup. A chance to play in Africa for the first time since 2008 - five solid years ago. A prospect that whets the appetite of any Hearts fan. A prospect that would represent a quantum leap of beneficial significance to the confidence and image of the club – albeit amidst genuine concerns of sup par quality within the playing squad.
The round 32 tie against BA Stars was, given the status of both clubs, always going to be a walkover for Hearts. But recent form issues made sure predicting the outcome was not going to be as clear cut as it would normally be. The Brong Ahafo team – coached by former Berekum Chelsea tactician Kobina Amissah - arrived in Accra late last week with high hopes, and loud mouths. "We'll beat Hearts by two clear goals," said their PRO on radio. The confidence he evinced was no fluke, as spectators at the Accra Stadium would find out on Sunday afternoon.
The minnows had midfielder Isaac Baah sent off as early as the 30th minute, a situation that was supposed to hand Hearts the advantage. But it hardly did.
The Phobians had to rack their brain hard; Duncan and his team were made to sweat, struggling to find strategies to break down the watertight defence of BA Stars – whose resilience was epitomised by goalie Tor Kwame Noah. He gracefully denied Hearts' Owusu Bempah (header) in the first half, skipper Mahatma Otoo (shot) early in the second half, and nimble footed Ashitey Ollenu (one-on-one) moments after. And then there were the free kicks and corner kicks, most of which he dealt with sheer ease and composure.
Time was running out, and the tenterhooks literally began emerging from underneath the seats of the Phobia faithful in the stands. Hearts looked set to allow a game they were supposed to finish off into penalties.
Penalties. The mere thought of that sent shivers down Phobia spines. That dreaded sprint – or sometimes even a marathon – from 12 yards has not exactly brought them happy memories in the past. Last season, in this very same competition, they were knocked out at the quarter-final stage, on penalties.
The 4th referee signaled five minutes of time added on. By this time, that spontaneous urgency began to take a toll on the boots of Duncan's men. Duncan himself had felt the pressure to score – he brought on attacker Sadat Karim for defender Emmanuel Osei. At a point, Hearts were all attack, leaving only Nuru Sulley and Robin Gnagne at the back.
Before the game, a source had revealed that Duncan had seen no need to practice penalty shootouts at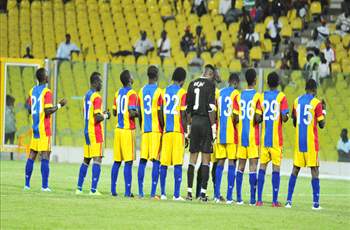 training. The original plan was to deliver the decisive knockout blow in regulation time. A plan which from clear indications was backfiring. A plan which had to be revised, and fast.
It happened in the last minute of time added on. Hearts were awarded a debatable (in the words of a BA Stars fan) free kick. Dead ball specialist James Bissue had not started the game, neither was he on the bench. He was injured. Nuru Sulley, whose typical affinity for power over accuracy - as manifested in a free kick blasted well over moments earlier - was not around the ball either.
Otoo was. A chance to avoid a humiliating (given the numerical advantage and the bad track records in penalty kicks) defeat had presented itself. Otoo has for a long while now had a glowing reputation of being the go-to guy for close range free kicks in dying moments of games, doing it against Berekum Arsenals earlier this season and Kotoko last season. Here he was, shouldering all the pressure and expectations once more.
Unlike Nuru, Otoo managed to merge power and accuracy, a craft so subtle only two players have mastered. It was almost as if no time had elapsed between the time the ball left the instep of his right foot and the time it bounced off the back of the net.
It was virtually the last kick of the game. The full time whistle blasted; joy for Hearts, agony (and a feeling of injustice, owing to their view of a 'dubious' free kick) for BA Stars. It also meant an end to coach Amissah's six-match unbeaten run.
But what had happened had happened. Hearts were through, and the men-in-green were not. To be fair, they had given Hearts a good run for their money, and their grit shown against the odds was commendable. They had lost gallantly.
For Hearts, that hope of salvaging a significant positive in a negative-ridden season was kept alive. A hope which for the time being, is being fueled by passion and luck. The players know they have to give much more to make this hope substantial, and more importantly, realistic.