Fiifi Anaman

COMMENT

Follow on
Amidaus
skipper Yahaya Mohammed couldn't have returned at a better time for his club. The playmaker, who missed out on a possible debut participation in an Afcon in South Africa due to an unlucky last minute groin injury, gave Ghanaian football fans good news when he revealed late last week that he was back to full fitness after training with the squad for a few weeks.
"Now I'm feeling better, started training about three weeks ago and I'm 100 percent fit. I will be in action this weekend since I'm strong and fit," he said.
On the weekend, he was indeed in action, and he wasted no time in resuming what he has been known for and does it so well – scoring.
Amidaus had traveled from their Tema base to Kumasi to face RTU, who are still serving a home ban away from the Tamale Stadium in what was one of Saturday's two games. Despite the fact that RTU had not tasted a single victory in the then 15-match old campaign, it was always going to be a tricky trip, considering how hard away wins are to come by in the Premier League.
Coach Tony Lokko did not hesitate in unleashing his 25-year-old skipper on the Tamale boys, causing them serious problems throughout the game. In what was his 13th game for his club this season, Mohamed scored his 11th goal to put Amidaus 2-0 up, after Isaac Ofori had scored their first.
RTU, spearheaded by Fatawu 'Owen' Mohamed - a Kotoko 'reject', fought hard to at least salvage a point from the game, but Amidaus' elegant superiority, epitomised by their talismanic skipper, meant their best efforts could only translate into a consolation goal from playmaker Aminu Mohamed.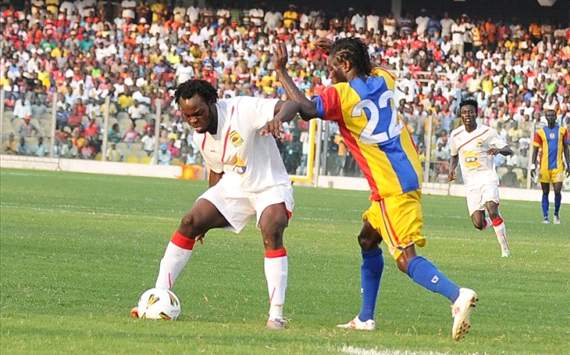 Mohammed was later substituted amidst a standing ovation. Arguably the league's best player currently had done it once more. Man-of-the-match performances have become synonymous with his name this season. Despite his immense contribution which sealed a 3-1 win (prolific marksman and partner in crime Selase Adjei eventually scored Amidaus' third), Mohamed's post match reflections were down to earth – "Well, I'm not targeting to be the goal king. I'm targeting to improve game by game. You'll notice I always try to surpass previous performances."
"The only target I had on my mind when I came to Amidaus was to help the team stay up this season, so they could be in a position to challenge for the title next season," he added.
Amidaus' win in Kumasi catapulted the side into second place ahead of Sunday's fixtures – an unbelievable situation considering this is their debut season in the top flight.
Striker Selasie Adjei had also taken his season tally up to seven goals, meaning himself and Mohamed have now scored 18 of Amidaus' 24 goals this season.
Before the season began, coach Lokko had been given one-year contract extension after engineering their promotion into the elite division as well as masterminding the downfall of Mohamed's Kotoko in the MTN FA Cup. On signing the contract, the former Tema Youth gaffer said, "I want to look at our first season first and see how it goes."
And just how well it has gone so far. Amidaus have only lost on three occasions in 16 games this season, and are now unbeaten in 10 straight matches.
The small club from Tema are now only three points off the top, and with a realistic chance of winning the league.