Nana Frimpong

FEATURE

Follow on
For all our enthusiasm and obsession with the English Premier League, it is rather difficult and uncomfortable to acknowledge that as things stand presently, there is not a single capped Ghanaian international in the championship.
To be sure, though, it is not as if there have been too many in the past. Since the English first division was re-invented, re-branded and re-christened to its current format courtesy the resources of Rupert Murdoch's SKY - some 21 years now - the league has featured just 15 Ghanaian players, only one of whom is a currently active participant.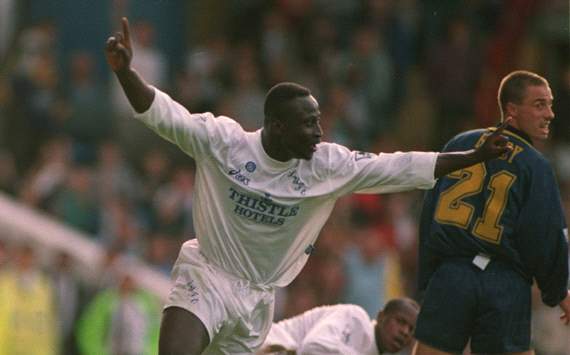 YEGOLA |
Anthony Yeboah terrorised EPL goalkeepers in his days with Leeds
Our lot appears even less impressive when compared with the numbers in terms of representation that some of Ghana's continental neighbours boast. Nigeria, with whom the former Gold Coast share an age-old rivalry, have had nearly twice as many – 28 in all - with five still representing. And it only gets worse from there.
Players from Francophone lands as Senegal, Cameroon and the Ivory Coast have always been known as inclined to move to places where linguistic and cultural conditions are more suitable, such as France, Belgium among other; rarely, in fact, do they wander out of their 'comfort zones'. As it turns out, however, those three countries have had 22 (5 active), 21 (2), 16 (5) respectively.
Those stats notwithstanding, to our credit, quite a few of Ghana's own that have lined up for clubs in the Premier League have made their presence count very much. Fans of Leeds United and of English football would always remember Tony Yeboah - the first Ghanaian to play in the EPL - for his classic belters, some of which have entered Elland Road folklore never to be erased, as well as the spectacular, excited finger-wagging celebrations that accompanied them while he played there in the nineties.
Then, of course, there have been the performances of a certain Michael Essien for Chelsea over the last eight seasons that ensured that for years he remained an untouchable fixture for the London side, a cult figure for their fans, and a veritable reference point for the enforcer's role worldwide. Sulley Muntari, too, did not account too badly for himself when he played at Portsmouth a few years back. The rest, regrettably, have made no significant contributions. Some have been mere peripherals for the clubs that employed them such as Alex Nyarko, Kevin-Prince Boateng, Quincy Owusu-Abeyie, Nii Odartey Lamptey, and Patrick Agyemang.



A handful glimmered for a while and then dimmed - Asamoah Gyan, John Paintsil, Richard Kingson, and John Mensah; not a few turned out for clubs too weak to make any meaningful impact like Junior Agogo





- Nana Frimpong

A handful glimmered for a while and then dimmed - Asamoah Gyan, John Paintsil, Richard Kingson, and John Mensah; not a few turned out for clubs too weak to make any meaningful impact like Junior Agogo; while the remainder probably did too little to matter. Currently, there are only two Ghanaians on the books of Premier League clubs, Chelsea's Essien and Arsenal's Emmanuel Frimpong, with both having been farmed out on loan by their respective sides. The former's deal actually sees him play outside England (in Spain for Real Madrid), while the latter, who is even yet to make his Ghana debut, struggles for playtime at Fulham.
So, then, what has accounted for this rather lamentable dearth? It certainly is not as if Ghanaian footballers are any less skilled than their peers from other places; that much has been proved beyond doubt by the few good examples cited already. More likely, it is because most Ghanaian footballers are not thoughtful and patient enough to earn their big moves to the Premier League, usually via Europe's other elite leagues. Most of the success stories recorded thus far involved players who had made some sensible career moves and used the likes of the Serie A, the French Ligue 1, Bundesliga, the Primera Liga and the Eredivisie to work their paths to what is widely considered the ultimate feat for any footballer - a transfer to a major English club. Instead, the majority jump at just any deal, worthy or not, that comes their way, and that is how some of the most talented footballers end up wasting their potential in less reputable leagues scattered across Europe and elsewhere.
Again, the marketing and branding done on behalf of these players by some of the agents/managers have hardly proved satisfactory. Most of these simply force their clients to accept the wrong moves, provided a healthy cut of the fee is assured for themselves. And for many a Ghanaian player, the problem begins when they are yet at home, just when they are preparing for their maiden move overseas. In this regard, the late Alhaji Sly Tetteh deserves much commendation for giving some of our bigger players the best possible start, with the wonderful work he did at Liberty Professionals that helped the likes of Gyan, Muntari and Essien build their careers.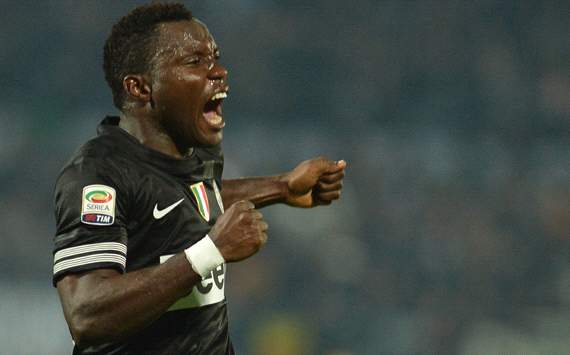 ASA |
Can he dance his way to the Premier League one day?
Gratefully, there are still a handful of Ghanaian players doing well in some of Europe's other elite leagues, and appear well-placed enough to earn a deserved move to the hallowed English Premier League in the not-too-distant future, among them Juventus' Kwadwo Asamoah, Porto's Christian Atsu, and the Ayew brothers at Olympique Marseille. The fact that deals for Harrison Afful and Derek Boateng to capital outfits West Ham and Fulham respectively narrowly fell through last January beautifully illustrates this point.
Ghanaians cannot afford to follow successive matchdays of the EPL each weekend and not have some of their own to cheer, at least. Hopefully, one or perhaps more than just one Ghanaian star would make his Premier League bow in memorable style. This, after all, is purportedly the world's greatest league.