COMMENT
By Nana Frimpong

Nigeria were crowned African champions and the commendations are still going round, two weeks after.
Thanks to Steven Keshi for orchestrating what had seemed an improbable victory not too long ago; to Mikel Obi for anchoring a very young squad; to Victor Moses for making his Afcon debut such a memorable one; to Emmanuel Emenike and Sunday Mba for scoring those goals when the side needed them; to the NFF for retaining faith in the coach after their failure to make the last tournament. And for one reason or the other, all 160 million Nigerians would be giving themselves a pat on the back.
There is another party, though, that deserves no less praise for the role they played in that brilliant triumph: Nigeria's retired professional footballers. Prior to - and during - the tournament, several former Eagles, not least among them bona fide legends like Austin Okocha and Sunday Oliseh, rallied around the team, paying visits when they could, taking advantage of every available medium to make public comments regarding what was going right and wrong with the project Keshi was working on.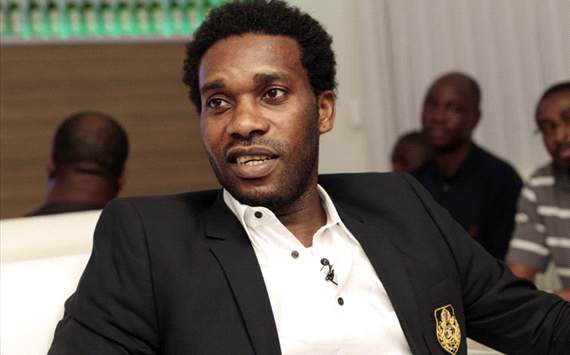 Even at the tournament itself, some of these were spotted - notably Okocha's presence during the semi-final clash with Mali - and it is also reported that a number of them have been around the team's base in South Africa in the course of the competition. And one can be sure that the current batch of Super Eagles did appreciate the bits thrown their way by these fellows that they so look up to, in whichever form they came - inspiration or chastisement, that is - and did apply some of those tips along their path to glory.
Quite incidentally, some of these were peers of Keshi when they represented the country in the past, mostly members of the squads that conquered Africa in 1994, soared at the World Cup later that year, and won Olympic gold in 1996. Of course, there are a few voices who have made themselves heard but whom 'existed' in earlier generations, the likes of Segun Odegbami.
Arguably, then, it is the rapport and sense of camaraderie they share with Keshi and his assistants - Daniel Amokachi his deputy and Ike Shorunmu the goalkeepers' trainer, among others - that empowers and provides them the freeness to air their candid, mostly constructive views about the team's state of affairs. And it has not been so only in the days of Keshi, but also when the likes of Christian Chukwu, Samson Siasia and Augustine Eguavoen managed the national team.
As you might have guessed rightly, little of this would have been possible had the Nigerian football fraternity alienated these former stars. In fact, these men have been re-absorbed into the system in several ways - with some even benefitting from technical training programmes - thus ensuring the rich nous these men possess would be tapped through some means.
How, then, does that compare with the Ghanaian system?

Well, frankly, things could not be more contrasting. Few recently retired national football stars have been encouraged to go into coaching or into television punditry. In fact, the system does the very opposite by consciously or otherwise marginalising these, with those who desire to pursue post-retirement careers in these fields having their initiative and confidence shot down. Take, for instance, the examples of former Ghana skipper Charles Akunnor and Nii Odartey Lamptey who dared venture into coaching and were treated with such disdain on their maiden job together at Sekondi-based Eleven Wise.
| | |
| --- | --- |
| | Only recently, ex-Black Stars captain Stephen Appiah raised genuine concerns in an interview over the attitude displayed to these retired stars, claiming not to have had any personal correspondence at all with Ghana FA officials |
An experience with Accra Hearts of Oak proved a similar situation with the former, while the latter seems to have gone on a sabbatical of sorts and has taken to the less harsher job of punditry for now. Granted, there is current Black Stars' coach Kwesi Appiah as well as the likes of Mohammed Gago, Yaw Preko and Maxwell Konadu, but they are more of an exception to the rule. The few that remain in the category of ex-footballers-turned-managers are those of a much earlier generation whom modern-day Ghanaian footballers revere and relate to but not as much as they would those they grew up watching and admiring.
Personalities like Abedi Pele, who has restricted himself coaching his self-owned club Nania FC; Anthony Baffoe who hosts a Uefa Champions League-Matchday show on TV and serves in various capacities for Fifa and Caf, thus steering largely clear of issues regarding local football, perhaps indeliberately; Marcel Desailly - who never played for Ghana yet has been around long enough to be considered one of those and has plenty to offer, if allowed - runs a private sports facility; Anthony Yeboah prefers to operate his chain of businesses in the entertainment and tourism industries.
In this regard, Bayern Munich and Ghana legend Samuel Osei Kuffour deserves much credit for succeeding in a field most of his colleagues have shied away from and regularly holds his own against the Mahmadou Gayes and Olisehs of Supersport, often defending the national team with as much passion as he did as a footballer whenever the need arose in the course of the tournament, and could render himself useful to Ghana in much the same way Roy Hodgson has utilised Gary Neville's qualities to England's advantage.

Only recently, ex-Black Stars captain Stephen Appiah raised genuine concerns in an interview over the attitude displayed to these retired stars, claiming not to have had any personal correspondence at all with Ghana FA officials since he brought an end to a period of selfless service to the nation. And, as if to buttress the need to reverse this most unfortunate trend, Nii Lamptey, in a post-match analysis after one of Ghana's latter games at the just-ended Afcon, reasoned that the FA could do no worse than have a minimum of one retired Ghana footballer among the national side's permanent backroom staff in a properly defined, salaried portfolio, perhaps as a liaison officer of some sort. That, at least to this writer, is a suggestion as valid as any and, really, it could do little harm.
To that end, perhaps we ought to cut down on the regularity with which the Ghana coaching job is thrown at expatriates, as these past internationals would find it less convenient to share whatever they have to offer with them, not being of their ilk and all.
That is not to say encouraging or promoting these players en masse into the recommended positions would guarantee instant success, but at least it could only represent a step forward, perhaps a significant one, too, as the Nigerian model has proved.