Fiifi Anaman

2013 Afcon: Black Stars diary

Follow on
Thursday January 24, 2013.Accra, Ghana.
The anticipation towards Ghana's second group game, which had begun soon after the draw with the DR Congo was reaching a crescendo. Radio, TV, newspapers, streets, pubs right down to living rooms, people were going hard on analysis and expectations.
The line-up was the center of every argument. Who was going to start? Who was to be dropped? Was Kwesi Appiah going to start Kwadwo Asamoah at left-back again?
Of course, after the DRC draw, the anti-Kwadwo-Asamoah-at-left-back movement assumed a frightening majority. They made their voice heard on every platform. Journalists did not spare hammering on their dismay at Appiah insisting to play his star man from the back. On call-in sessions on radio sports shows, the familiar utterance was "I can't believe Kwesi Appiah is this stubborn. He should listen to us! Kwadwo Asamoah's place is not at the back. Didn't you see what happened when he bombed forward? Didn't you?"
On Thursday morning, news emerged that Asamoah had been played behind Asamoah Gyan in the team's last training the previous night. This was after widespread reports that Appiah was going to stick to his plan. The news intensified the build up. Ghanaians couldn't wait.
Despite the diversity in views, one consensus the whole nation recognized was that the game was crucial – a must win.
12:00 GMT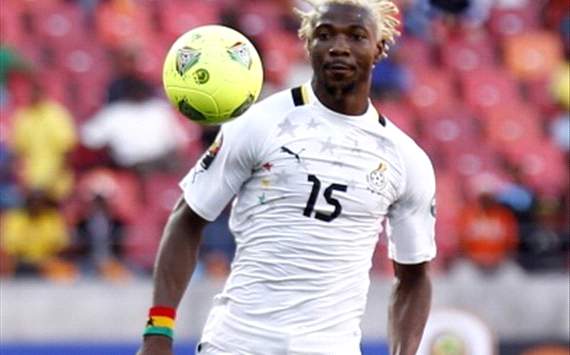 "Vorsah starts for Black Stars against Mali" read a tweet from the official Ghana FA account on twitter. The line up was out. People rushed to follow the link that accompanied it. When they got redirected to the FA website, they saw it.
What they had been waiting for.
Vorsah – who we would later find out had dyed his weird dreadlocks yellow - had come in for Jerry Akaminko at center-back, Rabiu Mohamed for Derek Boateng in center midfield and Christian Atsu – who had an uncharacteristic quiet day in the office in the first game – was dropped for Harrison Afful.
Wait.
Harrison Afful? Thee Harrison Afful? He's not a winger like Atsu, he's a full-back, a left-full back..
"YES! YES! Finally, Mayele has decided to listen!"
Asamoah had been moved forward to play behind skipper Gyan. People who had clamored for it were over excited.
Port Elizabeth, South Africa
15:00 GMT.
The TV cameras zoomed in on a man after the national anthems. Beside the Ghana flag at the bottom of the screen read "James Kwesi Appiah, Coach."
And he was without his trademark white shirt. He was, also without his infamous tie. There! Good omen.
15:05 GMT
Fatau Dauda was seen speaking to the referee, his hand behind his back. Players in yellow and white shirts alike (Mali wore yellow, Ghana wore white) quickly encircled the referee. Dauda had handled the ball outside the box, after rushing out to prevent a goal. Back in Accra, hearts were beaten in ultra fast mode. Per the rules, that was a red card. The referee reached for a card. "Oh dear, oh dear" thought Ghanaians. But lady luck smiled on Dauda and Ghana. It was a yellow card.
It could have been red, as Dauda would find out the next evening, when his fellow Ghana-based keeper Soulama Abdoulaye (Burkina Faso) was sent off for a similar incident.
The resulting free kick almost went in though. Dauda found himself rooted to the spot when Seidu Keita's free kick missed his right post by inches. Relief!
15:37 GMT
Ghana started an attack. Asamoah Gyan managed to turn after receiving the ball with his back to goal and laid on a pass in the path of Emmanuel Agyemang Badu. Before Badu knew it, he had been tackled ferociously in the box. Ghana looked up to the referee. Penalty? Yes, he signaled.
Asamoah Gyan was seen hovering around the ball.
Trouble.
Before the tournament, he had revealed a promise he made to his late mum that he would never take penalties for Ghana again. What was he doing around the ball?
"As soon as I saw that, I exclaimed 'Me twa mu wo Yesu din mu!' [I rebuke it in the name of Jesus!]" said a bubbly Afia Schwarzenegger, a popular Ghanaian actress and radio host on a programme on Accra-based TV3 on Friday morning.
Most Ghanaians thought same. The game looked like it was going to have few goals, and Ghana could not afford to mess up a golden opportunity at all three points. No…No.
Gyan stepped aside. 24 million hearts calmed down. Apparently, he was not even planning on taking it. Up stepped Mubarak Wakaso, Ghana's latest dead ball whiz kid.
He made no mistake. One nil.
Wakaso, in celebrating, revealed the words "Allah is great" on his undershirt. Yes, Allah had been great in giving him the confidence to score and escape the wrath of Ghanaians alright, but the action – which breaches FIFA regulations – fetched him a yellow card. That was his second yellow of the tournament. He was going to miss the next game vs Niger on Monday. "I feel bad but I have to accept it's part of the game," he said.
"I spoke to him. He shouldn't have done that" said Kwesi Appiah. "It's important that the players learn because any yellow card can cost us along the line"
Ghana went into the break in the lead, operation three points rightly on course.
The game ended. Yes it was very uneventful. And boring. It looked like a friendly for most parts. Mali looked hesitant with the ball. Ghana defended brilliantly and had a few good spells of counter attack. The game lacked the urgency typical of such crucial games. But from a Ghanaian perspective; who cares? Three points were badly needed, and they were in the bag after 90 minutes.
Quiet Kwadwo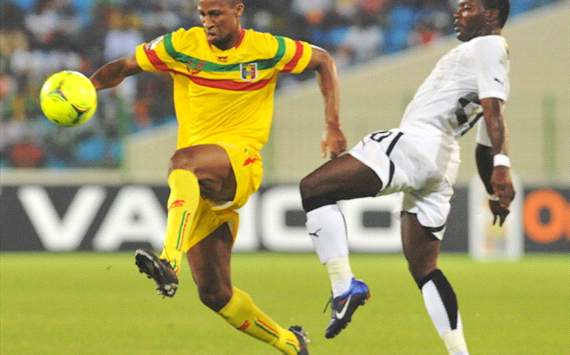 Kwadwo Asamoah was quiet.
He saw very little of the ball. And when he did, he found himself passing backwards, and side ways. For many Ghanaians who strongly resisted the urge to sleep for most parts of the game, Kwadwo looked lost. It was in this same role – the playmaker's role – that he had seen his performances dip due to the immense pressure and heavy burden over the last two years. Yet many Ghanaians wanted him upfront. His assists and goal from left back were positives, but some chose to dwell on negatives – like the fact that he left the back exposed.
His performance against the Malians must have come as a disappointment to the "play hi upfront" brigade.
The decision to play him upfront, as expected was seen by many as Appiah 'lending a listening ear to us Ghanaians who sit back and watch and perhaps know better'. But Appiah's comments after the game did not reflect this; "We sought to try and change tactics against an opponent with a different style"
"He must step up!"
Gyan was arguably the most vilified player in post-Mali reactions. Throughout the game, he almost always had his back towards goal anytime he received the ball. His backside – diplomatically speaking - was doing more work in the game than his legs. There were times he tried to dribble, and looked pathetic in the process as it ended up badly. Things were not smooth sailing for the skipper.
"I think Kwasi Appiah should be bold and drop him. For a player of his stature, his performances have been below par and very inappropriate for a captain and leader, on whose shoulders grave responsibilities and expectations lie," said a fan on radio on Friday morning. Many Ghanaians seemed to agree. And in a tournament that has seen captains like Drogba, Mputu and Katongo being subbed for poor performances, the case made against Gyan seemed strong. The Gyan who scored 20 goals in 13 games for Al Ain before the tournament was not the same who played vs DRC and Mali.
The Ghanaian media contingent in Port Elizabeth raised this concern in a press conference on Friday. In his defense, assistant coach Maxwell Konadu said "Asamoah Gyan's passes have given us two goals. It (poor output) is your opinion, and we respect that. But we think he has done very well so far."
Gyan, who scored two pre-tournament goals and has scored five Nations Cup goals since his debut appearance in 2008, is only three goals shy of Abedi Pele's all-time top scorer's record (33 goals) for Ghana. Despite his failure to come to the goal scoring party after two games, he still receives some love from his fans and loyalists
Brilliant Badu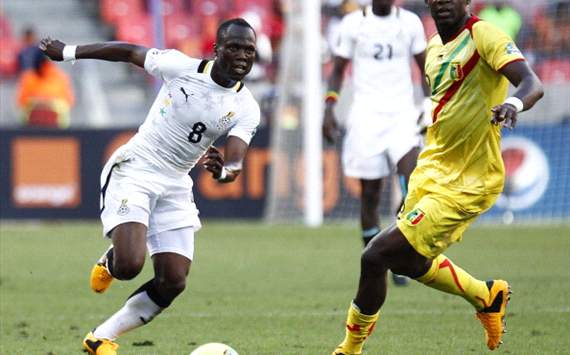 One man who experienced reviews totally opposite to Gyan's was Emmanuel Agyemang-Badu. He was named man of the match for the second game running. Scoring in the first, winning a penalty and heading against the post in the second, Badu has been Ghana's man to count on in South Africa so far.
The man, whose penalty won Africa its first ever Youth World Cup in the summer of 2009, was in no mood to let the accolades get into his head. He did not want to look back.
"We're done with Mali. Our concentration should be on Niger."